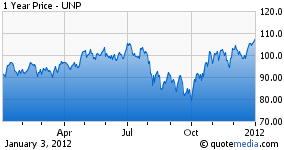 On January 19th, investors will get additional insight into the U.S. economy when Union Pacific (NYSE:UNP) reports Q4 earnings. Despite European headwinds, the company is likely to put up strong numbers given industry wide carload growth last quarter.
Unlike 2010, when storms wreaked havoc, a lack of December storms helped operators post strong year-over-year carload growth. In the most recently reported week ending December 24th, U.S. carloads gained 11.9% from the comparable week in 2010. Intermodal, which led carload growth thanks to exports and cost cutting trends, increased 22.9%.
This brought year-to-date U.S. carloads 2.2% higher than 2010, with intermodal up 5.4%. While this isn't breakneck growth; combined with solid pricing and more efficient locomotives, it supports profits for Union Pacific.
Across commodity baskets with more than 500,000 industry wide carloads in 2011, the biggest growth has come from metals and products, up 11.9% and motor vehicles and equipment, up 9.7%. This is good news for Union Pacific, given a good deal of its rail volume comes from industries related to auto production. In December, auto sales growth is expected up 9% and through the first 11 months, North American auto production had grown 10%.
The return of production normalcy for Japanese auto manufacturers adds additional strength. In the first half of 2011, the Japanese Tsunami weighed on parts and finished car volumes. However, production rates have steadily improved into year end. While Toyota's (NYSE:TM) U.S. sales volume is down -7.5% in 2011, it rose 2.4% in November.
Union Pacific also benefits from rising rail shipments to and from Mexico. Revenue related to cross border activity increased 16% as volume increased 10% in the first nine months. A lot of this strength is tied to automakers' continued investment in production capacity south of the border. Mexican auto production, up 15% through November, increased faster than production in the United States, which rose 10.8%.
Other trends are helping Union Pacific too, including Gulf coast refinery demand for newly exploited Bakken and Eagle Ford shale acreage. And chemical volume has also been strong. Natural gas shale properties are producing more ethane, which is keeping manufacturing prices low and helping the industry boost exports.
This is good news for investors, given rail demand offers industry pricing power. In the first nine months, Union Pacific's freight revenue grew 15%. More importantly, revenue per carload, a measure reflecting pricing, increased 12%, led by a 13% increase in intermodal. With auto industry sales expected up 9% in December, and overall industry carloads still growing, investors should expect a solid report from Union Pacific.
Disclosure: I have no positions in any stocks mentioned, but may initiate a long position in UNP over the next 72 hours.