Yum Brands (NYSE:YUM), the company that owns such household names as KFC, Pizza Hut, and Taco Bell, has just completed a move to sell off its A&W franchise brand. The amount that the franchise was sold for has yet to be disclosed, but one can safely assume that this large restaurant chain did not sell cheap. Yum also announced earlier in the year that it intends to try to sell off its Long John Silver's brand in order to better focus on core brands and international expansion.
Bizjournals.com is quick to point out that the corporate headquarters of these popular brands will remain in Kentucky. A move to continue to spread to international markets is one that will either sink Yum Brands or make it even stronger. In my view this is going to aid the company in its continued strong growth going forward for a number of reasons.
KFC Is The Leading Restaurant In China
Fast food chains are easy enough to reproduce over and over again so long as they are successful. KFC has been wildly successful in China. To the surprise of many, this fast food chain has been able to outdo McDonald's (NYSE:MCD) in terms of number of restaurants in China. This has largely been because of a concerted strategy by Yum Brands to keep things local in their stores -- hiring local managers and changing up the food to meet local taste favorites.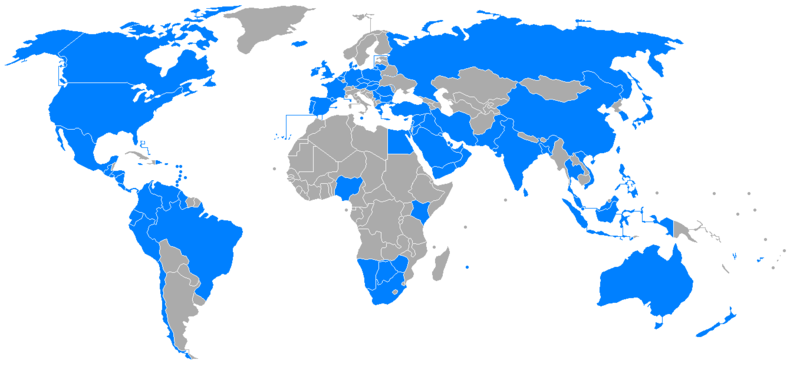 Click to enlarge


Countries shown in blue have one or more KFC restaurants in operation.
Using this formula, Yum Brands has been able to open an incredible 3,000 KFC restaurants in 650 cities in China. With the company now refocusing on this brand, profits are likely to climb even higher as service becomes even better.
China Is Spending More On Food Than Ever Before
A rising middle class in China has meant a number of different things for the world, not the least of which is a question about how all of these people will be fed. China increased its spending on food from about $198 billion in 2003 to $276 billion in 2007. That number has only continued to grow since. These breathtaking numbers can be rather easily explained. The Chinese middle class is becoming a larger force in the country, and these individuals like to spend plenty of their money on food. They are no different than any other human beings in this way. This increase is all good news for Yum Brands as they continue to position themselves as the dominating leader in China's fast food marketplace.
Weaker Brands Have Been Dropped
As mentioned above, Yum has dropped A&W and started to focus in more on its big money makers. Not only is this good in terms of the influx of revenue that the sale will generate, but it is also great because Yum can put more money to work in expanding its wings even more with more KFC and Pizza Hut restaurants. As much as 3,000 stores sounds like, that is still only one store for every 600,000 citizens of the country (Assuming a population of 1.8 billion).
While the growth of KFC restaurants is exciting, the growth of A&W ones would not have been as much so. A&W simply does not meet the taste preferences of many in China, and explosive expansion of this chain would likely have been a drawback for the company. It is a good thing management decided to sell off this chain and redouble efforts on the core ones.
These carefully considered moves have made Yum Brands a buy at its current trading price of $59.01 (as of the close on December 30, 2011). Yum Brands is a wonderful play on Chinese growth that does not require an investor to invest in Chinese securities. It is one that should be held on for some time. It is probably best to give it at least six months to see how these changes in the business will impact its future. At that point, the stock can be reevaluated.
Disclosure: I have no positions in any stocks mentioned, and no plans to initiate any positions within the next 72 hours.