Monthly Stock Market Performance For 2011
Happy New Year! 2011 was certainly a year that investors are happy to put in the rear-view mirror and forget quickly. Out of the major US indexes only the Dow (NYSEARCA:DIA) logged a year-to-date gain (5.53%) while the Nasdaq (NASDAQ:QQQ) was negative (-1.8%) and S&P 500 (NYSEARCA:SPY) essentially flat (-.003%). You may have noticed that your personal portfolio had drastically different results (especially if you held some of 2011's biggest winners and losers), even if you held ETFs that tracked these markets.
One reason for this is timing. For example, did you know that the worst month was September, which was immediately followed by the best month? In contrast, September was the best month of 2010. The summer volatility we witnessed this year was rather unusual but the unprecedented US debt downgrade in August, made this anything but a normal year. Another explanation for divergent performance is asset allocation. Finance and economic theory dictate that defensive companies tend to do better when the economy slows and parts of this principle held true in 2011.
Monthly Performance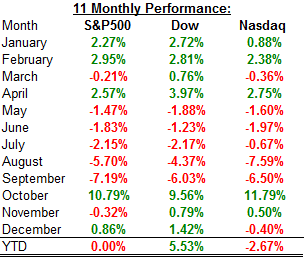 It is nice to know where you stand on a more frequent basis than face a shock on December 31; therefore, I keep track of the monthly performance for each of the three major indices. Unfortunately, I have yet to find one sole website that consistently publishes the stock market returns for each month. I am sure that there are many other investors such as myself who could benefit from monthly data so I have decided to share. This information is for informative purposes only and should not be used to predict future monthly performance.
It is important to check your performance on a monthly basis to hopeful correct mistakes as well as adjust your allocations before it is too late. Remember that if you would like to compare your own performance with a benchmark that you need to remove any non-stock transactions from the equation to get a clearer picture of your performance. For example, when you deposit your paycheck or withdraw money to pay bills, those transactions can distort your performance. Fortunately this information is often prominently displayed on your monthly statements or searchable online.
Best and Worst of the S&P 500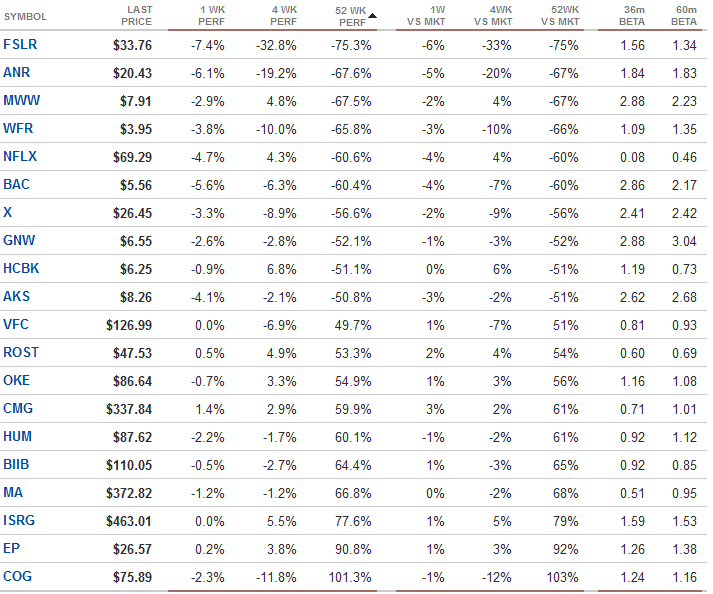 In a diversified portfolio of 8-12 equities owning just one of these leaders or laggards could have a dramatic impact on your performance. Personally I set alerts for my holdings so that I am forced to evaluate my investments whenever they rise or decline by 10%. When it comes to successful investing it is practically more important to mitigate your losses than focus on your winners. It is only natural that you will make investing decision mistakes but what is important is how quickly you correct them.
During the year I wrote about two of the extreme performers above. On the negative side I have been banging the drum for investors to sell Netflix (NASDAQ:NFLX) since September and it has fallen virtually 50% since that point. On a more positive note, VF Corp (NYSE:VFC) has been one of my all-time best picks since I first recommended it in 2010 at $80 per share. Despite being a top ten performer for the year I think that VFC still presents an attractive opportunity now that it has pulled back approximately ten percent from its 52 week high. For these reasons it is a staple of my Great Recession II portfolio.
For further research please consult my articles on Netflix and VFC.
Best and Worst Sectors of the S&P 500
| | |
| --- | --- |
| Sector | Percent Returns |
| Financials | -18% |
| Materials | -12% |
| Industrials | -3% |
| Health Care | 10% |
| Consumer Staples | 11% |
| Utilities | 15% |
It should come as no surprise that financials were the worst performing sector. We all know about the poor performance of large institutions such as Bank of America (NYSE:BAC) and American International Group (NYSE:AIG) but even small regional banks were beaten down simply because they were deemed risky by association. There are many small and mid-sized financial institutions that were much more prudent with their lending and did not extend credit unreasonably. As a result you have many fundamentally sound regional banks that underperformed in 2011. These companies will not recover quickly but at a minimum you can get paid in the neighborhood of seven percent just to wait for a recovery.
Seemingly every retail investor was talking about dividends and I cannot recall a time in which people were so excited to earn a relatively safe 3 percent yield. Many utility companies can do even better than that as they frequently yield greater than 4 percent and have their future price increases guaranteed by law.