CES (the Consumer Electronics Show) is just around the corner next week so it's a good time to be thinking of what we have to look forward to in technology.

Research In Motion (RIMM) recently announced a price reduction in the Playbook. Not a big surprise considering the massive write down recently announced. What is a surprise is how far management will go to prove to the tech world they have no clue.
They are advertising a single price for the Playbook of $299 for all models, including 16GB, 32 GB and 64GB versions. What's worse, as I go to look at the offering, the RIM website is giving me at "503 server unavailable" error message multiple times. Investors only can hope the demand is so large for the tablets (at least the 64GB ones at first) that the he site is going down. Unfortunately, that is about the best investors can hope for.
If the recent past is any indication, management once again misread the marketplace and while RIM is trying its best to keep up with selling the 64GB versions cheaper than needed, 16GB Playbooks will still end up collecting dust. Would it really be that difficult to offer more than one price so if you miss out on the 64GB Playbook sale, you don't leave customers wishing they received the better deal when the 64GBs run out?
I wrote covered calls on RIM today. I wrote RIM is likely - in my opinion - to double from the lows put in a couple of weeks ago. Also, the options are trading at a very healthy implied volatility. This combination spells profits for a bullish option writer and I choose covered calls over cash covered puts due to the relatively larger premium received for calls compared to puts for the same level of risk. With low price stocks, this can really make a difference in yearly performance yields.
Going, going, gone. Remember the ad by RIM for the PlayBook "Amateur hour is over"? It appears it may or may not be the case in the boardroom.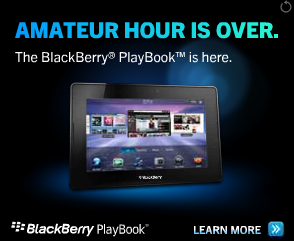 Looks like RIM is taking a page from Hewlett Packard's (NYSE:HPQ) playbook to try to sell its Playbook. When HP announced the massive sale on its TouchPad tablet the inventory went quick. I believe it could be argued how smart it was for HP to liquidate so quickly and so cheap, but in the end HP is essentially out of the tablet business.
As a strong believer in HP products I look forward to HP re-entering the space with a world class product. The TouchPad 16GB sold for $99 and 32GB for $149. HP liquidated in an aggressive manner, but at least they used a little common sense. HP stock is up strongly today, helping to carry the overall market higher.
On the other hand, amateur hour may in fact be over. Reuters is reporting RIM is nearing a change of leadership at the top. There is just no nice way to put it, investors want the twins out and when they go (and they likely will soon) the stock is likely to pop higher. Attitudes and investor sentiment is likely to shift in favor of a bullish stance. It will be difficult to find the balance between greed and patience as the largest move higher will likely not come right away.
I wanted to review the Playbook and said so much in a video about RIM. For $299 I might just buy one to test it out and write up a review on it. I don't really have a use for one and I am sure I don't need another device sitting around collecting dust, or waiting for me to put it on some online auction site cheap. So I may just hold off for now, and take another look at what is about to be offered at the CES show in Las Vegas.
Stacked Chips In Vegas

The giant chipmaker Intel (NASDAQ:INTC) has been gearing up for CES and will be promoting the ultrabook (which can include up to 15-inch screens) to add an option in the laptop/tablet space. It appears Apple's (NASDAQ:AAPL) MacBook Air and iPad may expect to have tough competition with ultrabooks sporting style and low prices.
WSJ.com is reporting prices dropping from well over $1,000 to under $700 as a real possibility in the near future. Ultrabooks sales may be more important to Microsoft (NASDAQ:MSFT) than Intel after all, but getting kicked out of the smart phone club Microsoft needs to learn how to dominate and be aggressive again.
The kinder gentler Microsoft is not working out so well for investors. With an estimated 12% of consumer computer sales expected this year in Ultrabooks, the stakes are high to get it right the first time. Today's nice 3% pop higher in share price is in the right direction, but we have a long way to go to see new 52 week highs. I am bullish with Microsoft and I do believe investors will be rewarded this year with the right types of risk control. I am currently reviewing the April $25 strike price put options trading near $0.72 as an opportunity to gain bullish exposure to Microsoft.
Cisco (CSC0) will be expected to show off the newly released E4200 version 2 consumer level (NASDAQ:SOHO) router.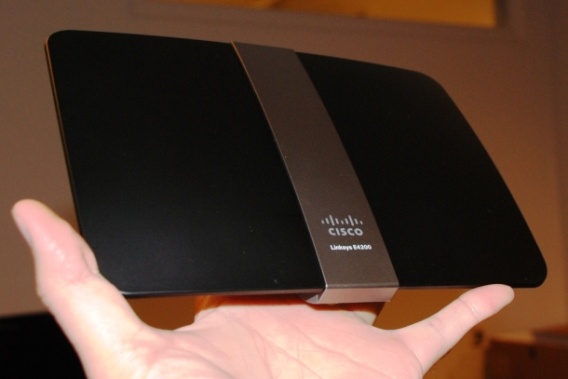 The new router supports 3 by 3 at a blazing 450Mbps, ability to use 5Ghz and 2.4Ghz bands, and a processor running at over twice the speed (1.2Ghz) as the predecessor. Add in the new networking app by Cisco for Android and iOS devices and you can modify network settings right from you handheld. Cisco is quality, but not always cheap upfront (although the lack of aspirins required to set up its products makes it well worth the extra money in my opinion). I remain bullish with Cisco, and you can read my articles about Cisco here.
Even if I don't see Apple on the list of exhibitors again this year, with prices falling every direction we look in consumer electronics, it is easy to say that the best is yet to come in 2012.
Disclosure: I am long RIMM.
Additional disclosure: I may initiate a long in MSFT, CSCO, and or INTC over the next 72 hours