This article examines two popular stocks which have made a lot of money for stockholders. Apple (NASDAQ:AAPL) has one of the best known brand names around the world. And for McDonald's (NYSE:MCD), what is there to say? It's tough to find anybody who hasn't eaten at McDonald's. When I was a kid, I ate at one of the first McDonald's restaurants, when there were only a few in the chain.
The death of Steve Jobs reminded everybody what a dominant name he built for Apple in recent years. iPods, iPhones and, recently, iPads have become leading brands in their fields and Mac computers earned millions of fans over the years. AAPL supplies digital content and applications through the iTunes Store, iBookstore and Mac App Store. The company also built a chain of physical stores with over 350 in the U.S. and the rest of the world.
FY2011 was just completed. Sales exceeded $100 billion and net income was above $26 billion. AAPL has grown as a global company, over 60% of revenue comes from outside the U.S. The market value for AAPL places it in first or second place in the world, competing with Exxon Mobil (NYSE:XOM), depending on which stock had a better day. The stock has had nothing short of a stellar run, rising an amazing 18 fold in the last 10 years while the Dow is up a modest 22% and was subject to substantial up and down swings. One major weakness is that AAPL does not reward shareholders as other companies do. It has not paid a dividend since 1995 and there are no treasury shares even though the company has $26 billion in cash and marketable securities. Earnings growth has been spectacular, stockholders received all rewards through capital appreciation. Few are complaining.
Apple - 10 Years
Click to enlarge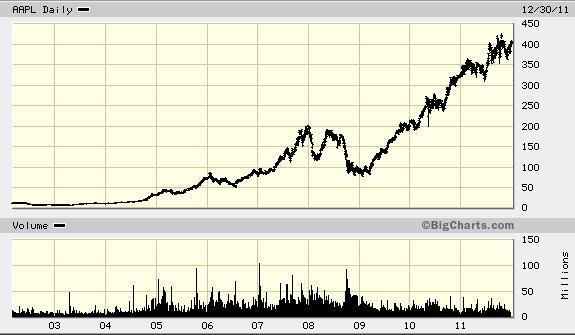 Click to enlarge
MCD, a Dividend Aristocrat, also has had an outstanding record of growth. It is the leading global food-service retailer with over 33,000 restaurants serving more than 64 million people every day in more than 100 countries. Over 80% of the restaurants are independently owned and operated by local owners. MCD is a global company with its operations divided into four divisions: (1) U.S.; (2) Europe; (3) Asia/Pacific, Middle East and Africa and (4) Other Countries including Canada, Latin America and Corporate. 2010 revenues were $24 billion and net income was almost $5 billion, with about 70% in the U.S. and Europe and the balance coming from emerging markets.
Its "Plan to Win" targets are: Average annual sales growth of 3-5%, average annual operating income growth of 6-7% and return on incremental invested capital in the high teens. Capital expenditures are running about $3 billion, divided between opening new restaurants and renovating existing ones (called re-imaging). Investments are made to optimize the menu, modernize restaurants and broaden the value of meals. More importantly are its restaurant investments around the world, especially in emerging countries. Management rewards shareholders by returning all free cash flow through dividends and share repurchases. In 2011 MCD expects to return $6 billion to shareholders. The annual dividend was increased 15% to $2.80 in September. MCD has purchased over 600 million of treasury shares with a market value of more than $60 billion (equivalent to a major S&P 500 company).
McDonald's - 10 Years
Click to enlarge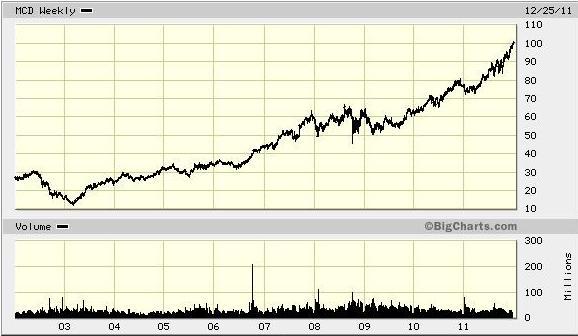 Click to enlarge
One year ago many were forecasting that 2011 would see a continuation of two of the best years the stock market has ever had. But it turned out to be a drab year with only a limited number of stocks posting big gains. Forecasts for 2012 made by the same analysts are generally optimistic, again calling for significant gains. APPL is looking to extend its winning streak to four years. But it faces more obstacles, in particular, from the No. 1 mobile operating system Android by Google (NASDAQ:GOOG). When rapid growth is expected and demanded by investors, increased challenges can bring disappointment. In addition. rewarding stockholders with dividends and stock purchases are not expected.
In the same year AAPL was founded, 1976, MCD began paying dividends followed by consistent annual increases. MCD is forecast to grow earnings 10% in 2012 which will bring another dividend increase (maybe to $3 or more, providing a 3% yield). Treasury share purchases will continue.
The last decade in the stock market has shown that capital appreciation is less reliable than in the past. But dividends, especially from Dividend Aristocrats, can be counted on. $405 buys one share of AAPL or more than four shares of MCD with $11.20 of dividends which will probably grow to roughly $12 by year's end. And MCD stock has quadrupled in the last 10 years.
Disclosure: I have no positions in any stocks mentioned, and no plans to initiate any positions within the next 72 hours.