There are still a few chances here, though we discussed the industry, and came away distinctly unimpressed. The industry was rife with serious problems, although much of it is already reflected in the share prices. Many of the company shares have rebounded from their lows. Some are overbought and offer short-term opportunities for writing out of the money calls, others can still run as they've not really joined in the rally much.
Education Management Corporation (NASDAQ:EDMC)
Some figures (source: Yahoo):
Market capitalization: $3.57B
Outstanding shares: 127.4M
Revenues $2.9B
Cash $465M, debt $1.51B
Levered Free Cash Flow $184.5M
The only impressive figure is the last one, but there is considerable variation quarter-on-quarter. Earnings are expected to be worse this (fiscal) year, and flat the next, falling from $1.74 per share last year to an expected $1.34 this year and $1.36 the next. There isn't a history of huge surprises, so it's unlikely the company will do materially better. It seemed fully valued (and then some) to us even with the extended stock purchase program from $325 to $375M ($291M are already executed per December 13).
Looking at the chart, it had a very good run, more or less doubling since the beginning of October. It seems time for a breather at least, with an RSI of 76. We prefer selling short-term out-of-the-money calls, but outright shorting is also possible. There is one caveat though: Most of the trading impetus comes from policy changes.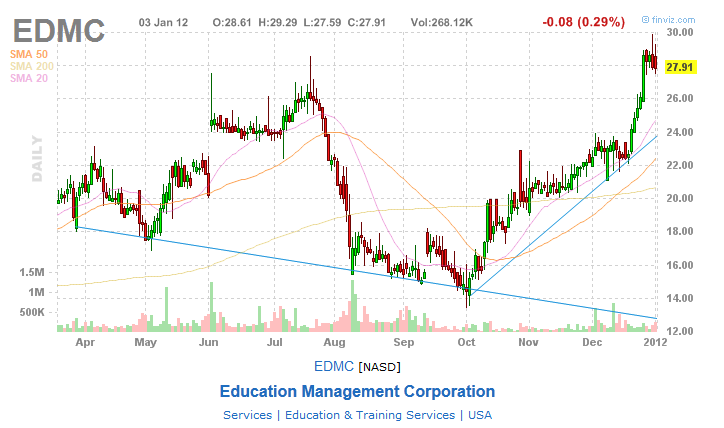 Career Education Corporation (NASDAQ:CECO)
Valuations can greatly differ in the industry. Career Education Corporation is much cheaper than most in the sector. Some figures from Yahoo:
Market capitalization $604M
Outstanding shares 75.85M
Sales $2B
Cash $449M debt $1.17M
Levered Free Cash-flow $99.2M
At first sight, these figures are much better than those of EDMC, so we'll look at the next set of data. Earnings per share were 90 cents in 2010, rising to an expected $2.19 this year, only to fall back to 94 cents next year. This suggests that this years earnings are a one-off. But even if we take the 90 cents or so as a kind of base line scenario, the shares are way cheaper than EDMC.
Of course there are reasons for that. The CEO resigned early November on disappointing results and margin pressures due to the new regulatory environment. New student enrollment fell 22% while total student enrollment fell 12%. They're hardly the only ones suffering, though:
Career Education, along with peers such as Corinthian Colleges, DeVry Inc and ITT Educational Services, has seen student sign-ups decline after tough new government regulations prompted stricter admission standards.
We would stay well clear of this one, despite its cheap valuation, as it has a history of accreditation problems. Of course, if you have faith in management to clear up this mess, now might be the time to invest. We find such faith-based investment strategy, while potentially very lucrative, too risky. We'll wait for signs of improvement.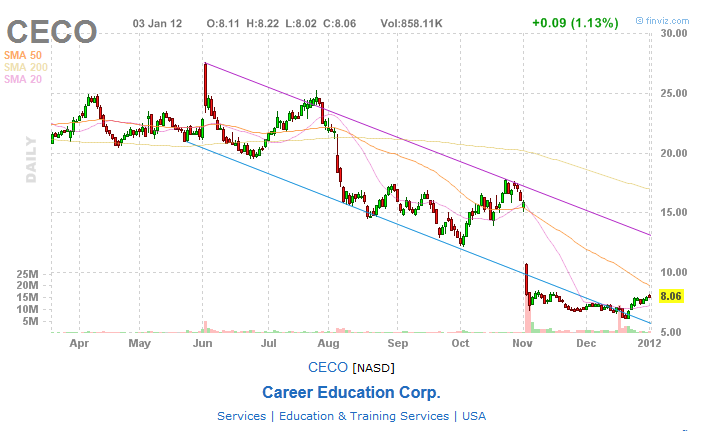 This article provides an important metric to look at while judging the sector:
Earlier in the day, Bridgepoint Education and Corinthian Colleges reported results and said they were upbeat about signing up new students entering 2012.
Which brings us to the next stock to consider.

Corinthian Colleges Inc. (NASDAQ:COCO)
This actually looks like a decent speculative buy opportunity, we have to say. Some metrics from Yahoo:
Market capitalization of $190M with 85M shares outstanding (almost 9% held by insiders)
Revenue of $1.78B
Cash of $38.6M with debt at $209M
They're expected to earn 22 cents per share this year (June 2012) rising to 33 cents in 2013
On the same page you see that they've managed to beat analyst estimates four quarters running
Cash-flow was negative for the quarter but they paid of debt to the tune of $112M
Corinthian Colleges partnered with a private loan group offering students $450 million in loans to help source funding outside of Title IV programs. They do this to decrease the loan default problems on Pell grants, which are quite large (not just for Corinthians, but for the whole sector):
The US Department of Education has certainly changed its tone this year, and recently came out with a statement saying that 8.8 percent of federal student loans for fiscal 2009 were being defaulted upon. This figure represents all student loans, including those for not-for-profit schools. When one considers that the default rate of for-profit schools was a whopping 15 percent, it is not surprising to find that much of the Education and Training Services sector has come under major fire lately. Iowa Democratic Sen. Tom Harkin also released a report that said more than half of students at for-profit colleges will drop out in the first two years, likely with big debts to repay. [Yahoo]
Also, new government regulation limits the default rates to 25% (three consecutive years) and schools must have at least 10% other revenue sources than just the federal aid (to student), the 90/10 rule.
And indeed, here are those enrollment figures:
Corinthian Colleges Inc. said that it moved to a loss in its fiscal first-quarter, burdened by impairment and severance charges. Corinthian said that new student enrollment growth fell during the quarter due to economic conditions, tuition increases and its decision to lower the risk profile of its students. Corinthian predicts that the rate of year-over-year enrollment declines will slow significantly in the second quarter and improve during the last half of the fiscal year. [Yahoo]
Since the last half of the fiscal year started three days ago, improvement might be just around the corner. We think that if you have to be long in this sector, COCO is an obvious candidate. You might also want to wait until there are concrete signs of the stabilization in student enrollment numbers.
But even with the numbers down, operating loss was just $3M. Since they had impairment and severance charges of $9.9M, they're already adjusting the organization to these lower numbers and profitability will likely return in the next quarter.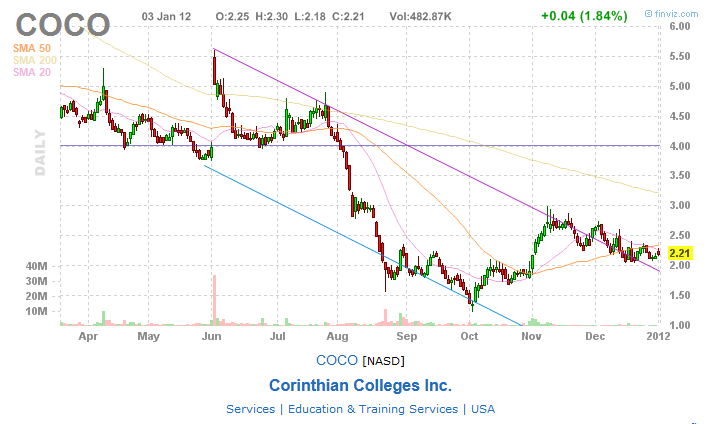 DeVry Inc (DV)
Once again, basic figures from Yahoo:
Market cap of $2.66B on 67.3M outstanding shares
Revenue of $2.18B
Cash of $325M and no debt(!)
A year ago (June 2011) eps were $1.32, expected to rise to $3.81 this year (June 2012) and $3.96 next year
So the shares are really not expensive, especially considering the very healthy balance sheet. Investopedia summed it up pretty well:
Devry should be able to better weather the industry storm given it serves more stable health care markets and does have solid placement rates and starting salaries, estimated at 89% and $43,000, respectively. Its growth rate over the past decade is stellar, as sales have risen in excess of 14% annually and earnings are up more than 19%. The company also has high profits and no long-term debt. Unfortunately, the stock will likely remain dead money until growth trends perk back up, but Devry has as solid a chance as any in the industry.
It also has increased its dividend by 25% (to 30 cents per share) and has a $100M share buyback program. We like this one, but so do others -- its shares are running into overbought territory right now. We'll wait a bit.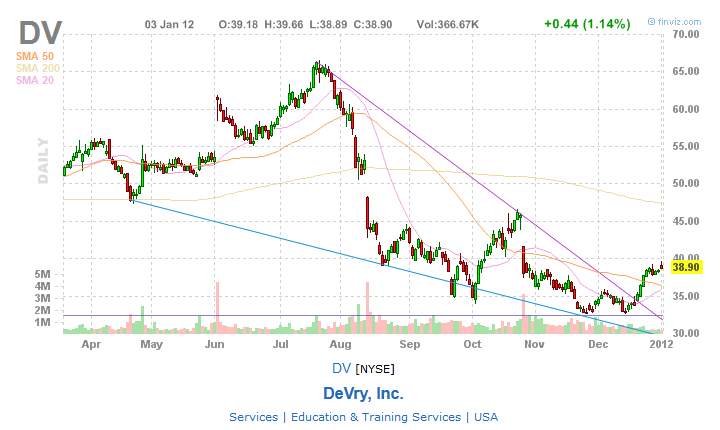 Bridgepoint Education Inc. (BPI)
Some metrics from Yahoo:
Market Cap $1.14B
Revenues $904.5M
Cash $249M with zero debt
While there were people raving about cash being build up on the balance sheet at an "astounding rate," we find the situation a bit more sobering, but nevertheless there are no problems here (annual data is much better though, but it remains to be seen whether they can continue that.)
EPS was $2.14 last year, median analyst expectations are $2.99 this year (Dec 2011) and next year basically flat ($2.84). What's more, the last four quarters have seen earnings surprises ranging from 21-50%
But there is also enough insider sales to fill a telephone book. That really is quite a disturbing picture and while the shares are cheap, such substantial insider sales makes us a little bit hesitant in recommending them for purchase. It could very well be that these constitute people considering the shares as part of pay and cashing in from time to time, and don't necessarily reflect the sellers' view of the future, but the sales are quite substantial and consistent.
Technically the shares sit at support where all the averages converge, together with the up and downward trend. We expect that support to hold (unless the overall market breaks down). Breaking down from here would constitute a considerable technical disaster.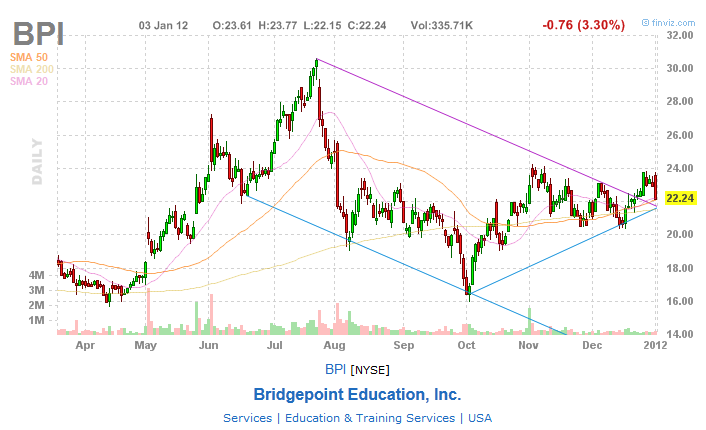 Disclosure: I have no positions in any stocks mentioned, and no plans to initiate any positions within the next 72 hours.