Turmoil in Europe, uneven U.S. economic growth and unprecedented market volatility led many investors to reject stocks last year. Bad move. Stocks outperformed other asset classes in 2011 and will continue to do so in 2012. Yields on traditional savings vehicles are virtually nonexistent.
Capturing respectable bond returns requires investors to take on high levels of credit or interest-rate risk. However, rock-bottom borrowing rates have given corporations unprecedented access to low-cost capital to strengthen balance sheets and eliminate near-term refinancing risk. Meanwhile, these companies are investing in growth and raising dividends.
A rising dividend is the best insurance against the risk of a dividend cut. Additionally, capital gains have historically followed dividend growth. Dominion Resources (NYSE:D), for example, has boosted its dividend by 48 percent over the past decade, sending the stock price 72 percent higher, compared to an 8 percent gain by the S&P 500.
Not every dividend-paying stock performed well in 2011, and the same will be true in 2012. Despite a late-year surge, U.S. economic growth could slow next year if the EU sovereign-debt crisis fails to reach an orderly resolution. This possibility severely reduces the margin of error for companies that stumble. This perceived risk to dividends has even sharply reduced the value of stocks that are unlikely to cut their payouts.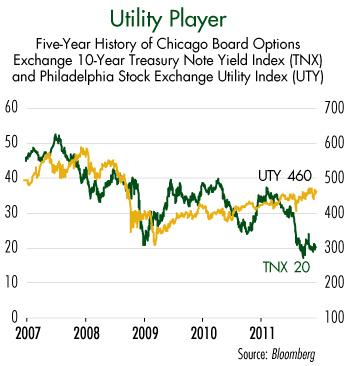 These risks will persist in 2012. But the principles of diversification, balance and a focus on quality will still produce solid performance.
Balance and Conquer
Even as investors abandoned certain groups such as high-yield telecoms, they flocked to pipeline-focused master limited partnerships (MLP). U.S. utilities were particularly strong, as you can see in "Utility Player." Investors who loaded up on these sectors enjoyed strong gains.
But there wasn't much evidence in early 2011 that safety-focused sectors would lead the way. In fact, before the Japanese earthquake in March and the Arab Spring, the global economy seemed to be on the mend, and investors were snatching up the highest-yielding stocks.
Opportunistic sector selection is a proven strategy for growth-oriented investors. But income investors must buy and hold to collect dividends and interest and avoid punitive taxation.
Today's leading sector is often tomorrow's laggard. That's why investors employing a buy-and-hold strategy must own stocks from a wide range of sectors.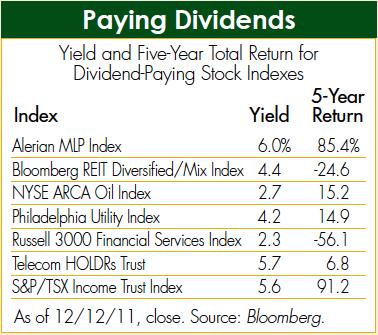 "Paying Dividends," which highlights the yields and five-year total returns for several sectors that I track, demonstrates this point. That MLPs, represented by Alerian MLP Index, have performed well shouldn't surprise investors. But Canadian income trusts outperformed MLPs, a surprising outcome for investors who shunned the group after the "Halloween Massacre" of 2006, when Finance Minister Jim Flaherty announced a new tax on the sector beginning in 2011.
Most Canadian income trusts have since converted to taxpaying corporations, and roughly half of these companies cut their dividends after the transition. The TSX S&P Trust Index, however, beat the S&P 500 by nearly 100 percentage points, while paying a dividend that was three times as high.
At this point, the prognosis looks superb for MLPs and utilities. Canadian companies, Australian firms such as APA Group (OTCPK:APAJF) and "super oils" also look set to prosper in 2012.
Given recent market history, some reversal of fortune is likely. That's why I maintain positions in sectors that have underperformed during the past five years, including real estate investment trusts, financials and high-yield telecoms.
Disclosure: I have no positions in any stocks mentioned, and no plans to initiate any positions within the next 72 hours.