Many investors do not own utility stocks because they believe stodgy old utilities are mainly for widows and orphans. Others seek outsized capital gains potential in high-risk small-cap growth stocks or high-yield speculative income plays. Much like a China White addict, some need the adrenaline rush of a stock that doubles in 6 months. A few traders seem to want the agony of tracking daily trends, buying and selling for $0.32 a share price differential. Utilities do not usually offer these types of investment characteristics, but have provided widows and orphans excellent long-term investment returns.
We all should know by now that utilities were the best performing sector of 2011 with a 14.8% return versus #2 healthcare at 9.9% return, based on the performance of the various sectors of the Dow Jones US Total Market Industry Groups, as reported weekly in Barron's.
When reviewing past performance of stocks, it is important to include dividends or distributions generated, as cash income is an important factor in a utility's overall investment return. When calculating investment returns, including dividends creates a clearer picture of the profitability of the selection, and is known as the Total Stock Return (TSR). Most indexes and share price graphs evaluate share price only and do not include the impact of income. This creates a picture of utility investment returns that are much less than the actual total return generated for shareholders.
An example is the following graph for the past 10 years (2002 to 2011) comparing the S&P 500 (NYSEARCA:SPY) and the Dow Jones US Utility Index (DJUSUT), a broad-based market-cap weighted utility index comprising of 72 companies:
(Click charts to expand)
DJUSUT, SPY: 10-years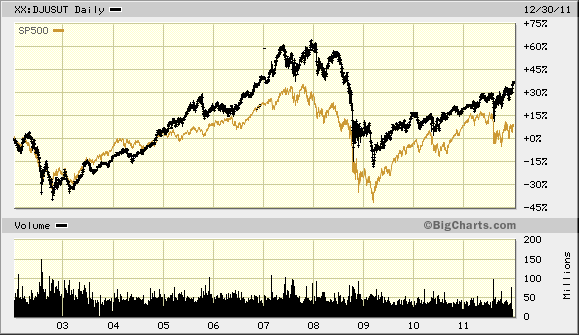 Not too shabby for the utility index, being up about 35% while the S&P generated about a 7% total return over the same 10-year timeframe. However, this is only about a third of the actual investment return experienced by utility investors because it does not include dividends.
The Dow Jones US Total Market Index and its Industry Groups are available both on a historic share price return and on a total stock return basis. This historic analysis allows investors to more accurately calculate sector TSR returns. The symbol for the Dow Jones US Utility Index Total Return in DJUSUTT, and adding it to the graph above indicates a TSR for the utility sector of almost 105% over the past 10-years:
DJUSUT, DJUSUTT, SPY: 10-yrs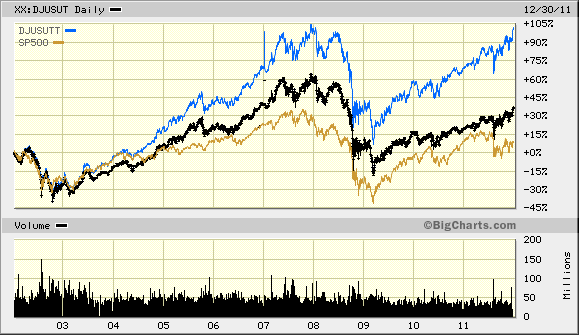 The Dow Jones US Total Market Index is available in its sub-sector categories. Below is a listing of the Industry Groups' Total Return symbols with the corresponding industry:
DJUSUTT – Utility
DJUSTLT – Telecom
DJUSTCT – Technology
DJUSENT – Oil & Gas
DJUSINT – Industrials
DJUSHCT – Health Care
DJUSFNT – Financials
DJUSCYT – Consumer Services
DJUSNCT – Consumer Goods
DJUSBMT – Basic Goods
Charting these sector total return indexes produces the following using 1-, 5- and 10-year timeframes:
1 year: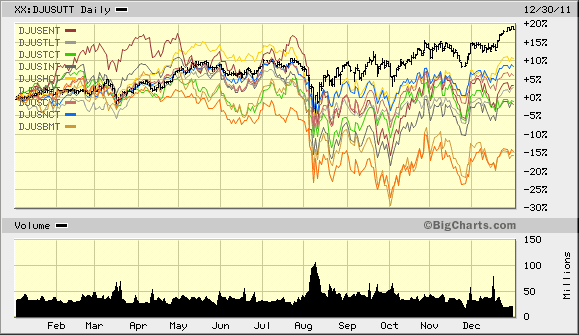 5 year: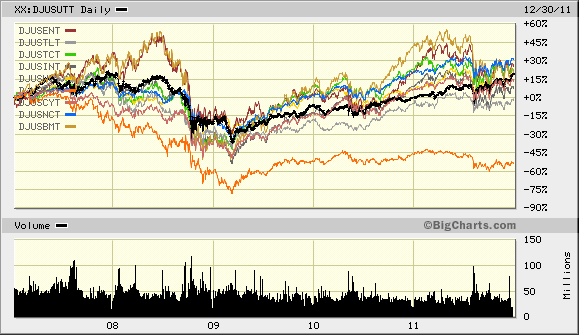 10-year: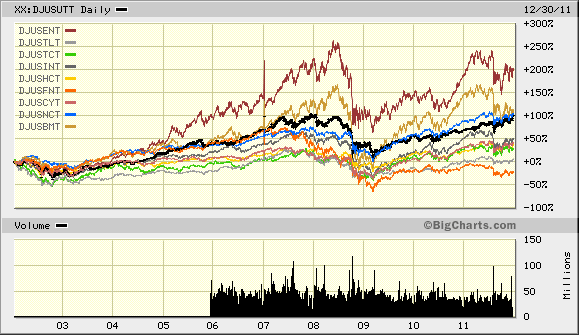 Over the past year, the total return for the utility index was double its next closest sector, healthcare. Since 2007, utility index total returns have been about middle of the pack with consumer goods, oil and gas, technology, healthcare, and basic materials providing a bit better returns. However, utilities beat the 5-year total returns for financials, telecom, industrials and consumer services.
Over the past 10-years, utility's total return is tied for the second best performing sector with consumer goods and basic materials, but lag oil and gas. It is worth repeating – since 2002, the Dow Jones US Utility Index Total Return is tied for the second most profitable investment sector with a 105% total return.
I'm sure widows and orphans with long-term investment horizons are quite pleased with the performance of their stodgy old utilities.
The components of the Dow Jones US Utility Index are weighted toward the large-cap electrical utilities with the top 10 companies equaling 45% of the Index. A downloadable Excel spreadsheet of the 72 component firms along with index weighting can be found here using the link "Component Weightings."
The index is divided into sub-industries by type of utility using four categories: Electric, Gas Distribution, Multiutilities and Water. The table is also sortable by market cap and index weighting. Using these sub-categories, the top three companies by index weighting are:
Electric: Southern Co (NYSE:SO), Dominion Resources (NYSE:D), Exelon (NYSE:EXC)
Gas Distribution: Spectra Energy (NYSE:SE), ONEOK (NYSE:OKE), NiSource (NYSE:NI)
Multiutilities: Duke Energy (NYSE:DUK), Sempra Energy (NYSE:SRE), Wisconsin Energy (NYSE:WEC)
Water: American Water Works (NYSE:AWK)
Interest rate risk may rear its ugly head by this time next year and most utilities could be considered currently fairly valued based on dividend yield and potential income growth. However, in an investor's annual review of portfolio sector diversification, utilities should not be overlooked.
Personally, I do not mind hanging out with widow and orphans.

Disclosure: I am long EXC.
Disclaimer: As always, investors should conduct their own due diligence, should develop their own understanding of these potential opportunities, and should determine how it may fit their current financial situation.