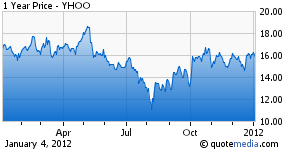 I asked recently if Yahoo (NASDAQ:YHOO) should get married or stay single. Clearly that was my play on words because the company has a history of flirting and declining proposals – with potential acquisition suitors that is. The company continues to be in a constant fight to prove that it has a future as a standalone entity. But the problem is, I'm not sure it really wants to be alone or even if it can be. This puts the company in a tough position because it knows what it is dealing with.
The question that continues to surround the company is does it have value? The clear answer is yes, but it leads to the guessing of – to whom? But no matter how much value it projects, there's always the obligatory mention of Microsoft (NASDAQ:MSFT) and how much sense it makes for the two to come together. The once proud search giant has dropped the ball on a long list of possible lucrative businesses, many of which have placed it second behind Google (NASDAQ:GOOG) in the search business and have rendered it off the radar behind Apple (NASDAQ:AAPL) in terms of innovation and excitement.
As a sign of possible things to come, the company has just appointed a new CEO to a post that have become a turnstile of sorts – one that has yet to stop revolving with constant new direction. This time it is Scott Thompson, the president of eBay's (NASDAQ:EBAY) PayPal business. Thompson also will be named to the Yahoo board, which has been weighing for months a sale or other possible strategic options for the company. Upon the announcement, the company's chairman said it continues to consider a "wide range of opportunities" for its business, as well as "specific investments or dispositions of assets."
It will take time to dissect what all that means. While it can mean a significant and imminent turnaround for the company, it can also mean very little as everything hinges on its ability to execute. Let's just say that its recent track record does not inspire much confidence. But can Scott Thompson be the difference that former Carol Bartz wasn't able to be?
With the appointment of Thompson, Yahoo's press release described him with the following:
"Scott brings to Yahoo a proven record of building on a solid foundation of existing assets and resources to reignite innovation and drive growth, precisely the formula we need at Yahoo," said Roy Bostock, chairman of the Yahoo Board.
"His deep understanding of online businesses combined with his team building and operational capabilities will restore the energy, focus and momentum necessary to grow the core business and deliver increased value for our shareholders. The search committee and the entire board concluded that he is the right leader to return the core business to a path of robust growth and industry-leading innovation."
"Scott's primary focus will be on the core business, and as CEO and director, he will work closely with the board as we continue the strategic review process to identify the best approaches for the company and its shareholders. As part of this process, Yahoo is considering a wide range of opportunities for the company's business, as well as specific investments or dispositions of assets," added Bostock.
Clearly Mr. Thompson comes highly qualified, but so did Carol Bartz. He has his work cut out for him in redirecting this once proud ship that is now on a clear path toward irrelevance. But again, its ability to execute will require understanding exactly what it means by "considering a wide range of opportunities." I think that is a statement that every company should be able to make and not necessarily something that implies strategic and imminent change.
Seeking Alpha contributor Jiang Zhang made what I think is the best case for Yahoo going forward, and that is an acquisition by Chinese Internet conglomerate Alibaba. In the article, Jiang made the following points:
The acquisition of Yahoo will instantly give Alibaba a foothold in the U.S. online advertising and e-commerce market. To capitalize on the opportunity, Alibaba is likely to retain Yahoo's current headcounts because U.S. engineers are more innovative, creative and experienced than their Chinese counterparts. The Chinese engineers that Alibaba have are educated on a system that emphasizes memorization and theory while the U.S. engineers can contribute to the innovation and creativity to Yahoo based on their professional and academic experience.
The U.S. education system encourages innovative thinking among its students, as provided by universities such as Stanford and Caltech. Yahoo's location within the heart of Silicon Valley allows Alibaba to recruit talent in the region as it expands its online advertising and e-commerce footprints in the U.S.
While Jiang offered a very compelling case for Alibaba, I had to pause at the idea that information on millions of Americans will now be at the hands of a Chinese company. The concern has to be there even though its record shows a positive history of respecting the privacy of its users.
Summary
Admittedly, it seems that I am discounting Yahoo's ability to survive on its own, an idea that may be pre-mature, but then again it may not be. The fact of the matter is, it has lost the search war with Google and its dominance is not coming back. I think we can agree on this. But the question is can it find a way to leverage the volume of traffic it still generates? This is the challenge that Scott Thompson has to win for Yahoo to be successful and ultimately how his tenure will be judged.