It is extremely rare that I have ever disagreed with Jim Cramer. You will be hard pressed to find another person with a better track record for assessing equity values. However, upon reading his recent picks, I have had no choice but oppose what I feel will prove to be selections that will yield (at best) subpar results going in 2012.
This is not a matter of playing contrarian just for the sake of playing, but rather, the logic in the decision failed to appeal to me considering the various events surrounding each equity as well as the stock market as a whole. Though the U.S. economy continues to struggle, there are signs that suggest the pace of future economic growth may not be as slow as has been projected.
The job market seems to be behaving a little better than expected, with the unemployment rate falling to 8.6% last month. Housing starts, while not robust by any stretch of the imagination, are beginning to show some decent signs of growth. If those two trends continue to improve in 2012, the year could be very rewarding for contrarian investors. The word "DEBT" has become the primary driver of equity erosion and in 2012, businesses that are not heavily reliant on that evil four letter word stand to outperform the rest of the market.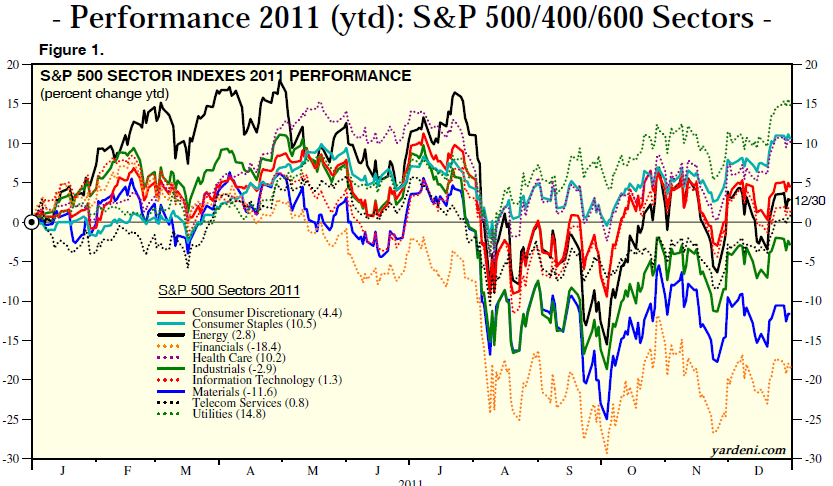 Click to enlarge
At the end of 2012, the chart above told us just how debt factored into investor decisions as the sector performances proved just how businesses that are heavily reliant of debt to fuel their operations suffered. With that said, here are Cramer's recent picks and why I am not entirely on board with his recommendations.
| | | |
| --- | --- | --- |
| Name | Call | Date |
| Alcoa (NYSE:AA) | Sell | 12/20/2011 |
| Bank of America (NYSE:BAC) | Sell | 12/16/2011 |
| Chevron (NYSE:CVX) | Sell | 12/22/2011 |
| American Express (NYSE:AXP) | Buy | 12/16/2011 |
| Exxon Mobil (NYSE:XOM) | Sell | 12/19/2011 |
| Microsoft (NASDAQ:MSFT) | Neutral | 12/15/2011 |
Alcoa – I Would Buy

Cramer recommends Alcoa as a sell. But this is after the stock has already lost 43.79% in 2011. There are two things at play here – either it will be a falling knife or a value play. The stock currently rest near its 52-week low and with its own growth projections I have to think it is the latter (a value play). But I realize that I am in the minority here considering that analysts have lowered Q1 2012 earnings estimates by 25%. But the company is more optimistic about its own prospects and believes that positive long term fundamentals are still intact for the aluminum industry, despite recent concerns by investors regarding a slowing of global economic growth.
The company has also been working to reduce costs and move down the cost curve, on the refining and smelting side of the business. It is looking to move refining costs from the thirtieth percentile in 2010, to the twenty third percentile by 2015. On the smelting side, Alcoa is attempting to get to the forty first percentile, down from the fiftieth percentile in 2010. Alcoa has also set a goal of adding $4.1 billion in revenue to the company's base by the 2013 time frame. This is on top of its goal to increase EBITDA margins. With these clear strategies in place and sound management, it is hard to bet against a stock that is already undervalued.
Bank of America – I Would Hold

What can I say about Bank of America that I have not already said? I'm shocked that I am even coming to its defense of a sell recommendation after I have made these same suggestions for the past couple of quarters. But the reason here is simple – the stock is already beaten up and I think the worst is already known. But don't mistake this statement for a buy recommendation either.
As much as I've made about answering the obvious questions of whether or not the bank can survive, the most important question to now ask is, can Bank of America run its business effectively? That question should not be posed to investors, but rather toward its management. Upon the release of its Q3 earnings results, there were several divisions that reported declines in revenue, most of which were in investment banking where revenue fell to $5.22 from more than $7 billion a year ago and $6.80 billion in the second quarter. Although deposits have risen by $11 billion to $422 billion, they were down significantly from last year's quarter of $427 billion.
There is some evidence that the company might be able to run its business effectively enough. But it has a lot of work to do before it turns the corner. The challenge for investors continues to be its risk-reward ratio – and not knowing where the value lies. Its low price should not be enough of an incentive to buy nor is the fact that it continues to make decisions that gives off the perception that it has embraced the role of the villain.
Chevron – I Would Buy

With the news that oil prices have started to rise on concerns with shipments in the Persian Gulf, I have begun to adjust my portfolio to prepare for any potential impact on consumer spending. For this reason, I'm willing to place some early bets on the energy sector while at the same time figuring out ways to hedge my own gas prices for some early portfolio plays. One company that stands to benefit from higher oil prices is Chevron.
The oil giant recently approved a substantial liquefied natural gas (LNG) compound in Australia that will supply energy to the emerging economies in Asia. This is the second LNG project for the company, which is betting on Australia to help generate growth in production. The company also plans to build an offshore production platform approximately 225 kilometers off the coast of Australia along with associated subsea equipment and infrastructure that will tie back the wells to the platform.
With such plans in place and a potential increase in fuel prices, it is difficult to agree with Cramer and sell Chevron at this juncture. Now admittedly, it remains a challenge to recommend any stock a buy that is already trading at 52-week highs, but this can easily be overlooked when the company is on such strong fundamental grounds as Chevron while still trading at a relatively inexpensive P/E of 8.49. I would be adding until fundamentals suggest otherwise.
Microsoft – I Would Buy

Microsoft is interesting because although I have been extremely critical of the company, I also considered it a Cinderella candidate for 2012. Its major challenge continues to be overcoming the many doubters and skeptics that have grown frustrated by its recent lack of innovation. The reality is, Microsoft is no longer a growth story. I realize that this is not breaking news, but it needs to be appreciated for what it is – and I know this is easier said than done.
The smart phone and tablet market have replaced what the PC market used to be, and as a result, the company has fallen behind Apple (NASDAQ:AAPL) and Google (NASDAQ:GOOG) on the dominant scale. Making matters worse is the fact that cloud computing has also taken a big chunk out of its enterprise leverage. But in spite of all of that, the company is heavily embedded in thousands of other companies and not easily replaced. Microsoft will most likely never grow again in a way that resembles the mid to late 90s but that does not mean it does not have life. It has been considered the sleeping giant and remains only one good idea away from being awakened.
Exxon Mobil – I Would Buy

It is hard to do much better than Exxon Mobil when it comes to oil and gas. As with Halliburton (NYSE:HAL) there is a lot to like with Exxon Mobil. Yet the company often gets overlooked for what appears to be routine success. It often gets taken for granted. It has a huge reserve and plenty of capital which is an appealing quality to conservative investors. Not to mention that it has a well earned reputation – something that many of its competitors are working hard to rebuild.
Investors should keep in mind that Exxon Mobil is still a dominant player even among the big oil companies. It has nearly three times the market cap of even the other oil giants, but it is hardly a lumbering, stumbling giant. The company is still in the mix of all phases of upstream and downstream operations, and its portfolio of exploration and production projects should make it able to continue to weather these lean times.
American Express – I Would Sell

As the chart above shows, financials did not perform well at all in 2011. I suppose this is an understatement by evidence of the sector's 18% decline. So with the economy still not back on track and with the recent rash of credit downgrades by Standard & Poor's it is a surprise to learn that Cramer had an early buy recommendation on American Express.
Fellow Seeking Alpha contributor Brian Harper recently made an excellent case for why the stock should be a sell. He said the following:
Amex's earnings are cyclical, with higher loan losses during recessions and lower losses during booms. Thus, we think it is rational to average earnings over a cycle. A five year EPS average (including 2011's expected $4.03/share) comes to $2.93/share. That's a 17x multiple based on the current share price.
Given competitive concerns, we think Amex is a clear sell at the current price. With bank valuations discounting a perpetually depressed rate environment, and low valuations across other financial names, better values are available.
I have to agree with Brian. Although the company has had a history of solid performances and has an established brand, it is hard to see much improvement in its operation above what has already been demonstrated to suggest higher prices. At the very least I am inclined to wait until the entire financial sector shows clearer signs of recovery before hoping on board.