The advent of social enterprise and networking and their wild success in gaming, advertising, crowd sourcing, information gathering and mass communication has created a whole new world in software, software engineering, cloud computing, storage and access to information. Some of the companies mentioned here are part of the old guard of software, services and hardware companies and some are new members to the space, specializing in information access in business-to-business cloud solutions. Some of the old guard such as Microsoft (NASDAQ:MSFT), IBM (NYSE:IBM) and Oracle (NASDAQ:ORCL) are making overtures into the new space while Google (NASDAQ:GOOG), Salesforce (NYSE:CRM) and VMWare (NYSE:VMW) are leading the way in the new world.
Google's stock trades around $642 and hit a high for the year of $646.42 and a low of $473.02.
Google's most recent quarterly report indicated that revenu was up 33% from the same period in the previous year, just short of $10 billion. Revenue was reported at $9.72 billion, an increase 33% compared with the same period of 2010.
The web browser, Google Chrome has quickly gained ground and is listed among the top three in the world behind Internet Explorer and Mozilla Firefox.
(Click chart to expand)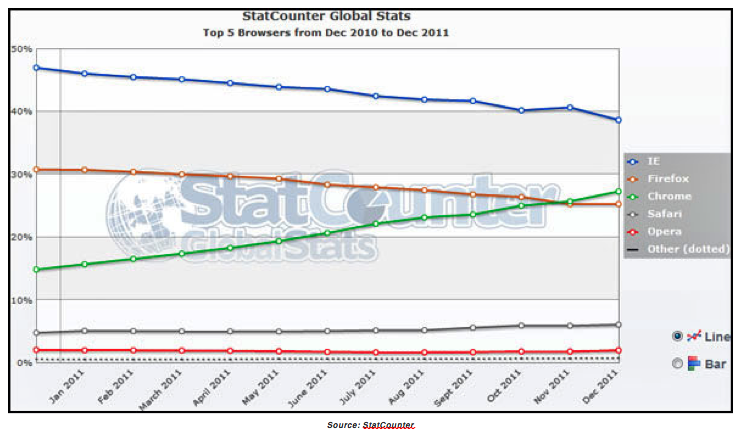 It has an ongoing patent infringement case against Oracle. Oracle has sued (pdf) Google claiming its android system violates several patents Oracle holds in relation to the operating system Java. The two companies have tried to settle these issues but it seems as if a costly and protracted litigation is expected. There may be some excitement in the stock in the coming year, depending on its success in the android market and the outcome of its patent disputes. Should Oracle be successful, Google's android applications and any prior and future right thereto may be in danger of being awarded to Oracle and that could spell disaster for Google shareholders.
VMWare common stock trades around $83.00, has a high for the year of $111.43 and a low of $74.04. VMWare's quarterly report (pdf) shows revenue growth of 32% or $942 million. U.S. Revenue for the third quarter grew 22% to $443 from the same period last year. International revenue grew 42% to $498 million from the third quarter of 2010. Earnings per share were positive at $1.49. The company has a cash position of $3.54 billion and debt of $450 million.
These results were driven by growth across all products with particularly strong demand in the Asia Pacific markets.
VMWare has enabled device diversity providing solutions for Kindle Fire, Mac, Linux, OS X, Windows and other platforms. VMware has offices in the Latin America, North America, Europe, Asia Pacific, the Middle East, and Africa. It has partner alliances with every major software systems, platform and service provider. This is an aggressive company, staking major claims in world-wide markets, and the year ahead will be very interesting.
Salesforce, Inc. common stock trades around $101.00, has a high for the year of $160.12 and a low of $94.09. Its recent quarterly report (pdf) recorded quarterly revenue of $584 million up 36% for the same period the previous year. It also recorded operating cash flow of $129 million up 74% over the previous year. Fully diluted earnings per share of $0.34 were up 6 percent from the previous year.
The cash generated from operations for the fiscal third quarter was $120 million, an increase of 74% on a year-over-year basis. A worrying number on the balance sheet is $918 billion in deferred revenue, which is representative of stock-based compensation not realized in the current period as well as acquisitions performed with stock, which are valued at the current share price.
The company has issued revenue guidance of $2.8 to $2.9 billion based on the projected revenue from recent acquisitions. The guidance also estimates negative earnings per share in 2012 in the range from ($0.06) to ($0.11) reflecting the impact of stock-based compensation, acquisitions in shares, amortization of purchased intangible assets and debt accrued upon acquisitions. The company has total cash of $645.85 million and debt of $542.68 million.
Salesforce has 100,000 plus customers and is leading the shift to cloud computing in social enterprise. Most of its products serve the social networking needs of businesses as opposed to consumer needs.
The company was founded by former Oracle executive Marc Benioff who has demonstrated that his leadership is not timid when it comes to expansion. The caution on this company is that it does not have the customer base of its competitor, VMware and is currently limiting its scope to social enterprise. It is issuing stock for acquisitions and for compensation and has a creeping debt position. That and the unknown saturation point of social enterprise may hinder growth. Management has issued negative earnings guidance, which will cause some institutional holders to exit the investment should the earnings forecasts prove true or worse than predicted.
Disclosure: I have no positions in any stocks mentioned, and no plans to initiate any positions within the next 72 hours.