It's one thing to just go into the market looking for a stock with a nice dividend yield. There are many choices that will meet the investor's desire for high yield. Without looking at the fundamentals of the company, the investor may find a himself or herself with a high-yield stock soon to be a lower-yield and lower-priced stock. We all know that when a stock price declines, then the yield is increased with the same dividend amount. If the stock price decreased because the company earnings are turning south, then the dividend is likely to be cut in the future. The best high-yield stocks are companies that are growing their earning to sustain and increase their dividends in the future.
The stocks in the table below have current high-yield dividends that are also increasing their earnings per share in the past year and over the last three years. Many of these companies have an average 5-year dividend growth rate in the double digits. This leads to an equity summary score (summary of analysis ratings based on past performance of stock picks) that is bullish on these stocks. The combination of these stock metrics make for a list of stocks to begin researching for long-term dividend plays.
Vale S.A. (NYSE:VALE) engages in the exploration, production and sale of basic metals in Brazil. The company is also involved in fertilizers, logistics and steel businesses. VALE appears to be undervalued today with a current PE ratio of 4.3 compared with a 5-year average PE of 13.5. VALE has exceptional EPS growth over the past three years. The only things holding back VALE is the Brazil market, which has been down in the past year and the potential for future price declines in the basic metals. With a dividend of 8%, VALE is a stock that should be watched for a turn for the better when commodity prices rebound.
TAL International Group, Inc. (NYSE:TAL) engages in leasing intermodal containers and chassis worldwide. It operates through two segments, Equipment Leasing and Equipment Trading. TAL had an increase in EPS of 177% in the past year compared with the previous year. It rewarded investors with significant dividend increases in this period. In 1st-quarter 2010, TAL paid a quarterly dividend of $0.25. In 3rd-quarter 2011, TAL increased the dividend to $0.52 per share, more than double the 1st-quarter 2010 dividend. During this period, TAL increased dividends in 6 consecutive quarters. TAL has above-average debt as this is typical for trading and container companies, but it sports a healthy ROE of 22%. TAL has a nice dividend yield of 7.23%.
Other stocks listed in the table below that also fit the high yield, high EPS growth include: FUN, SI, CMO, EPD, AZN, ITUB and BMA.
(Click chart to enlarge)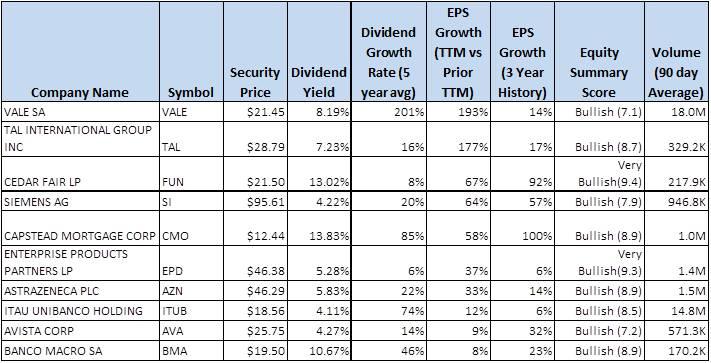 Disclosure: I have no positions in any stocks mentioned, and no plans to initiate any positions within the next 72 hours.