Despite a fairly lackluster performance over the last 12 months by Google (NASDAQ:GOOG) and technology stocks in general, the stock is finally getting its mojo back. The stock is breaking out on very good volume as we begin a new trading year.
One-Year Chart For Google

This is a very impressive breakout that has been building over the last several weeks. This also comes after a big double-bottom in the stock during the summer and fall. We know that the chart looks good, but what about the fundamentals, and valuation of the stock?
Let's begin with some current basic info on the shares first: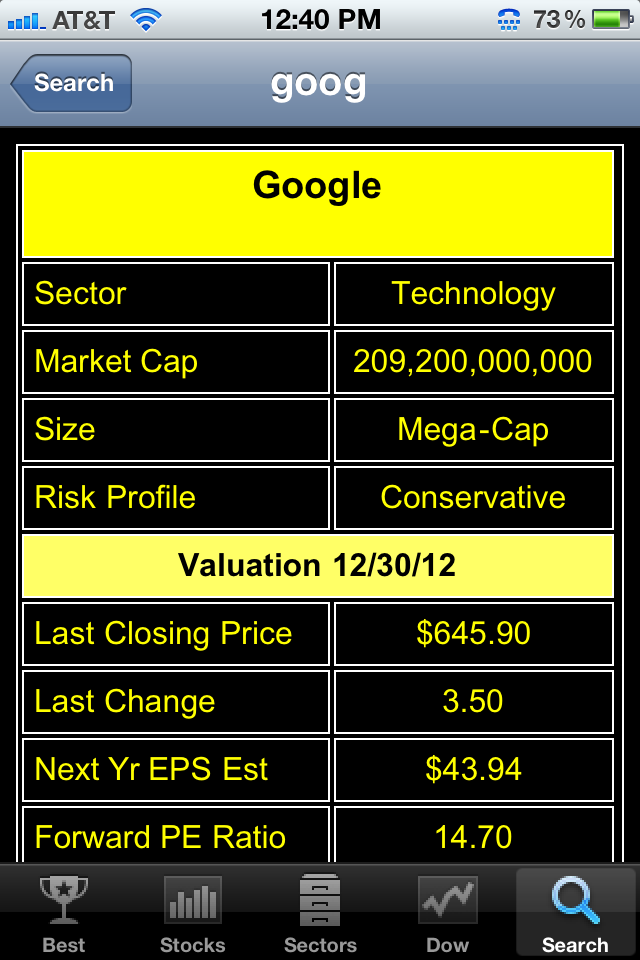 (Data from Best Stocks Now App)
Headquartered in Mountain View, CA, Google is now one of the largest publicly traded companies in the world at just over $209 billion. I can still remember the day that Google went public back in August of 2004. The stock was one of the hottest IPOs of all time.
During the last seven plus years, earnings at Google have gone from $2.51 per share to an estimated next year of $43.94 per share. Over the last five years, the earnings at Google have grown by an average of 27% per year. Over the last four quarters, Google has grown earnings by 33%, 32%, 27% and 26% respectively.
Over the next five years, according the army of analysts that follow the company, Google is expected to grow its earnings by just over 19% per year. Google currently has a very favorable PEG ratio with a forward PE of just 14.7 against a growth rate of 19%. The PEG ratio is currently 0.78. These are Apple-like numbers.
If Google can indeed earn $43.94 per share next year, and grow those earnings by 19% per year over the next five years, they will be making $88.38 per share five years from now.
Google currently trades at a PE ratio of 18. Over the last four quarters, its PE ratio has ranged between 17-21. Over the last seven years, the average PE ratio of Google has been about 40.
I am using a very conservative multiple of 14 on potential future earnings of $88.38 per share to project a five-year target price of $1,237 per share. Google currently does not pay a dividend. I believe that Google has 91.6% upside potential over the next five years.
Here is what that calculation looks like (this is a simple valuation formula that I used for many year as a stock analyst):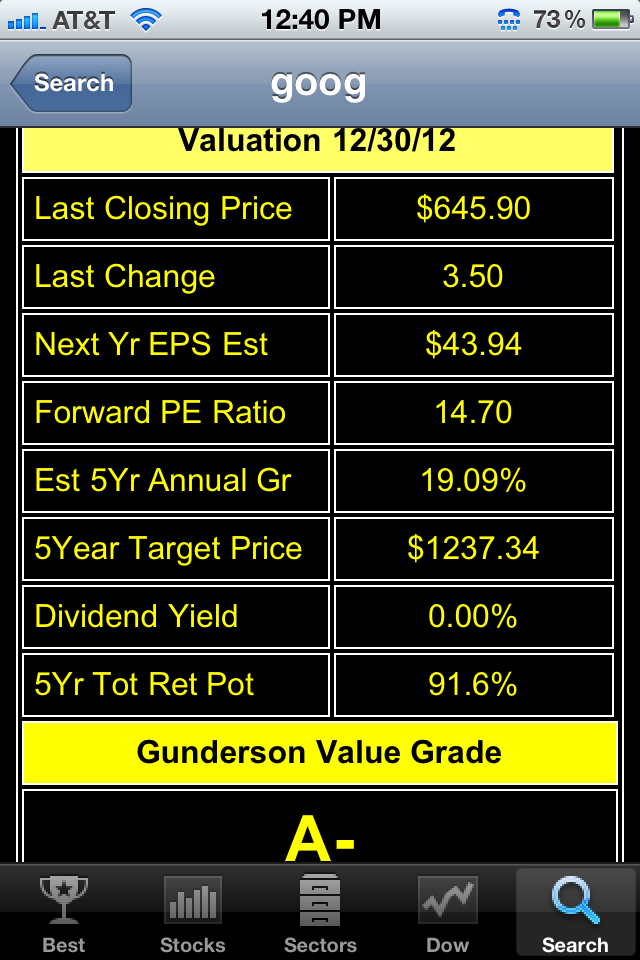 (Data from Best Stocks Now App)
I like stocks that have upside potential of 80% or more over the next five years. Unless the stock currently keeps moving higher, Google currently possesses that.
Google along with Apple (NASDAQ:AAPL) are my two favorite tech stocks right now. I know, join the crowd. In this instance, I believe that the crowd is right. I like Google at this level.
Disclosure: I have no positions in any stocks mentioned, and no plans to initiate any positions within the next 72 hours.