By Brendan Gilmartin
Overview
Alcoa (NYSE:AA) is scheduled to report 4Q 2011 earnings after the closing bell on Monday, January 9. A conference call will follow at 5:00 p.m. EST. Alcoa is a critical release, as the company is the first of the Dow 30 members to report quarterly results and is often viewed as a proxy for the ensuing earnings season. The results therefore have an impact across the broader market, including the index futures and ETFs.

Outliers and Strategy
Sympathy Plays: Kaiser Aluminum (NASDAQ:KALU), Century Aluminum (NASDAQ:CENX), Alumina (AWC) and Aluminum Corp of China (NYSE:ACH).
Alcoa is seen posting EPS of $0.02 (range: -$0.08 - $0.17) on revenues of $5.79 bln (Source: Yahoo Finance).
On the London Metal Exchange, the price of aluminum fell approximately 7% during the 3Q, nearly mirroring the drop in Alcoa shares.
Recent News
12/27: Jefferies & Co. lowered its price target on Alcoa to $12 per share, according to a report on Benzinga.com. The firm also reduced its Q4 EPS estimate to $0.00, but suggested a bounce could be in store if U.S. economic data improves.
11/28: A report in Barron's suggested the sell-off in Alcoa shares may be overdone, given that prices for aluminum were at a low for the year and the fundamental picture remains encouraging.
11/09: Alcoa hosted its annual investor day in Davenport, Iowa. The company pointed out it is meeting aggressive goals across its three business lines, lowering its cost position, and driving profitable growth in the mid- and downstream businesses.
Global Primary Products: Sees continued market tightening in 2011.
Global Rolled Products: Targeting approximately $2.5 billion in additional revenue by 2013.
Engineered Products and Solutions: Targeting approximately $1.6 billion in additional revenue by 2013.
10/11: For the 3Q period, Alcoa blamed weakness in Europe for a sequential decline in earnings.
Technical Review
Alcoa shares recently succumbed to the lowest level since July, 2009, before bouncing back in recent sessions. The recent lows near $8.50 will be a key support level to watch in response to the coming earnings release from Alcoa. Should earnings surprise to the upside, there is room to run toward $10 per share, eclipsing both the 20-Day SMA & 50-Day SMA along the way. (Chart courtesy of StockCharts.com)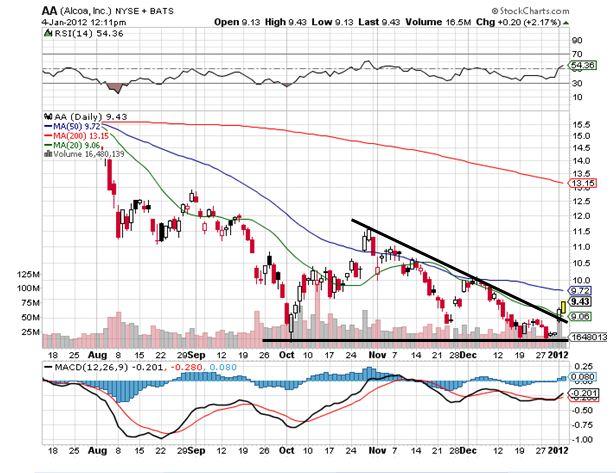 Click to enlarge
Summary
Alcoa shares have been hit hard in recent months, losing more than 17% from the late October highs, stemming from the drop in aluminum prices, weakness across Europe, and signs of softness in North America. But with the shares trading at just 8.72x free cash flow and 0.4x sales, strong technical support near $8.50, and predominantly negative sentiment on the sell-side, much of the weakness could be priced in, leaving Alcoa poised for a rebound in the event of an in-line to slightly better earnings release.
Disclaimer: By using this report, you acknowledge that Selerity, Inc. is in no way liable for losses or gains arising out of commentary, analysis, and or data in this report. Your investment decisions and recommendations are made entirely at your discretion. Selerity does not own securities in companies that they write about, is not an investment advisor, and the content contained herein is not an endorsement to buy or sell any securities. No content published as part of this report constitutes a recommendation that any particular investment, security, portfolio of securities, transaction or investment strategy is suitable for any specific person.
Disclosure: I have no positions in any stocks mentioned, and no plans to initiate any positions within the next 72 hours.