We recommend a swap trade between two similar U.S. nitrogen fertilizer MLPs (Master Limited Partnerships).
CVR Partners (NYSE:UAN) has reached our price target. This morning it was trading at $27.17 and yields 8.1% and is at our $2.20 estimate for its 2012 distribution rate, which is higher than its April IPO advertised rate of $1.92.
We recommended CVR Partners when it was $22.20 here two months ago. It's up 22.4% and we are selling it because we think Rentech Nitrogen (NYSE:RNF) has more upside and less risk at these valuations.
Click to enlarge charts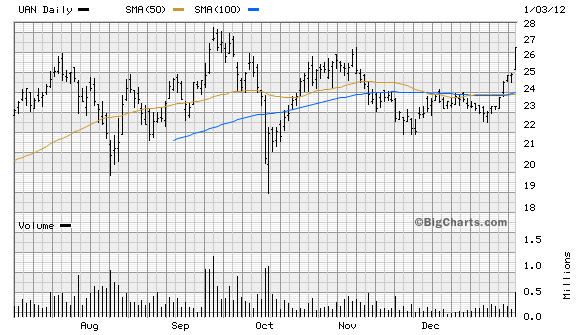 Click to enlarge
Rentech Nitrogen has declined to the $17 area since it went public at $20 two months ago and has lagged a rally in other nitrogen fertilizer stocks. This morning it is trading near $17.50, and is bouncing after testing its low price of $16.045 reached December 20, 2011.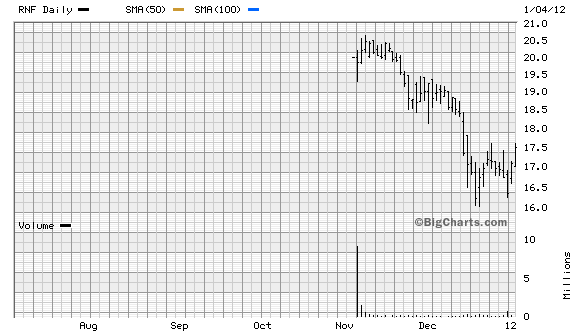 Click to enlarge
We panned this newest nitrogen MLP unit issue in an article here because Rentech did not have September 30 year-end results to show, and did not plan to pay its initial distribution until May 2012.
Two months later, RNF has declined 15% and is closer to paying its first distribution.
To earn the $2.34 advertised IPO annual rate, Rentech must obtain a minimum price on fertilizers it has not yet pre-booked for 2012 application. Sales have been slow as farmers have stalled on making orders due to lower crop prices.
RNF's Q4 financial results were marred by the biennial turnaround. EBITDA came in at only $12.9 million whereas it will need $100 million in EBITDA to achieve its 2012 projected results. Therefore we are decreasing our estimate for RNF's distribution rate to $2.00 versus $2.34 advertised in its IPO (14.5%).
That's still a 11.4% yield on the current $17.50 price per unit. The first distribution will include five months of cash flow or an estimated 83 cents per unit.
RNF has to achieve a $605/short ton price on 41% of its ammonia and $315/st on 54% of its UAN-32 budgeted for FY 2012 sales that had not yet been pre-booked as of the December 15 Q4 conference call.
Although spring prices for Tampa ammonia and NOLA UAN have declined sharply over the month, to the $425 and $285 area respectively, a premium to Gulf pricing will be achieved for Rentech's sales in its immediate Corn Belt selling area.
Therefore, there is a chance Rentech could earn its forecasted $2.34 distribution rate which would boost upside.
The whole fertilizer group is rallying as corn prices have firmed up and the commodity markets have been supportive.
Our target for the RNF unit is dependent on how spring pricing for fertilizers unfolds, but it is lagging other nitrogen fertilizer MLPs such as CVR and Terra Nitrogen. It should revisit its IPO price of $20 for near-term upside of 14.3%.
Disclosure: I am long RNF.