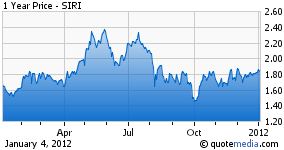 As remarkable in its execution as it has been in 2011, Sirius XM (NASDAQ:SIRI) at times continues to prove that it is its own worst enemy. You would never be able to tell this by a company that has seemingly outperformed all expectations in 2011. But it has shown an incredible ability to do the unusual. This time, however, I'm talking about the company, not the stock. We've already known that the stock does what it wants when it wants. The company, however, has been the one stable component of the two. But I'm beginning to wonder is there a method to its recent madness?
On December 30, we learned that the company had officially released its long awaited 2.0 Lynx radio. I rushed to the company's defense and suggested that investors give it the benefit of the doubt as there are many who continue to proclaim the device has already failed to live up to the hype. I, on the other hand disagree. But I'm not sure how much longer I can remain an optimist when the entire shopping season was missed with no clear explanation.
The radio is said to the most advanced radio ever from Sirius XM with the capability to receive the new expanded Sirius XM 2.0 channel lineup of commercial-free music, sports and comedy that includes Sirius XM Latino, a new suite of Spanish-language programming. The device is built with a flexible architecture which allows for new features and capabilities to be added through software updates. These were all of the promises that were made by CEO Mel Karmazin for most of 2011. He has delivered, but the timing leaves many with more questions than there are answers. This is one of the reasons that many continue to doubt the company's ability to execute its business over the long term in the face of "free competition."
To combat this perception, I recently I suggested that the company should endeavor to rebrand itself by dropping the words satellite and radio from its name. Instead I thought a more suitable name should be Sirius XM Audio Entertainment – one that offered not only more of an appealing quality but also sounds less restrictive to the services that are often associated with just satellite and radio. I think this is an idea that now deserves more consideration especially with Lynx having now been officially launched.
It seems as much as Sirius is moving forward it continues to struggle with leaving old technology behind – which is what "radio" is. While it continues to be a great turnaround story, I think this tight definition will hinder the tech image that it eventually might want to adopt. This is the same mindset that has allowed Amazon (NASDAQ:AMZN) to now be considered a technology bellwether when it first started as a retailer – one that sold only books. Now not only is the company a formidable opponent to Apple (NASDAQ:AAPL) by the early success of its Kindle Fire, it has also taken on Netflix (NASDAQ:NFLX) in movie streaming with its Amazon Prime service.
With 2012 now officially underway, Sirius stands to benefit from its base price increase. It will take several quarters before investors learn exactly to what extent. On this issue, I once said it blew a great opportunity to raise rates by $2.00 and instead opted for $1.54 – essentially leaving 46 cents on the table. I felt it was its own worst enemy on this decision by virtue of its timid approach toward a price increase over which it had complete control. I felt to some extent that it demonstrated what is perceived to be lacking in value in the service. And I have not changed my view on this with the Netflix (NFLX) situation notwithstanding.
There are some who will be reading this and think that I am (or have been) too harsh on the company, but I disagree. I think my track record shows that I have been more than fair in my analysis of the company and the stock. However, there are times when certain discussions need to be had and the company should be questioned when it makes certain decisions. I don't think any one company is above reproach – particularly one where its stock has underperformed to the extent that Sirius has.
Having said all of that, I remain bullish on the stock long-term and feel that its prospects for this year are outstanding. But will it continue to be its own worst enemy and not do the things that both a company and a stock need to do to perform? Will it low ball guidance as has been the norm? Will it become aggressive in its marketing and try to capture a broader (or perhaps) younger audience? Will it hold off on releasing information and products that can potentially become catalysts for the stock? Will it opt to buy back shares instead of the more prudent use of cash and pay down debts?
Summary
I don't know if I will have the same amount of patience this year as I did in 2011 by suggesting that the company may continue to outperform the stock a little longer. But early indications are that auto sales are poised for a second straight year of growth due to the availability of easier credit, low interest rates and pent-up demand for cars and trucks. So subscriber numbers will be a positive, but it can only go so far. In 2012, it's going to be about execution and performance and Sirius XM should become its own friend and not its enemy.