This is the 17th piece in our Positioning for 2012 series. Readers can find the entire Positioning For 2012 series here.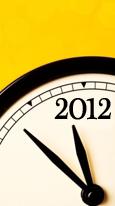 Alex Gurvich cofounded The Rockledge Group and Rockledge Advisors and has been managing these strategies for the past seven years. Prior to that, Mr. Gurvich was a venture capitalist with General Electric's GE Capital. The AdvisorShares Rockledge SectorSAM ETF (SSAM) seeks to generate stable and consistent annual returns under all market conditions.
The Portfolio Manager seeks to achieve the objective by employing an actively managed and diversified, equity sector rotation process. The Fund will be buying (being long) the sector ETFs that Rockledge forecasts to outperform the S&P 500 Index while also selling (being short) an equal dollar amount of sector ETFs that they forecast to underperform the S&P 500, based on a proprietary quantitative analysis known as the "Sector Scoring and Allocation Methodology" (SectorSAM). The Fund expects to hold equal amounts long and short, thus creating a dollar neutral portfolio. The AdvisorShares Rockledge SectorSAM ETF (NYSE: SSAM) will open for trading on Thursday, January 12, 2012.
Gurvich says, "The U.S. economy goes through various growth cycles, which means there should be relative sector variation at all times. We rotate investments between the U.S. economic sectors based on our proprietary evaluation in order to try and outperform the overall market."
Seeking Alpha's Leland Montgomery recently spoke with Alex to find out how he planned to position his fund in 2012 given his outlook for the various sectors of the market.
Portfolio Construction
Seeking Alpha (SA): How would you generally describe your investing style/philosophy?
Alex Gurvich (AG): Rockledge's philosophy is to provide alternative strategies to high net worth individuals, RIAs, Family Offices and institutional investors. We believe that having a properly diversified portfolio is key for achieving an optimal risk/reward portfolio profile and it is necessary to achieve good, long term and stable performance. Within the properly diversified portfolio we believe investors should allocate up to 20% to alternative, non-correlated strategies.
Rockledge focuses on sector rotation within the S&P 500 index. We invest in (go long) the sectors that we believe are undervalued relative to the S&P 500 and we sell (go short) the sectors that we believe are overvalued relative to the S&P 500. The strategy is a dollar neutral strategy, where the value of all long positions equals the value of all short positions. Our strategy is what is typically referred to an absolute return equity strategy, and is a pure equity play, with no leverage nor derivatives.
SA: Within equities, are there any particular sectors or themes you are currently overweight or underweight? If so, why?
AG: Our portfolio is currently overweight (long positions) in Materials, Financials and Technology sectors and we are underweight (short positions) in Consumer Staples, Healthcare and Utilities sectors.
Our proprietary "Sector Selection and Allocation Methodology" (SectorSAM) points to a short-term rally, with Materials and Technology sectors benefiting the most before the end of the year. We also believe that the Financial sector has suffered too much due to the European crisis and that there will be some kind of an agreement between the European countries to prop up the Euro and the European Union before the end of the year.
The SectorSAM analysis conversely points to strong short-term pressure on the defensive sectors such as Consumer Staples, Healthcare and Utilities.
SA: Name one investment that exceeded your expectations in 2011, and one you had high hopes for that didn't pan out. Do you see any particular investment surprising investors over the next year?
AG: We believed that the Healthcare sector suffered tremendously due to recent health care legislation and that this year would be a year for comeback, which it did -- Healthcare sector had a nice 11% outperformance over the S&P 500.
We had high expectation for the Financial sector to have a better performance for the year, and that temporarily panned out, until the Greek default crisis started the domino effect on the rest of the weak European countries – Financial sector underperformed S&P 500 by 17%.
SA: To which index or fund - if any - do you benchmark your performance? Has this changed recently, and if so, why?
AG: Rockledge's absolute return strategy is designed to deliver cash like plus several hundred basis points returns, while being fully invested. Rockledge's other strategy is Long Only, designed to outperformed S&P 500 index, which it has by a very healthy margin.
SA: Some describe the current era as "The Great Deleveraging." Do you agree/disagree, and does this macro consideration affect your investment planning process?
AG: Yes, I agree with that statement. Rockledge strategy and strength is to correctly forecast the economic health and relative value of each sector within S&P 500. Good forecasting analysis, by default, recognizes different macroeconomic and fundamental factors, which would incorporate a view on the level of leverage. Hence Rockledge model, by design, takes deleveraging into consideration.
SA: 2010-11 saw a notable rush for the exits from equities and equity vehicles. Is this a cyclical, or secular shift? What would it take to bring them back?
AG: Equities are here to stay, but the allocation to equities is and will be diminished to this asset class of for the near and medium term. Better economic environment, which is not anywhere in sight, will bring increased allocation to equities, relative to the other asset classes.
Global Markets
SA: Global Macro considerations dominated the headlines in 2011. Do you see 2012 unfolding differently? If so, how?
AG: European monetary crisis is mostly priced in the market. The one global macro unknown at this stage is increased political tension with Iran. If this has seriously escalates, it will drive energy prices sky high and it this year's Arab Spring energy spikes will be nothing in comparison. Any open (not covert) military action with Iran can cause tremendous market gyrations.
SA: Eurozone contagion: Will it continue to drive the market's direction, and how are you protecting client assets from potential fallout there?
AG: No, although the European crisis will bring more volatility, from the market's perspective it is old news.
SA: Where are the real growth stories overseas right now?
AG: There are several growth stories overseas, but the only one that is a growth story and stable is Brazil.

SA: The Iran nuke situation and a potential Israeli, U.S. or global attack. How serious would such an event be to oil prices and subsequently, the global economy/exchanges? Is this something you're positioning for and if so, how?
AG: This is my biggest macro concern for the next year. I do not see how one can position the portfolio against such event, unless you go heavily and immediately into cash.
U.S. Market
SA: We are coming up on an election year. Will this be good or bad for markets? Are you positioning for different potential outcomes?
AG: I do not have a view on that. Unfortunately in this environment, the markets and sectors will be influenced by political statements and the sectors will not be valued based on their fundamentals.
SA: Inflation or deflation? Growth or recession? Which way is the U.S. economy headed and how will you be positioning clients?
AG: Next year's economy is going nowhere or more specifically the economy will not have any meaningful direction. It is time to be ready for both a whipsaw, and a range-bound market.
Asset Allocation
SA: Please break down your ideal asset class weightings for investors with a longer-term horizon and no need for current interest income (Not considering personal financial objectives):
Suggested Allocation

We implement all of our sector rotation strategies through State Street Select Sector SPDR ETFs, which include:
| | |
| --- | --- |
| XLB = | Materials |
| XLE = | Energy |
| XLF = | Financials |
| XLI = | Industrials |
| XLK = | Technology |
| XLP = | Consumer Staples |
| XLU = | Utilities |
| XLV = | Healthcare |
| XLY = | Consumer Discretionary |
Disclosure: The Fund is long XLB, XLE, XLF, XLI, XLK, XLP, XLU, XLV, and XLY.