I will start off by giving credit to DividendGrowthInvestor, which knocked the ball out of the park with a 14.9% average return. That is truly impressive. After Q3, I was well within reach and had a comfortable lead with my 2nd place. Clearly, things did not go as well as I was hoping for. What went wrong? By far, the biggest mistake was picking Ctrip (NASDAQ:CTRP), a Chinese internet travel stock that completely crushed my year.
While I use stop trades in my long and short trades, I do not have that luxury in this stock picking competition, which makes things very challenging. It seems as though Chinese internet stocks have been a large part of my fate in the past years. In the first season, I was able to win it all led by a solid performance by Baidu (NASDAQ:BIDU). Then, both last year and this year, I was taken down by Sina and Ctrip… This will not happen again. You might recall my post about being very bullish on Chinese internet leaders. I still am. But that means I should only stick to the bigger fish in the pond and clearly Ctrip was not the right pick.
Before going further, here are my results for the 2011 competition:
(Click charts to expand)
Ctrip -42,15%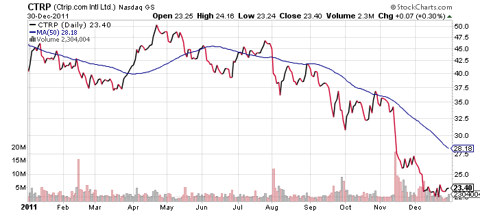 Amazon (NASDAQ:AMZN) -3,83%: It is a bit surprising to see Amazon down on the year, I think the year was very solid all around and while margins did decrease, growth is still solid.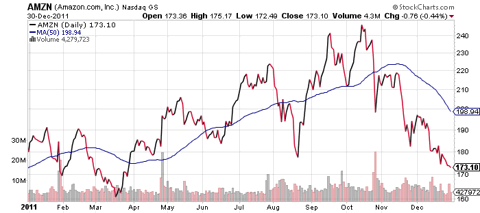 Pepsi (NYSE:PEP) +4,75%: Clearly Pepsi was a good pick, a solid company that continues to operate very well in a challenging environment. I have said a few times that I prefer Pepsi to Coca-Cola (NYSE:KO) and that is still the case.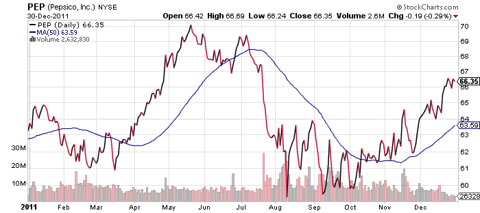 Kimberly-Clarke (NYSE:KMB) +21,63%: The winning pic of this year and it had been one of the most promising looking stocks that we had looked at in our dividend focused newsletter. The company remains a good value and one that I personally think can do very well in 2012.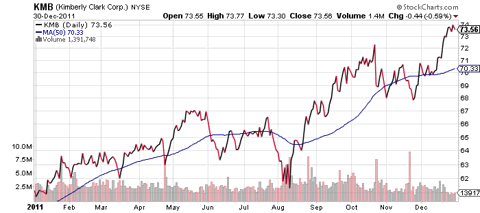 2012 Picks…More Of The Same? Close But Not Exactly
Clearly, picking Chinese stocks has proven to be high risk, high rewards and this year I will instead focus on stocks about which I know a little more. You might have noticed that my two dividend stock picks performed very well, better than my technology stocks in fact. Why not focus entirely on those then as is doing DGI? Because I believe in a balanced approach and while dividend stocks will perform incredibly well in bear markets such as what we had in 2011, I still prefer using a balanced approach and will thus pick two tech stocks and two dividend stocks.
Apple (NASDAQ:AAPL) – No surprise here, I continue to think that the stock is undervalued in a big way and while the Steve Jobs departure is certainly cause for worry, it's not enough for me to justify the incredible value that I see in the stock.
Travelzoo (NASDAQ:TZOO) – I once was very negative about Travelzoo but I think the company has been able to prove that its strong revenue growth can keep up. I do think Travelzoo's approach is fairly different than most competitors and it does seem fairly cheap at these prices.
Dividend Stocks
I will be publishing the top 100 dividend stocks in terms of dividend yield for 2012, but as I always explain, there is much more to it than simply a dividend yield. Through careful analysis, this week's newsletter analysis came up with seven names including these two, which I think are not only great dividend picks but also currently being priced at very affordable prices.
Aflac (NYSE:AFL): The insurance company mostly known for its duck has often come out as a great dividend pick in our frequent in-depth analysis, I think it's a great company and a great value.
Intel Corp (NASDAQ:INTC): I did hesitate between Microsoft (NASDAQ:MSFT) and Intel (INTC) in terms of technology stocks that are also great dividend plays. Intel continues to do amazingly well and I think its current price is very attractive.
Hopefully these 4 names can help me return to the top