Media General (NYSE:MEG) faced a difficult 2011, partly due to an off-political cycle year and also due to incompetent management. Management had repeatedly underperformed its own estimates from the very beginning of 2011 and would use the simple excuse of "it's the economy." Management also cost investors anywhere from $12-$25MM by missing one of the fattest pitches available for refinancing windows in the spring and summer of 2011 before the onset of the Euro-zone crisis made refinancings more challenging and expensive. At any rate, it appears that the market priced much of these concerns in through 2011 as the stock lost significant value and MEG now appears to be in position to perform well in 2012.
The first bit of good news for MEG is that it appears that the company may have come out on top against Verizon (NYSE:VZ) in its negotiations for retransmission fees in the latter part of December. VZ was negotiating with MEG's NBC affiliates in Tampa (WFLA) and Providence (WJAR) and due to local viewer support, appears to have reached a compromise that keeps MEG's NBC affiliates on VZ' FiOS network in those regions. This will matter for a number of reasons.
As covered previously, MEG faces a number of very strong tailwinds in 2012 including the NBC-broadcast Super Bowl XLVI, NBC-broadcast Summer Olympics, the Republican Party Primaries, and the 2012 Presidential Election. MEG owns a number of television broadcast stations in key battleground states such as Ohio, Florida, Virginia, South Carolina, and North Carolina which will see significant ad dollars due in some cases to both the Republican Party Primaries as well as the Presidential election. South Carolina follows New Hampshire in hosting its own Republican Party Primary, followed by Nevada, and then perhaps the most critical Republican Party Primary – Florida. MEG owns television stations in both Myrtle Beach and Charleston, SC so should benefit from the SC primaries and Florida is one of MEG's most critical properties.
Florida should stand to benefit from a highly contested Republican Primary which will be held on January 31, 2012. FL has been a critical state in prior primaries and general elections so should see considerable ad spending by the candidates. Another benefit is that the Republican National Convention (RNC) will be held in Tampa, FL in August 2012 and Tampa is where MEG's FL properties are primarily located, including its NBC affiliate WFLA and Tampa Tribune newspaper. The combination of a highly contested and critical Republican Party primary in FL, the hosting of the RNC in Tampa, FL, and the importance of FL in the general election should allow FL to make a significant contribution to MEG in 2012.
This is critical to MEG because the FL segment was a major headwind in 2011. As Table I below illustrates, in prior years FL was a positive contributor to MEG's operating profits until 2011. FL performed very well in 2010 due to key Congressional and Gubernatorial races in the state which led to it contributing $18MM in EBITDA or 14% of MEG's total EBITDA in 2010. Through the first three quarters of 2011, the same division is generating an EBITDA loss of $2.3MM. This trend should reverse in 2012 given the number of significant contributors listed above whereby the FL segment should be in a position to make a positive EBITDA contribution to MEG. Given MEG's relatively fixed cost base, incremental improvements in FL will make a prominent contribution to the company's bottom line.
TABLE I: MEG GEOGRAPHIC PERFORMANCE (USD MM)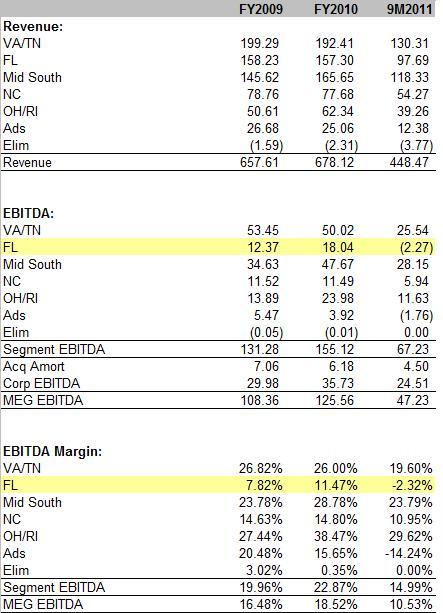 In 2010, MEG shares ranged from $5-$13+ per share, largely driven by Winter Olympics and key Congressional and Gubernatorial races. The Summer Olympics historically generate more revenue than the Winter Olympics and this combined with an NBC-broadcast Super Bowl, competitive Republican Primary race, hosting of the RNC in a key MEG location, and finally what should be a massive ad dollar driven Presidential election should allow MEG to achieve margins that yield valuations close to at least $10/share, provided incompetent management does not snatch defeat from the jaws of victory.
Disclosure
: Author manages a hedge fund and managed accounts long MEG.