U.S. vehicle sales were reported on Wednesday. Analysts estimated that the figure would come in at 13.5 million.
So, would the numbers beat expectations? Traders had a few reasons to anticipate a rosy picture.
First, many market commentators believe that auto sales are strongly correlated with consumer confidence. On the surface, this makes intuitive sense, as more confident consumers may be more likely to make a large purchase such as an automobile.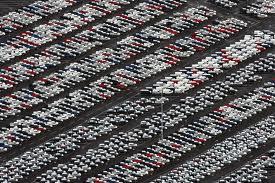 Recently, consumer confidence has come in better than expected. For December, the U.S. consumer confidence figure was at a multi-month high. If the correlation holds, vehicle sales may be anticipated to match this rosy figure.
Second, auto sales may be due to improve simply because they must.
Autos are durable goods, but eventually they too must be replaced. Currently, the median age of registered vehicles on the road is roughly 10 years.
While the argument can be made that newer vehicles are of better quality and last longer, a 10-year old vehicle driven at a typical rate may have well over 100,000 miles. At that point, owners may be anticipated to look for something new.
Is there an opportunity here for U.S. investors?
A trend of automobile replacement could prove beneficial to quite a few stocks.
The obvious picks are the automakers like Ford (NYSE: F), General Motors (NYSE: GM), Honda (NYSE: HMC) and Toyota (NYSE: TM). Major suppliers like American Axel (NYSE: AXL) could also see strength.
Chrylser is now a part of Italian car maker Fiat (OTC: FIATY.PK), but could do an IPO at some point this year.
When viewed from a wider perspective, American automakers could be more attractive than foreign ones, primarily because of currency.
The Japanese yen has been relatively strong in recent months. This has taken its toll on Japanese manufactures, as recent economic data out of Japan has demonstrated that Japan's manufacturing sector is showing weakness.
With a stronger yen, cars made in Japan look more expensive to foreign consumers, and therefore less of them may be sold.
At the same time, the U.S. dollar has shown weakness over the past year, and that could make cars made in the U.S. more attractive from a pricing perspective.
Another wildcard that may be factored in is the United Auto Workers.
Recent reports thave stated that the UAW is seeking to infiltrate the factories of foreign car companies in the U.S. Although these companies have long been successful in keeping the UAW out, should the union succeed, it could harm these companies in coming years by driving up labor cost.
And in general, a continuing weak economy could keep auto sales subdued.
So, what did the sales figures look like on Wednesday? General Motors, Ford, and Chrysler reported December vehicle sales that beat analysts' estimates, capping the U.S. auto industry's best year since 2008.