After closing 2011 at exactly the same level it closed out 2010, the S&P 500 came blasting out of the gate with guns a-blazing on Tuesday to celebrate the New Year. It was a welcome sight to scores of nervous investors.
While the S&P 500 price index finished 2011 flat, the Dow Jones Industrials finished the year up +5.5%, the Nasdaq was down -1.8%, and the Russell 2000 small cap was down -5.5%. Given that Utilities was the top-performing sector for the year, it is obvious that conservative, cash-generating, dividend-paying stocks were in favor, while riskier growth stocks were avoided.
To be sure, there has been—and there remains—plenty of reasons for investors to worry. Besides the unresolved debt crisis in Europe, i.e., the proverbial elephant in the room, there is instability in Russia from their elections, North Korea's leadership succession, uprisings in the Arab world, the threat of Sunni/Shiite civil war in Iraq, and saber-rattling from Iran. All of this uncertainty has created a flight to safety mentality in which U.S. Treasuries and the U.S. dollar serve as the safe havens of choice among global investors, which has hindered equities.
Nevertheless, U.S. economic numbers continue show positive momentum, and that bodes well for equity investment. LEI, jobless claims and unemployment, housing starts and home sales, GDP, durable goods orders, industrial production, and consumer confidence have all shown improvement. Corporate earnings are robust and growing and corporate cash levels remain high, while interest rates remain historically low. Moreover, the spread between S&P 500 earnings yield and corporate bond yields is at a multi-decade high, making stocks look like a relative bargain.
Where to invest, you ask? Well, in case you haven't yet registered, Sabrient's annual "Baker's Dozen" Top 13 Stocks for 2012 will be unveiled on Thursday afternoon in a free live WebCast. Sabrient's founder and chief market strategist David Brown will be the main speaker, and Luke Rahbari of Stutland Volatility Group will offer his suggestions on how a trader might execute options trades on this list.
Looking at the charts, SPY closed Wednesday at 127.70, which is a nice breakout from the symmetrical triangle formation and that tough 200-day simple moving average that had foiled the prior several breakout attempts. Now, RSI, MACD, and Slow Stochastic have all turned back up, as I suspected they might. With the exception of Tuesday, daily trading volume remains exceptionally low, as is typical of the holiday season. We might see a brief test of resistance-turned-support at the 200DMA, but I expect it will hold—unless a nasty news event hits the markets.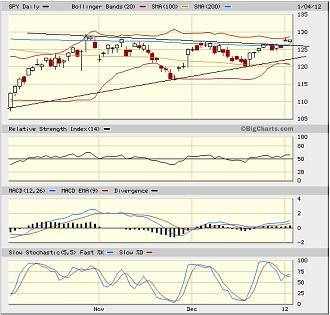 The VIX (CBOE Market Volatility Index – a.k.a. "fear gauge") closed Wednesday at 22.22. It again has its sights set on testing support at 20. It remains relatively low, especially compared with the higher-volatility environment we have seen so much this year.
The TED spread (indicator of credit risk in the general economy, measuring the difference between the 3-month T-bill and 3-month LIBOR interest rates) seems destined to test resistance at the 60 level. Recall that it was in the low teens back in August. It closed at 57.23 on Wednesday. This indicates elevated investor worry about bank liquidity and a preference for the safety of Treasuries bonds over corporate bonds.
Latest rankings: The table ranks each of the ten U.S. industrial sector iShares (ETFs) by Sabrient's proprietary Outlook Score, which employs a forward-looking, fundamentals-based, quantitative algorithm to create a bottom-up composite profile of the constituent stocks within the ETF. In addition, the table also shows Sabrient's proprietary Bull Score and Bear Score for each ETF.
High Bull score indicates that stocks within the ETF have tended recently toward relative outperformance during particularly strong market periods, while a high Bear score indicates that stocks within the ETF have tended to hold up relatively well during particularly weak market periods. Bull and Bear are backward-looking indicators of recent sentiment trend.
As a group, these three scores can be quite helpful for positioning a portfolio for a given set of anticipated market conditions.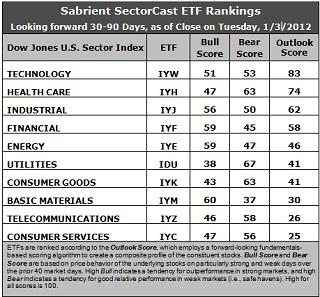 Observations:
1. Technology (NYSEARCA:IYW) remains in the top spot, coming in with a robust Outlook score of 83, which is little changed from last week. IYW is particularly strong in its return ratios and also sports a solid (low) projected P/E. Healthcare (NYSEARCA:IYH) stays strong with a 74 to hold second place by a comfortable margin over Industrial (NYSEARCA:IYJ).
2. Former leader Basic Materials (NYSEARCA:IYM) continues to be held back by net downward revisions by the Wall Street community; although it still sports a low projected P/E. Apparently investors still think the analysts are too optimistic, even with the downward revisions.
3. Telecom (NYSEARCA:IYZ) managed to pull slightly ahead of Consumer Services (NYSEARCA:IYC) at the bottom of the rankings. IYZ remains saddled with the highest projected P/Es. IYC is burdened by tight margins and low return on sales. Utilities (NYSEARCA:IDU), the top performer for 2011, has risen all the way to sixth place on the strength of analysts not cutting earnings estimates like they have in the other sectors.
4. Having IYW, IYE, IYF, and IYJ in the top half of the rankings is somewhat bullish. It would be better to see IYM and IYC scoring above IYK and IDU. It's also bullish to see the top Outlook score above 80. As a whole, the Outlook rankings for the 10 U.S. sector iShares continue to reflect cautious optimism.
5. Looking at the Bull scores, IYM has been the leader on strong market days, scoring 60, followed by IYE and IYF. IDU remains the weakest with a 38.
6. As for the Bear scores, IDU is the investor favorite "safe haven" on weak market days with a score of 67, followed by IYH and IYK. IWM displays by far the lowest Bear score of 37, which means that stocks with this ETF sell off the most on weak market days.
7. Overall, IYW displays the best combination of Outlook/Bull/Bear scores. Adding up the three scores gives a total score of 187, although IYH is close behind at 184. IYM is the worst at 127. IYH has the best combination of Bull/Bear with a total score of 110, while IYM has the worst combination (97).
Top ranked stocks in Healthcare and Technology include Jazz Pharmaceuticals (NASDAQ:JAZZ), Express Scripts (NASDAQ:ESRX), Apple Inc. (NASDAQ:AAPL), and Silicon Motion Technology (NASDAQ:SIMO).
These scores represent the view that the Healthcare and Technology sectors may be relatively undervalued overall, while Consumer Services and Telecom sectors may be relatively overvalued, based on our 1-3 month forward look.
Disclosure: Author has no positions in stocks or ETFs mentioned.