It's a small world after all, as they sing at the Walt Disney (NYSE:DIS) theme parks. Verizon Communications Inc (NYSE:VZ), based in New York City and incorporated in Delaware, is all about making the world smaller and at the same time increasingly mobile by giving its customers fingertip control of communications, information and entertainment. Verizon provides voice, data and video using wireless, broadband and global IP networks for individuals, homes, small and medium-sized businesses and major corporations.
Through Verizon Wireless, a 55%:45% Verizon:Vodafone (NASDAQ:VOD) joint venture, it supplies cell phones, smartphones, tablets, connection plans, accessories and apps to access the its 3G broadband network in America. The existing 3G network is scheduled to be covered by 4G LTE (Long Term Evolution) by the end of 2013. The Wireline division covers satellite and fiber optic TV, high speed and fiber optic internet, landline and digital voice services.
The company recently drew the ire of some of its customers by announcing it would start charging $2 for customers paying their bills by phone or via online payments through the company's website. But after being pummeled by some of its vocal customers, the company relented and announced it would not charge the $2 fee.
Verizon Wireless has also experienced some problems with its 4G service offering, as customers were not able to gain access to the 4G network. The company apparently has resolved the 4G issue. Problems of this nature are not to be unexpected with the rollout of new technologies.
Additionally, Verizon Wireless has been in the process of purchasing spectrum, as a result of the increased demands for bandwidth by its customers. On December 12, 2011, Verizon announced it is planning to purchase spectrum from SpectrumCo and on December 16, 2011 the company announced plans to purchase spectrum from Cox Communications.
For businesses Verizon offers integrated IT and communications services including cloud computing supported by data center architecture, networking, conferencing, application management and security. Verizon claims to deliver services to 96% of the Fortune 1000 as well as governments, and to own and operate much of the global infrastructure that today's world calls the internet. The company has close to 145 million customer connections, 195,400 employees, and is ranked 16 in the Fortune 500 in 2011.
Verizon's financial year ends December 31, so the latest annual data is for the year 2010. The picture for the three year period ending December 2010 is a little confusing. Consolidated revenues (including non-controlling interest) of $106.6 billion in 2010 were only 1.1% down on 2009, which had seen solid growth of 11% over 2008. So the revenue situation is reasonably stable overall. Reported diluted earnings per share, however, have fluctuated wildly, from a negative $0.77 in 2008, to a positive $1.72 in 2009, falling to $0.90 in 2010.
However, as is the case with many companies with complex investments in related businesses, non-GAAP (and therefore unofficial) earnings per share for the same three years are steadier, though declining slightly in Verizon's case: $2.62, $2.26, $2.20. The effect of accounting standard requirements on reported results, for consolidated and equity investments make the non-GAAP figures, and consolidated revenue rather than net income, more useful for year-on-year comparison. In 2010 the company added 4.8 million new wireless customers and more than 1.5 million new fiber optic TV and internet connections. This produced a 26% growth in wireless revenue and a 32% increase in fiber optic revenue.
The overall slight decline in consolidated revenue was the result of decreasing revenue in the traditional wireline voice market and the sale of some divested operations, allowing concentration on the growth segments of wireless, fiber optic and business services. Wireless now accounts for 60% of consolidated revenue. Higher selling, general and administrative expense in 2010, mainly as a result of higher severance, pension and benefit charges, contributed to the 12% reduction in net income ($10.2 billion in 2010 compared with $11.6 billion in 2009. This was also impacted by taxation adjustments. These items are beyond the day-to-day control of management, and may be regarded as one-off events to some extent. $2.5 billion of the $10.2 billion net income was attributable to Verizon shareholders, with the balance belonging to non-controlling interests.
Verizon's management believes that its wide-reaching advanced networks are its key point of differentiation from its competitors, and the company will continue to invest in growth, innovation and expanding the penetration of its data services. The recent acquisition of Terremark Worldwide, a global provider of IT infrastructure and cloud services, will allow Verizon to enhance its offerings to governments and large corporations. Current competitors include both conventional and wireless telecommunications companies such as AT&T (NYSE:T), Sprint Nextel (NYSE:S), Comcast (NASDAQ:CMCSA), and Qwest Communications (NYSE:Q), as well as cable television providers like Time Warner (NYSE:TWX), Walt Disney and Cablevision (NYSE:CVC). Besides facing strong competition, Verizon has also had to deal with disruptions in 2011 stemming from a struggle with its unionized employees.
Verizon completed its 2011 third quarter on September 30. Consolidated revenues for the nine months were $82.4 billion, up 2.8% on the comparable 2010 period. Year-to-date operating expenses fell by 4.9%, while net income of $10.4 billion ($4.4 billion attributable to Verizon) was already in excess of the annual result for 2010. However, as previously stated, the effect of consolidation and equity reporting makes the consolidated revenue and operating expense figures a more reliable indicator of the company's year-on-year performance, and with revenues up and expenses down the situation for the full year results looks promising.
During the Q3 2011 earnings conference call, CFO Francis J Shammo commented on the effects of storms, power outages, flooding and the strike on profitability in the third quarter, which together shaved about $0.05 off earnings per share. On the upside, solid growth was evident in the three key areas of wireless, fiber optic and enterprise strategic services.
With AT&T dropping its plan to acquire T-Mobile as a result of U.S. regulatory opposition, Verizon Wireless can worry less about one of its competitors becoming too large to compete with.
On December 1, 2011, Verizon announced it is paying a $0.50 dividend to owners of record at the close of business on Jan 10, 2012, resulting in an ex-dividend date of Jan 6, 2012.
Verizon's stock price is up over 30% over the last two years as shown below:
click to enlarge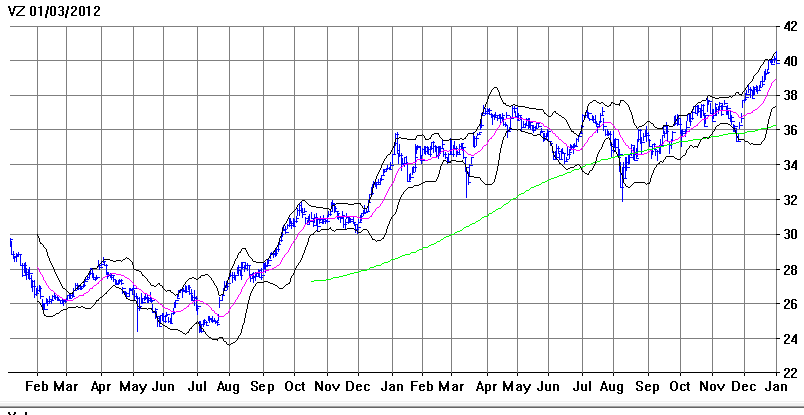 With Verizon's upcoming dividend payment, an investor might consider entering a collar position for Verizon. A collar position can be entered by selling a call option against a purchased or existing stock and using some of the proceeds from selling the call option to purchase a put option for protection. Since an investment in a collar entails holding the stock, an investor can take advantage of a dividend payment while participating in the collar.
Using PowerOptions tools, a collar was found for Verizon with a potential profit of 1.4% and a maximum potential loss of 7.5%. The time frame for realizing the potential profit is 46 days. The potential profit and maximum potential loss include the upcoming $0.50 dividend. The specific call option to sell is the 2012 Feb 40 at $0.59 and the put option to purchase is the 2012 Feb 36 at $0.21. The call option is slightly out-of-the-money which will aid in preventing the stock from being assigned. A profit/loss graph for the collar position is shown below: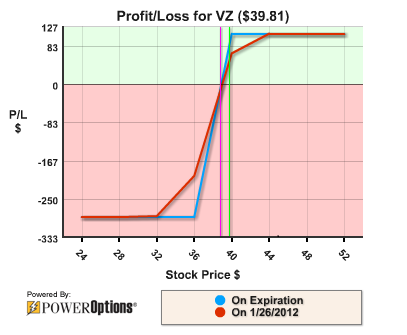 Verizon has demonstrated solid but less than spectacular revenue growth in recent years, and has the potential to build on its foundations as it rolls out its 4G LTE network and offers smarter, faster and smaller innovative devices to access it. Developments in fiber optics could also strengthen its wireline services, and enterprise services could potentially become a more significant revenue source with the growing importance of cloud computing.
Disclosure: I have no positions in any stocks mentioned, and no plans to initiate any positions within the next 72 hours.