With investors spoiled for choice in the biotech sector, it is easy for stocks to slide off the radar – particularly those who haven't long enjoyed major investment bank support or been willing to resort to dubious promoters. Although there is no such thing as a safe early-stage biotech, aggressive investors looking for something a bit off the beaten track may want to check out Lexicon Pharmaceuticals (Nasdaq: LXRX).
Trying To Make The Most Of A New Life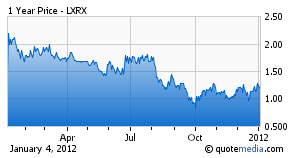 Lexicon actually traces its history back to the mid-90s when investor enthusiasm for all things genomic overrode good sense and allowed many dubious business models to come to the public market. Like Celera, Human Genome Sciences (Nasdaq: HGSI) and DeCODE Genetics, Lexicon thought it could establish a viable business model by selling or licensing genomic and proteomic information to large pharmaceutical companies like Bristol-Myers Squibb (NYSE: BMY) and Roche (Nasdaq: RHHBY.PK). Suffice it to say, this was a model doomed to fail and Lexicon opted to reorganize around its data and recast itself as biotechnology company, using its own data to identify potential therapies for significant diseases.
Good Data At Its Core
Every genomics company had its own particular spin or flavor. For Lexicon, it was (and is) an expertise in gene knockout technology and a wealth of information derived from knock-out mice. In its simplest form, knockout analysis involves creating an organism lacking a particular gene and then studying what (if any) biological consequences come from that. With that research, Lexicon developed a database of over 100 potentially worthwhile clinical targets.
A Pipeline With One Star
Though there have been some stumbles along the way, Lexicon has evolved and matured to a point where it now has multiple clinical programs underway. The company's most advanced program (LX1032) aims to address carcinoid syndrome and the company is looking to partner this drug before initiating Phase 3 studies. Although this is not likely a high-potential drug (a very large percentage of carcinoid syndrome patients respond well to generic therapies), the company is in negotiations with potential partners and it should offer a little validation to Lexicon's approach if a deal with a known Big Pharma company materializes.
The bigger opportunity is LX4211 – a dual inhibitor of both SGLT-1 and SGLT-2 targeted at diabetics. Early studies of this class have shown encouraging results in both glucose reduction and safety (as it seems the drug stimulates the body to excrete excess glucose with the "dishwater"). Although an FDA panel recommended the rejection of a similar drug (dapagliflozin) from Bristol-Myers and AstraZeneca (NYSE:AZN), this drug was a SGLT-2 inhibitor and it appears that the dual-action of the Lexicon compound may result in a meaningfully different efficacy profile.
While early results have been good, the results of a Phase 2b studied (expecting mid-year in 2012) will be critical in assessing the future of this drug. It may be the case, for instance, that early positive small-scale results were a product of small sample sizes and controlled diets in the patient groups.
Lexicon has other potential drugs under development. LX1033 is an early-stage drug for irritable bowel and ulcerative colitis and the company believes that LX2931 may still have promise in rheumatoid arthritis. An earlier study of LX2931 failed to show sufficient efficacy versus a placebo, but data analysis suggested a strong dose-dependent response and the attractive safety profile means that a higher-dose version could be a viable candidate. Investors will know more when the results of a dose-ranging study come out in the first half of 2012.
Further back, still in preclinical studies, are compounds targeted at glaucoma and the always-popular "autoimmune disease".
Still A Long Way From Here To There
Investors with experience in biotech are well aware of how long it can take for early stage companies to pan out. As names like Dendreon (Nasdaq: DNDN), Human Genome Sciences, and Amylin (Nasdaq: AMLN) have proven, even the successful end of the long march to approval doesn't guarantee endless success, as these drugs have to not only get the FDA's blessing but actual market penetration and share as well.
To that end, investors should not expect to see any approvals from a Lexicon-dervied drug until 2015 at best. All the while, the company will have to spend cash on clinical development and investors can fret about the market potential as rivals (and/or potential partners) like Sanofi (NYSE: SNY), Novo Nordisk (NYSE: NVO) and Novartis (NYSE: NVS) move their own prospective diabetes and/or gastrointestinal drugs through trials.
The Bottom Line
Lexicon recently raised capital through a sizable rights offering; diluting current shareholders in the process, but giving the company enough cash to run trials for at least another year. Assuming the results from the diabetes trial are encouraging, it would seem more likely that the company would try to partner the drug, but economics may dictate that the company go it alone.
If the diabetes and irritable bowel drug make it to market, Lexicon's stock should be worth at least $2.50 or so today, with no additional value given for call-options like arthritis, carcinoid syndrome, or the preclinical pipeline. With a prospective value, then, of around $2.50 to $3.00, Lexicon may not be the most popular or obvious biotech on the market today, but it has enough potential for aggressive investors to take a serious look.
Disclosure: I am long AMLN, LXRX, OTCQX:RHHBY.