Baidu (NASDAQ:BIDU): Whatever Google Can Do, I Can Do Better … In China
In my October 20th, 2011 note titled "Baidu 3Q11 Earnings Preview: Expect A Solid Quarter, But Many Questions Remain," I pointed out that Baidu's earnings growth has been moderating since Google's (NASDAQ:GOOG) steady exit from China. In addition, Baidu's revenue growth has been stagnant over the past several quarters, indicating that the company's growth has reached a plateau in China's Internet search market.
However, both the newly introduced Baidu Browser and Baidu Yi mobile OS could address investors' concern on the company's future growth prospects, in my view.
In December 2011, Baidu finally introduced its highly anticipated Baidu Yi mobile OS with Dell's Streak Pro D43 to gain a foothold in China's growing mobile internet market. The Streak Pro D43 will be priced at Rmb 3,000, which is significantly cheaper than rival iPhone 4GS, Blackberry 9900, Samsung Galaxy S2, and HTC Desire HD. I believe that Baidu Yi will be highly successful because it delivers features and functionalities that are relevant to the Chinese mobile users. In addition, the user interface that combines features from iOS and Android could result in low switching cost. I expect Baidu to ramp up its marketing on Baidu Yi and form additional partnerships with handset makers so the platform will have meaningful impact on Baidu in the future.
Aside from mobile search, Baidu's newly updated browser that features improved user interface and a folder-system for apps will likely help Baidu maintain its dominance in online search and take market share away from Sohu (NASDAQ:SOHU) because approximately 80% of the traffic on Sogou Search is generated from Sogou Browser. Because the Baidu Browser provide users with a more intuitive user interface, over 30K apps, and a cloud-sync feature that stores the user's settings and apps on the cloud, users could switch to Baidu Browser and Sogou could experience declining traffic.
Sina (NASDAQ:SINA): Year of Weibo Monetization
According to CEO Charles Chao, 2011 was year of investment for Weibo and Sina invested approximately $100 million on the platform, adding features and functionalities that made Weibo better than Twitter and attract over 250 million users. In 2012 Sina looks to monetize the Weibo platform through advertising, online games, and paid user accounts.
Sina began to test banner ads on Weibo in November by running the ad on the website whenever the user logs in. While banner ad is certainly one of many monetization methods, I do not believe that it will be beneficial for Weibo because the ad creates negative user experience which could ultimately hurt Weibo's user base and daily traffic. Weibo can be better monetized through social gaming and paid accounts rather than banner ads, in my view.
Back in July, Sina launched Weibo Game Center featuring 50 casual games and 30 mini games that are developed by third-party developers. Top ten popular games include Café Story, which allows users to manage their own virtual café; Texas Hold'em Poker and InkLink. Below is a screen shot of top 10 popular games on Sina Weibo in January 2012.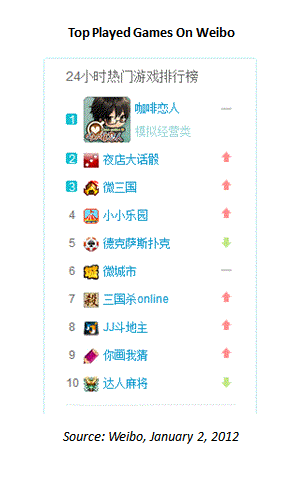 During the same month that Weibo Game Center was introduced, Sina also released its own virtual currency system called "Weibi", which is valued at Rmb 1 each. Weibo users can purchase in-game items to enjoy the full gaming experience. For example, I can purchase 10 Weibi which can be used to buy furniture for my virtual café.
In addition to social games, account number monetization can also become a potential catalyst. In my December 12th, 2011 note titled "The Importance Of Sina Corp's Monetization Of Weibo In 2012," I mapped out the potential of recurring revenue of paid Weibo accounts. Paid Weibo accounts are categorized into Gold and Silver Series accounts, which include multiple Chinese lucky numbers that are relevant to the Chinese culture. Gold Series account can cost between Rmb 10 and Rmb 400 for the one-time activation fee, and a monthly fee of Rmb 5. Silver Series account can cost between Rmb 10 and Rmb 50 for the one-time activation fee, and a monthly fee of Rmb 2.
Assuming that the number of Gold and Silver Series account users is evenly split and that 6% of Weibo's users purchase their Weibo accounts, I estimated that Sina could generate approximately $100 million annually in recurring revenue. For the complete sensitivity analysis, please refer to my December 12th, 2011 note.
Sohu: Reinvention Continues With Sogou and Video
Despite its lack of presence in the Web 2.0 space, such as social networking sites and microblogs, Sohu's core business in brand advertising is still kicking. Over the past several quarters, Sohu has exhibited stronger ad revenue growth than rival Sina due to strong growth from Sogou Search and Sohu Video.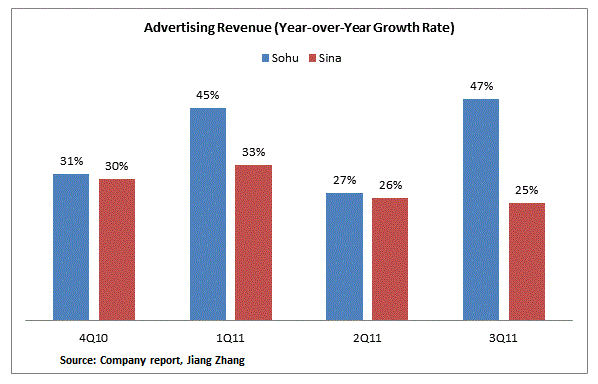 Click to enlarge
(Click to enlarge)
According to management, 80% of the traffic on Sogou Search was generated via Sogou Browser. However, Baidu's entrance into web browser could hurt Sogou's growth as the Baidu Browser offers users more features and functionalities that are unmatched by Sogou Browser. Unless Sohu upgrades its browser's interface and functionalities, and introduces a large library of apps, then investors could see larger than expected revenue decrease in Sogou Search, which would ultimately hurt Sohu's overall revenue growth.
Sohu Video is expected to be a key catalyst in 2012, when Sohu will focus on three key initiatives of expanding the documentary and drama content, and increased partnership with local TV stations.
Documentaries are often over-looked by TV stationed due to lower ratings they receive but the demand for documentaries still exists among a niche viewer base. Currently Sohu has over 50,000 documentaries in its library and the management looks to expand its content to meet the demand of the niche market. In addition to documentaries, Sohu acquired 15 copyrighted TV dramas for 2012, hoping to repeat the success of 2011 when "New My Fair Princess" and "Runaway Sweetheart" received up to 100 million viewings.
After witnessing the success of its in-house productions, such as "Leftover Lady" and "Crazy Office Dream" which attracted over 50 million and 80 million viewings, respectively, two months after the launch, Sohu expects to release "Leftover Lady 2" in 2012, and partner with Hunan Television to jointly produce several new programs, leveraging each party's strength and resources. The continued investment in self-produced content will make Sohu less vulnerable to the skyrocketing content cost while allow it to capitalize on the growing online video market.
Disclosure: I have no positions in any stocks mentioned, and no plans to initiate any positions within the next 72 hours.