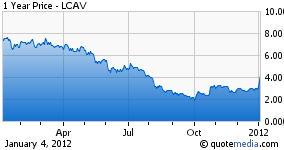 LCA Vision (NASDAQ:LCAV) offers laser vision correction procedures to correct nearsightedness, farsightedness, and astigmatism. Laser vision correction is clearly an attractive procedure for those undergoing it, enabling customers to stop using corrective glasses and contact lenses.
It would also be expected that, as the population ages, this kind of procedure will become more and more popular. However, it's not without its challenges, given that no barrier to entry exists in the market LCAV serves.
LCA-Vision Inc. has a market capitalization of $74.4 million, and shows losses both for 2011 and estimated for 2012. The Price/Book is 2.12 and the ROE is -36.20%. This shows that LCAV is not properly cheap at all.
Still, there's something to be said about the recent announcement, where LCAV states that procedures increased 30% in their latest quarter, as well as LCAV's intention to cross-sell more in its centers, by branching out to cataract and premium intraocular lens (IOL) surgeries. Conceivably, the much higher occupation of their centers could lead to profitability, while the stock is barely trading above the cash the company has in its balance sheet ($46 million with little debt).
Since the stock is up hugely on the news and there's still no certainty regarding profitability, it might pull back some, yet given these news and fundamentals, it might then bear following with a view towards a long term position in a market segment that could have sustainable growth.
Disclosure: I have no positions in any stocks mentioned, and no plans to initiate any positions within the next 72 hours.