The year 2011 came to close and, in December, my program trading has benefited greatly from the Santa Claus rally. Here is the result as of December 30:
| | |
| --- | --- |
| Maximum cash reserve for this strategy | $248,400.00 |
| Number of shares of DIA I own now | 100 |
| Net from trading, after commissions | $10,216.73 (from 8/3/2011 to 12/30/2011) |
| Return on the cash reserve | 4.11% |
| Return on the cash reserve, annualized | 10.4% (from 8/3/2011 to 12/30/2011) |
| Cash on hand | $247,707.78 |
| Breakeven price for the DIA on hand | $6.92 |
| Market value of portfolio | $259,892.78 (at the close of 12/30/2011) |
| Market value of portfolio over reserve | $11,492.78 (at the close of 12/30/2011) |
The following is a chart of the history of the annualized return since this program trading started:
(Click charts to expand)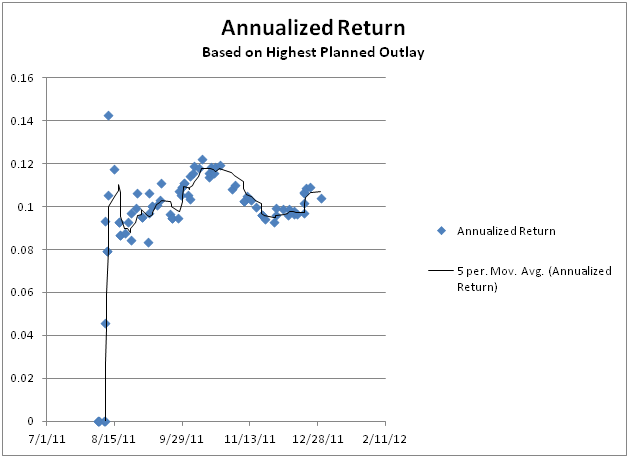 Click to enlarge
The annualized return got back up to 10.4% because of some extra trades I made this month. In this month, I made a total of 8 trades.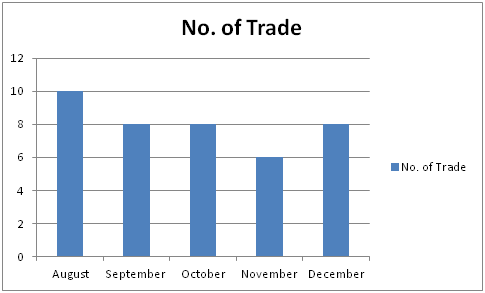 However, only 5 of them are from the regular retrace of the market. The other three is from the Santa Claus rally. In late November, in anticipation of the year-end rally, I bought 300 extra shares of DIA at $114.44, which I mentioned in my November report. Santa did come to town. Even though he brought with him only a meager gift, I netted handsomely by selling those shares on December 19, at $118.47. I would have gotten a lot more out of it if I waited until the last trading day before Christmas when DIA closed at $122.63. Still, I am happy that I made money on this deal.
Now, at the end of the year 2011, I am sitting on a pile of cash and I have only 100 shares of DIA on hand. I bought that 100 shares way back on September 30 at $109. If the market goes up further from here and when I cash it in, I would make a bundle.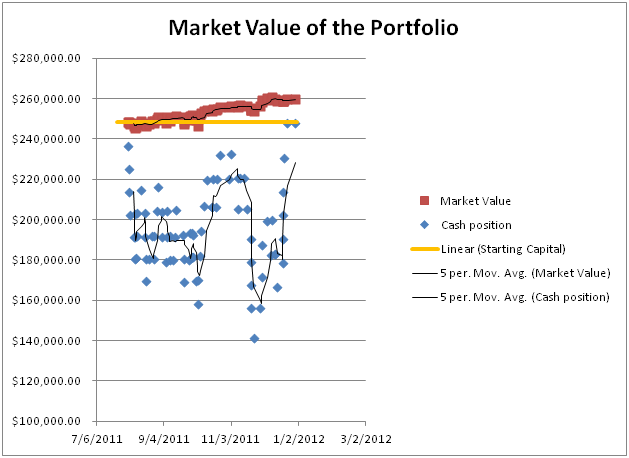 Click to enlarge
What am I going to do with all that cash? The DIA chart below [from Charles Schwarz's StreetSmart. You can see what all those lines and curves mean in my preceding article in this series] indicates that the market is not breaking away from the current trading range soon.

Click to enlarge
My planned actions are as follows:
If the market continues to hobble at where it has been recently, I would continue to do the same trading. I may expand the top of the range to DIA=$120 from my past trading range of between $106 and $116. In fact, I have already placed some of the buy orders.
If the market shoots up from here, I will sell off my last 100 shares of DIA and then I will see what to do next. Unless there is a good fundamental and technical reason behind such a movement, I will sit it out. If there is another QE declared by the Fed, I may do some buying at the start but I will sell them out before it officially ends.
If the market goes down significantly from here because of some events in Europe or elsewhere, I would space my purchase of DIA so that I can stretch my cash hoard to as far down as possible.
Disclosure: I am long DIA.