As I've already explained in my article "Using AAII Sentiment As A Buy Signal" the AAII sentiment survey (AAII stands for American Association of Individual Investors) can be used as a reliable signal when timing long entries in the market.
It is much less reliable, though, when timing the exits (selling). Still, given how this week's numbers turned out, they do deserve to be mentioned.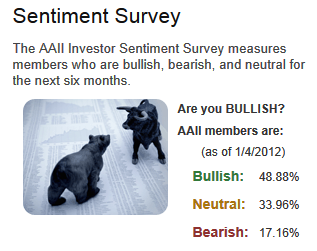 These numbers equate to a ratio of 0.74. The ratio is calculated like this: bullish percent / (bullish percent + bearish percent). When the ratio goes over 0.60 or so we're in danger territory. As it stands, 0.74 is actually one of the highest ratios in the last 3 years (exceeded mostly only during QE2).
So, even though I am positive for the first two months of 2012, as I explained on "A Bright Start To 2012", this signal should be taken into consideration, and together with the possibly unfavorable seasonality for next week (as seen below, using the method described on "SPX Seasonality You Can Play With"), might mean some hedging is probably needed in the short term.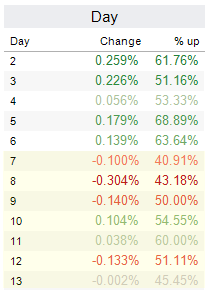 Conclusion
Even though the first two months of 2012 are still expected to be positive, some excessively bullish sentiment has built up in the face of somewhat unfavorable seasonality. This means that short term hedging might be necessary.
Disclosure: I might initiate hedging positions through shorting stock or futures over the next 48 hours.