By John Nyaradi

2012 will likely bring plenty of fear to global stock markets and now ETFs present opportunities to profit when fear runs high
2012 is off to a fast start with a quick rally in global indexes and plenty of uncertainty surrounding events in the Persian Gulf and the ongoing, seemingly never ending European debt crisis. While analysts make all kinds of predictions for 2012, one thing that nearly everyone agrees on is that the volatility we saw in 2011 is likely to continue as the European crisis simmers and corporate earnings in the U.S. are set to slow.
More headwinds are likely to be generated by high unemployment, a weak housing market and geopolitical concerns, not to mention a national Presidential election in the United States.
All of this adds up to a scenario that will likely be quite volatile as we move through 2012, and volatility translates into fear and fear can offer profits for investors in exchange traded funds and exchange traded notes.
The VIX, the CBOE Volatility Index, is also known as the "fear indicator." It uses the implied volatility of S&P 500 index options and is an index of the market's forward looking view of volatility for the next 30 days. Observers say that when the VIX is declining, stock prices are likely to trend higher, while when VIX is in an up trend, lower stock prices could be ahead.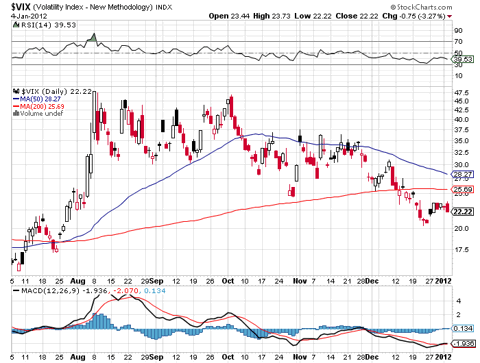 chart courtesy of www.stockcharts.com
In this chart of the VIX above, we can see that the index has been declining since October and is below its 50 and 200 day moving averages, indicating a "bear" market in fear.
ETF investors can trade the VIX using several widely traded exchange traded notes that allow participation in the VIX market via traditional brokerage accounts and that allow you to track both "long" and short directional moves in the "fear indicator."
Observers of the VIX say that when the VIX is declining, stock prices are likely to trend higher, while when VIX is in an up trend, lower stock prices could be ahead.
For rising VIX environments, the iPath S&P 500 VIX Short Term Futures ETN, (NYSEARCA:VXX) is a popular, liquid and widely traded ETN designed to rise in price as the VIX rises.
For declining volatility environments, VelocityShares Daily Inverse VIX Short Term ETN (NYSEARCA:XIV) is designed to rise in price as the VIX declines.
More aggressive investors can consider Velocity Shares Daily 2X Short Term ETN (NYSEARCA:TVIX) which offers a double leveraged position for trading volatility.
These ETNs can be used in IRAs and 401ks and in cash accounts and one can also "short" the VIX ETNs, while aggressive investors can use options on VIX ETFs or the leveraged products themselves.
While these ETNs can offer potential profit opportunities from volatile environments, one must understand how they work and you must educate yourself before trading these volatile instruments. There are numerous caveats regarding tracking error and decay, particularly with the 2X version of volatility ETFs, but there is substantial literature available on the subject and with just a little research, you can become knowledgeable and proficient in this exciting field.
The second important ingredient for success is a carefully thought out and tested trading plan because these are fast moving markets and require close attention and are likely not suitable for a casual approach or an investor without a trading plan.
However, if you come to these markets armed with knowledge and a trading plan, volatility based ETNs could offer significant potential in 2012 which promises to be another volatile and fearful year for investors around the world.
Disclaimer: Wall Street Sector Selector actively trades a wide range of exchange traded funds (ETFs) and positions can change at any time. Wall Street Sector Selector currently holds a position in XIV.