Earnings: 1-16-2012
Consensus Estimates: ($0.63)
Earnings Whisper: $0.65
Revenue Growth: Dec 2011- 0.80% March 2012- 4.50%
Analyst Recommendations: Buy
Median Target: 30.25
U.S. Bancorp (USB), a financial services holding company, provides various banking and financial services in the United States. It generates various deposit products, including checking accounts, savings accounts, money market savings, and time certificates of deposit accounts. The company originates a portfolio of loans comprising commercial loans and lease financing; commercial real estate; residential mortgage; and retail loans consisting of credit cards, retail leasing, home equity and second mortgages, and other retail loans.
If there is one company that is worth looking at from the financial sector, USB is the one. It is a great example of a financial institution recovering from 2008 and doing a great job. In a recent article by Investment Underground, a description of USB's health was well written: "In the third quarter of 2011 it reported earnings, year over year, increased 40% to $1.27 billion, or $0.64 per share. Its revenue was up 7% on a year over year basis in the third quarter of 2011. At the close of the third quarter, its loan commitments were up 17% from the year earlier."
USB is not sitting around either. It is focused on growing. USB has a subsidiary called Elan Financial Services. Elan Financial Services provides a complete range of processing and payments services, including credit card issuing, prepaid card solutions and ATM and debit card processing. Elan Financial Services is a leading credit card issuer for more than 1,700 clients across the United States. It provides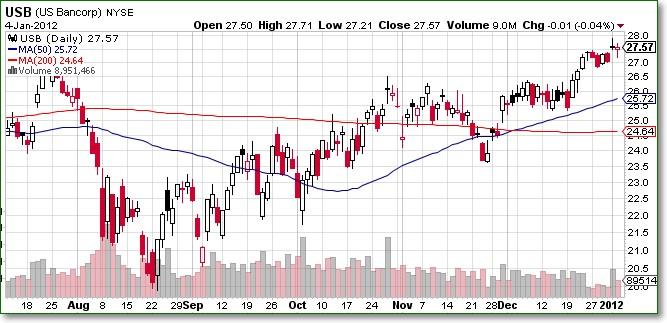 transaction processing, terminal driving and the necessary monitoring and support services for over 27,000 ATMs nationwide, and supports more than 20 million ATM and debit cards.
This subsidiary bought the financial credit card debt of FIA Card, owned by Bank of America (BAC) that has had to do quite a bit of liquidating recently. This increase in its lending ability will continue to help USB grow as a company. It may not be an overly aggressive company but it has been solid and its prices have confirmed that.
Buying USB presently is a good move. It is very close to its middle median range, but can still bring a profit for the good investor. We recommend looking into buying it outright, even before earnings coming up soon. Look at possibly selling USB by mid year if it peaks out.
Disclosure: I have no positions in any stocks mentioned, and no plans to initiate any positions within the next 72 hours.