Since I first published my bearish article on Eastman Kodak (EK) nearly three months ago, the stock has lost more than two-thirds of its value. I highlighted how the company faces significant free cash flow burn and that much of the patents are worthless compared to those of other competitors, like Canon (NYSE:CAJ) and Panasonic (PC). Recent reports that the iconic supercentenarian is nearing bankruptcy filing appears to have confirmed my apprehensions. As one door closes, however, another opens. The latter scenario can be found in Xerox (NYSE:XRX).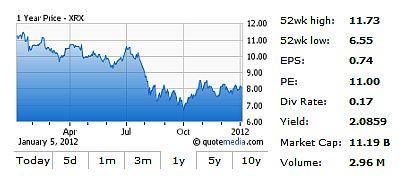 From a multiples perspective, Xerox is fairly cheap. It trades at a respective 11x and 6.9x past and forward earnings. My main concern with the company is how it lacks safety due to its low dividend yield of 2.1% and high beta of 1.6. Furthermore, net debt stands at a substantial $8.4 billion, which represents nearly three-quarters of market value. At a time when the market is concerned about poor end market demand in technology, Xerox's valuation has become overly depressed. In my view, a takeover is looming.
While Kodak similarly has the high degree of risk, it lacks the upside. Its net debt stands at $670B, a substantial 5.3x market value. A buyout is thus not viable and existence in any form is questionable. To continue operations, Kodak would have to sell off core assets and further increase leverage, a vicious cycle that will further add risks. The best option forward is to file for bankruptcy so that the patent sale process can be eased.
At the third quarter earnings call, Kodak's Chairman & CEO, Antonio Perez, spoke about his plan for the future:
Our full year cash forecast is predicated on executing our operational plans and assumes full year sales of nonstrategic assets of approximately $200 million and intellectual property licensing transaction between $250 million and $350 million. When you take into account our intellectual property licensing revenue and asset sales for the first 3 quarters of the year, combined with the transactions that I just referenced to you a minute ago, we have approximately $225 million remaining to complete in the next 2 months.

In relation to the recent speculation in the marketplace about the future of Kodak, I want to note that I have a high degree of confidence in our ability to execute this plan. We continue to be highly focused in completing our transformation to a digital, profitable and sustainable company. I want to emphasize as well that we recognize the importance of all of our stakeholders, including our customers and our suppliers. Importantly, we have fulfilled and remain committed to fulfilling all of our obligations.
At this point, it is safe to say that investors now have a "high degree" of uncertainty about the IP monetization. Laura Quatela, who previously headed the firm's patent explorations, was tapped as President. The problem with the patents, however, is that they are being used as collateral for billion-dollar liabilities. If the company were to go into Chapter 11, pension obligations - worth annually in the hundred of millions - would be largely dismissed.
The company is going to be delisted from the NYSE in the next six months if it fails to get its stock price up. With current operations a mess, more debt instead of cash, and patent sales not materializing as planned, the future looks bleak. During the September quarter, sales of $1.46B were well below the consensus estimate of $1.65B. Notably, sales in the Consumer Digital Imaging group declined 39% y-o-y due to a drop in IP transactions. Photofinishing and Entertainment fell by 10% y-o-y. Analysts currently rate the stock a "sell".
I would not recommend a short play at this point, since management has started to take the right steps. The company recently sold Eastman Gelatine, a non-core asset, to Rousselot. The sensor business was sold to Platinum Equity and the company will benefit from auctioning off digital imaging patents. Consensus estimates for EPS are that it will decline to -$2.48 in 2011 and then turn positive at $0.20 in 2013.
Xerox, on the other hand, is significantly more attractive from a takeover perspective. The firm, while largely associated with Kodak, has become a specialist in the more sustainable field of IT services. Dell (NASDAQ:DELL) and Hewlett-Packard (NYSE:HPQ) have both made staggering multi-billion deals for similar companies, which suggests that Xerox could be substantially accretive to a larger firm.
Specifically, I believe that IBM (NYSE:IBM) would benefit most from acquiring Xerox, since the former has substantial international exposure and manageable leverage. Furthermore, I find that IBM is significantly undervalued and has the opportunity to showcase the strength of its fundamentals through demonstrating synergistic value. While I believe that HP is also undervalued and could break $40, Meg Whitman has expressed disinterest in acquisitions greater than $1B and is focused on streamlining. HP trades at a respective 8.1x and 6x past and forward earnings, while IBM trades at a respective 14.7x and 12.5x past and forward earnings. Dell trades at a respective 7.8x and 7.5x past and forward earnings and the acquisition of Perot Systems has decreased the marginal value of a Xerox buyout.
Consensus estimates for Xerox's EPS are that it will grow by 14.9% to $1.08 and then by 8.3% and 16.2% more in the following two years. Assuming a multiple of 11x and a conservative 2012 EPS of $1.13, the rough intrinsic value of the stock is $12.43, implying 52.5% upside. Even if the multiple were to plummet to 8x and 2012 EPS turns out to be 14.5% below the consensus, the stock would barely fall. Accordingly, analysts rate the stock overall a "buy".
Disclosure: I have no positions in any stocks mentioned, and no plans to initiate any positions within the next 72 hours.