United Technologies (NYSE:UTX) is a high quality dividend growth stock for investors. The company offers high technology products and services on a global platform to the building systems and aerospace industries. United Technologies has increased its dividend for 17 consecutive years. Management has successfully built out each business unit and the dividend is sustained by significant free cash flow. This is a diversified blue chip holding for investors seeking safety and dividend growth.
Background
Unlike some of its peers, United Technologies is far more diversified with a global reach that reduces the influence of any one market or macro event on its overall performance. United Technologies has six primary business units: Carrier HVAC, Hamilton Sundstrand, Otis Elevators, Pratt Whitney, Sikorsky helicopters, and UTC Fire & Security. United Technologies keeps its U.S. revenue exposure to below 40%. Only 15% of United Technologies' U.S. revenue exposure is defense-related. More than 30% of its revenue is reoccurring from maintenance contracts to keep its elevators lifting and helicopters flying.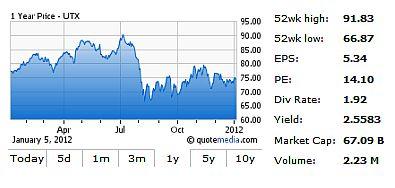 The real story is with the company's fundamentals which always seem to be improving regardless of the economy. Beginning with its A-rated balance sheet, United Technologies manages to post solid earnings growth in excess of 10%, year in and year out. But what is really remarkable is its prolonged dividend growth record, which over the course of 17 straight years has increased annually at a rate of 11.3%. United Technologies' most recent increase came in at 12.9%, bringing its current yield to 2.6%.
The company's portfolio of contracts throughout the world acts like a balanced asset allocation strategy with non correlating assets offsetting total company risk exposure. For instance, United Technologies' expanding presence in the growing economies of East Asia more than offset the troubled countries mired in the euro crisis. For the same reason, it has minimal exposure to defense budget cuts here at home while expanding its exposure to commercial markets.
Investors look at its current price to earnings ratio of 14, and clearly can appreciate the stock trading below its historical average of 16. It's not too difficult to understand why investors forecast potential stock price appreciation. Based upon historical price to earnings valuations, United Technologies would trade in the $88 to $95 range. United Technologies is currently trading at $75. For investors willing to accept a potential 11.3% annual raise in their dividend payments, the wait for United Technologies to reach its market potential becomes all the more tolerable.
Pending Goodrich Merger
United Technologies is currently waiting for its pending acquisition of Goodrich (NYSE:GR) to be complete. Goodrich is a strong performer and well-managed company in its own right. United Technologies seeks further expansion into the burgeoning aerospace aftermarket.
The merger was announced on September 21st. Goodrich agreed to a merger for $127.50 per share in cash. The total enterprise value purchase price is $18.4 billion. Goodrich is a world wide supplier of products, platforms, and services to the aerospace and defense industries. Goodrich's core products include include aircraft landing gear, aircraft wheels, and brakes.
Risks
With most of the defense stocks re-emerging after their late summer smack down and as the dark cloud of Super Committee deadlock begins to dissipate, investors are beginning to regain their proper perspectives on a number of companies that still offer a tremendous amount of absolute return opportunities. In particular, the stock of United Technologies was ravaged during the late summer, but it has gradually found its footing and appears prepared to have resumed it ascent. Following a year of rare market underperformance, United Technologies offers a tempting value proposition based upon its dividend and earnings growth projections.
United Technologies has three core defense programs. The U.S. federal government is looking at ways to trim the federal deficit. The defense industry could downsize some defense contracts with the company's military contracts. United Technologies, however, is well respected in its industry. This was highlighted on January 3rd by Aviation Week. Louis R. Chenevert, chairman and CEO of United Technologies, was named "Person of the Year".
Sikorskey's Black Hawk helicopter unit could find requests for reduced military contracts in the next budget. The U.S. military has left Iraq and all programs are on the chopping block for reduced contractual obligations.
Hamilton Sundstrand is a United Technologies' subsidiary. Hamilton Sundstrand, was selected as a supplier to the Boeing (NYSE:BA) KC46 aerial refueling tanker program. This is an important program, and only time will tell the extent of any cutbacks. Boeing is a global pioneer and leader in the aerospace industry.
The third key defense program is the Joint Strike Fighter program. United Technologies' Pratt unit was selected as the sole engine supplier for the Joint Strike Fighter. This contract is worth $380 billion over a two decade time frame.
This selection was a blow to General Electric (NYSE:GE). General Electric announced it would cease funding the F35 Joint Strike Fighter program. General Electric was dedicating capital to the program in hopes Congress would award a contract for its secondary engine. On January 2nd, General Electric and Rolls Royce announced plans to cancel funding the F35 Joint Strike Fighter program.
Dividend Analysis
On December 15th, management announced confidence in 2012's earnings per share projections of $5.80 to $6.00. Based upon today's stock price of $75, the price to earnings multiple would range between 12.5x to 12.93x. The current dividend yield of 2.6% is likely to increase in the first or second quarter. In 2011, management increased the dividend in the second quarter ending June 30th. A 10% dividend hike would increase the annual dividend from $1.92 to $2.11. A $2.11 annual dividend provides a 2.8% annual yield based upon the stock's current price of $75.
3 Year Dividend and Stock Analysis
As the three year chart indicates, the company underperformed the S&P 500 by a 3.3% total annualized rate of return. Management has focused on paying approximately 35% of earnings as its annual dividend.
Based upon further analysis, United Technologies beat the S&P 500 in a 5 year, 10 year, and 15 year time frame. Over the past 5 years, United Technologies beat the S&P 500 by 2.8% in total annualized rate of return. During the past 10 years, United Technologies outperformed the S&P 500 by 5.7% in total annualized rate of return. During a 15 year analysis, United Technologies beat the S&P 500 by an impressive 8.2% in total annualized rate of return.
Analyst Expectations
Analyst expectations are forecasting United Technologies to pay an annual $3.43 dividend in 2017. This would provide an estimated stock price of $139.56. These figures assume United Technologies' earnings growth will be at a 12.3% annual rate.
Action
I believe United Technologies is a high quality dividend growth stock. The stock offers a 2.60% dividend yield. The dividend has grown in excess of 10% in recent years. The Pratt win in the Joint Strike Fighter program is a major boost for future revenue and profits.
I do not own shares because the yield is not compelling for my risk tolerance. I would prefer to own shares in a non diversified blue chip company, such as Coca Cola (NYSE:KO). Coca Cola sells sugar water around the world. The company operates a defined business model and a 2.70% annual dividend yield.
United Technologies, as a diversified company, offers too many vulnerabilities for my focus investing. For many investors, the stock is compelling with a 2.6% yield and a potential dividend hike of 10% by the second quarter. I recommend risk averse, dividend growth investors buy United Technologies. This assumes the investor is comfortable with a diversified group of assets under the guidance of a proven management team. We must know our personal goals and risk tolerance levels.
Disclosure: I am long KO.