Why emerging market debt?
Transition from fixed to floating-rate currencies has reduced risk through increased monetary flexibility
Over-dependence on commodities has gradually decreased with continued economic growth and diversification
Debt is now primarily raised locally, reducing the risk of adverse currency fluctuations
Healthy demographic trends serve as a positive indicator of future growth
Lower yields on sovereign debt signal increased investor confidence in the financial stability of emerging markets
Historically, returns have outpaced those of developed nations and are projected to continue to do so for the foreseeable future
Considering the above arguments, investors may feel drawn to the emerging markets. Obviously, this is no new phenomenon.
The allure of high returns and explosive growth may once more capture the imagination of investors in developed nations, most of whom are tired of scraping 25 basis points from the U.S. two-year note. Who can blame them? Exciting investment opportunities in exotic lands hold greater intuitive appeal – and make for better dinner party conversation – than do historically low yields.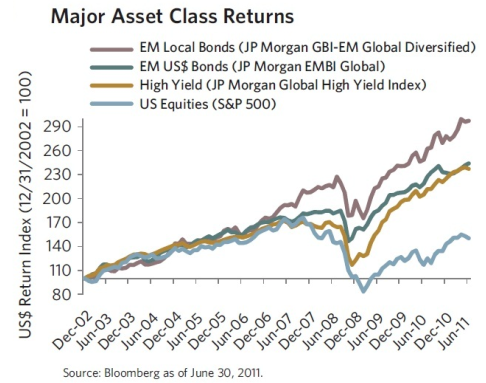 Investment in emerging market debt holds several advantages. First, investors gain exposure to the performance of emerging economies without taking on the company-specific risk of equities. For fixed-income investors, this means that sovereign debt is a far safer bet than emerging market corporates, as many companies located in these countries still struggle with corruption, fraud and insufficient oversight.
Locally-denominated debt also offers unique value in the form of currency diversification. If the underlying currency appreciates relative to the dollar, investors will see even higher returns. The downside, of course, is that a strengthening dollar will diminish returns of a locally-denominated bond. In all likelihood, however, your current portfolio is probably entirely denominated in U.S. dollars so some exposure to foreign currencies should prove advantageous.
Investors interested in locally-denominated debt may consider iShares Emerging Market Local Currency Bond Fund (NYSEARCA:LEMB), which currently invests 79.75% of its assets in the relative safety of sovereigns. The fund's largest positions are in South Korea, Poland, Thailand and Columbia with significant stakes also in South Africa, Indonesia, Malaysia and Brazil.
Considering its top-heavy structure – 44.52% of total assets are in the top 10 holdings – and inexplicably large exposure to Poland and South Korea (36.76% and 31.65%, respectively) this fund is far less attractive than the much larger WisdomTree Emerging Market Local Debt Fund (NYSEARCA:ELD). According to the Morningstar report, WisdomTree's fund is actively managed and "implements a tiering strategy that attempts to put more assets in countries that maintain strong fiscal discipline." The five countries currently represented in the top tier are Indonesia, Brazil, Mexico and Malaysia. This fund is also more diversified than LEMB, with its top 10 holdings only accounting for 28.11% of total assets.
Additionally, the average duration of holdings in the fund is 4.71 years, slightly lower than the 4.90 year average duration for funds in the same category (Source: Etrade). This is beneficial because interest rate hikes have a more muted impact on funds with lower average durations.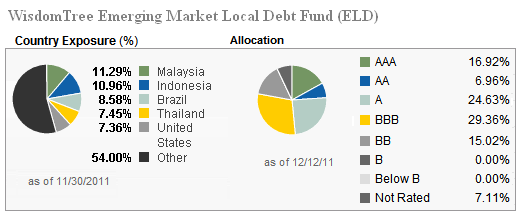 By raising debt internally, emerging market governments are signaling a desire to reduce dependence on foreign investment. There are numerous benefits to this approach, perhaps most significantly the mitigation of risk from adverse currency movements. A drop in U.S.-denominated bond issues will help emerging market nations avoid a repeat of the 1997 Asian financial crisis, when the appreciation of the dollar – relative to local Asian currencies – made repayment to international creditors far more costly than originally anticipated. Furthermore, the impact of shifts in global sentiment regarding the country's investment climate will be muted, increasing stability and reducing the likelihood of large-scale selloffs.
Even with these positive developments, investors should still be well-informed of the risks associated with emerging markets. These include credit risk, political risk, FX risk, and – perhaps most significantly – regulatory risk. As developing nations seek to shed external perceptions of fraud and corruption, regulatory burdens on companies will likely increase substantially. While this may dampen returns for equity investors, sovereign debt investors should benefit from the increased economic stability.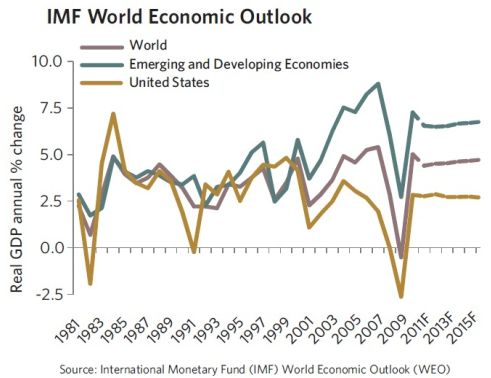 Despite continued uncertainty about the state of the global economy, the general outlook on emerging markets remains cautiously bullish. Led by Indonesia and the Philippines, yields on emerging market sovereign debt have dropped steadily in the past 1.5 years, indicating an increase in investor confidence. Healthy demographic trends and a decreased reliance on commodity exports have helped make emerging markets an attractive investment opportunity, especially in the fixed-income markets where risk is significantly less pronounced than in equities.
Additionally, the IMF projects that annual GDP growth of emerging and developing economies will continue to outpace U.S. and overall world growth rates at least through 2015. Those interested in gaining exposure to the emerging markets without absorbing the risks of equity should carefully consider investment in locally-denominated ETFs.
Disclosure: I have no positions in any stocks mentioned, but may initiate a long position in ELD over the next 72 hours.