The year 2011 is one for the books. For investors, the S&P 500 went nowhere, ending the year flat, producing a return of -0.003%. The Dow Jones industrial average was up 6%, as it has many healthy dividend payers leading the way. Overall, 2011 was a great year for dividend-growth stocks. A record 341 companies in the S&P 500 raised dividends in 2011. S&P analyst Howard Silverblatt expects the S&P 500 companies to raise their dividends by at least 10% on average in 2012. It looks like 2012 will be a carryover from 2011, with dividends driving returns.
So where are the dividend opportunities for 2012? A good place to start is looking at dividend stocks that are rated very bullish by the equity summary score. These are stocks rated strong buys by the best analyst according to their previous accuracy results. You can find this list of high dividend stocks in the table below.
You can always depend on a long-term favorite dividend stock, like Phillip Morris (NYSE:PM). Tobacco producer PM is sporting a healthy 3.9% yield with great ROE and total returns in the past year. Philip Morris International's globally appealing brand portfolio, international scale of operations, and addictive products give the firm a wide economic moat to create stock stability for years to come.
The pharmaceutical stocks are looking nice for 2012 as they finished 2011 very strong. Here you can look at Bristol-Myers (NYSE:BMY) with a 3.86% yield and Abbott Labs (NYSE:ABT) with a 3.4% yield. Bristol-Myers Squibb has built a strong portfolio of drugs and a robust pipeline. While the company faces major patent losses beginning in 2012, we expect Bristol's next generation of drugs will fill the patent holes over the next decade.
On the foundation of a wide lineup of patent-protected drugs, a leading diagnostics business, a strong nutritional division, and a top-tier vascular group, Abbott Laboratories has dug a wide economic moat. These operating lines will continue to generate strong returns and drive growth. Further, the company's decision to split itself into two is likely to result in two well-positioned companies (a drug company and a diversified health-care company) with strong competitive advantages.
The energy sector continues to look strong with stalwarts like Chevron CVX and ConocoPhillips COP to see continuing earnings like a smooth engine running on all cylinders. Both sport 3+% dividend yields with strong balance sheets. You can add Pioneer Southwest Energy Partners to the energy mix. PSE is an upstream limited partnership that was formed by Pioneer Natural Resources to own and acquire oil and gas producing properties in West Texas and southeastern New Mexico. Initial assets acquired were interests in 1,100 oil and gas wells in the Spraberry field in the Permian Basin of west Texas. Daily production from these wells in 2008 averaged 4,811 barrels of oil equivalent, and year-end 2008 proven reserves were 22.6 million boe. PSE has a 7.8% dividend yield.
The technology sector is a nice sector to be invested in 2012. The big tech such as Intel (NASDAQ:INTC) and Microsoft (NASDAQ:MSFT) are strong companies with a history of growing their dividends. In addition, Clicksoft Technologies (NASDAQ:CKSW) is a great dividend find in the tech sector. CKSW provides mobile software solutions for field service operations. Its products include software for decision support and optimization tools, as well as personnel tracking and dispatching. These products are used for workload forecasting and planning, service scheduling, problem resolution, and wireless workload management. CKSW has a dividend yield of 3.34%.
The specialty finance sector is well represented by CYS Investments (NYSE:CYS), Triangle Capital Corp (NYSE:TCAP), Gladstone Investment (NASDAQ:GLAD) and Main Street (NYSE:MAIN). These stocks provide the highest yields among the list but also carry a significant amount of risk in comparison.
Click to enlarge: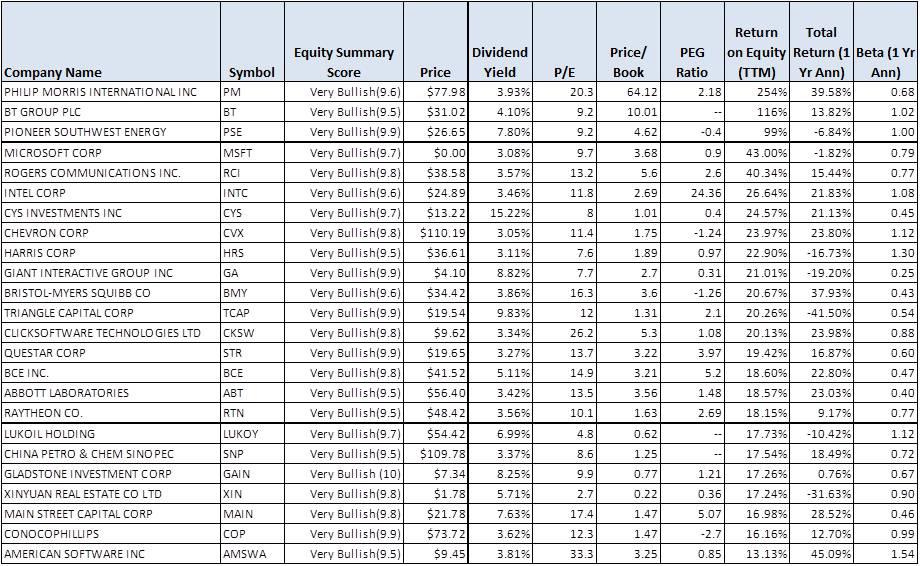 Disclosure: I have no positions in any stocks mentioned, and no plans to initiate any positions within the next 72 hours.