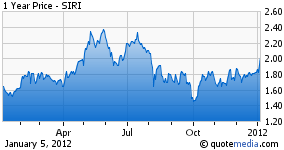 Sirius XM (NASDAQ:SIRI) has received a rash of analyst upgrades over the past two months, yet the stock had not moved. To make matters worse the stock had experienced a significant decline in volume – to the extent that it had become virtually an unknown.
This prompted a few people to request my personal opinion on the state of affairs of the company. Investors were growing frustrated from the lackluster performance of the stock. Though many felt somewhat comforted from the company's stellar performance, it would seem that there were also many that opted out of the stock and could no longer muster more disappointment as it appeared only traders were the ones making any money. In 2012 however, I'm starting to get a feeling that this will soon change.
I wrote an article on Wednesday demanding more from the company. While I think it rubbed many readers the wrong way, I think overall it was well received. The premise was simply, the stock needs to now catch up to the company's performance. I don't think that is too much to ask and I think that this should be the expectation of all investors. Remarkably, less than 15 minutes after the article's publication, we learned that Sirius had hit it again out of the park, or as fellow Seeking Alpha contributor Little Apple puts it – maybe the home run was in fact a grand slam. It's hard to dispute that after having read an excerpt from the press release below:
Sirius XM Radio at a conference today announced that it ended the year with nearly 21.9 million subscribers, reporting approximately 540,000 net new subscribers in the fourth quarter and approximately 1,700,000 for the full year 2011.
"Based on preliminary subscriber data, we are very pleased to announce that Sirius XM exceeded its subscriber guidance for the year. Our subscriber growth accelerated in 2011 as net additions grew approximately 20%, delivering our best year for net additions since the merger and demonstrating the strong continuing demand for our unmatched audio content," said Mel Karmazin, Chief Executive Officer, Sirius XM.
Now, back to the premise of my article, one that I am now being asked to explain. Yes, 2011 was undoubtedly a very tumultuous year for many equities. There were many stocks that I realize that I sold too soon and several that I kept too long. Now my stance on investing in 2012 is going to change and in the same fashion that we expect growth from our investments, individuals should seek to grow as investors. A part of that growth process requires not repeating the same mistakes of the past. To that end, I have raised the bar on not only my investment approach, but I am also raising the standards for the companies in which I have chosen to buy. It's just that simple and I think this is also very reasonable.
As great of a story Sirius XM has been, I think it is also fair to say that the stock has not live up to expectations. As a way to remind myself to be stubbornly patient, at one point I blamed the economy, then I reminded myself that I needed to have perspective and stay the course. When things got worse I opened the Warren Buffett strategy and decided it was time to be greedy. The point of all of this was that I realized that there were times that I blamed the poor performance of my portfolio on everything else except me – the one pulling the trigger on each transaction.
It seems today that all is well in SIRILand. At the time of this writing, the stock is up 21 cents to $2.04 and the volume has surged past 75 million after having dropped below 30 million in several sessions. Investors are rejoicing and the company continues to outperform all expectations. 2012 will undoubtedly be Sirius XM's best year as the stock should reach $3.00 with relative ease. Having said that, I will continue to expect more from management to place more of an emphasis on the stock's performance and manage it as well as it has managed the company.
Disclosure: I am long SIRI.