It is not uncommon for a value investor to buy shares in a company only to see them become cheaper in the early stages of a holding period. I said this was likely going to be the case back in June when I initially wrote about being bullish on Nintendo (OTCPK:NTDOY) following its ugly stock price decline over the past couple years as it hits a cyclical low. After a nice little advance into early July, Nintendo's stock has since been mostly downhill again, which has provided investors opportunities to buy cheaper a world-class company now trading only 20% above book value. Nintendo carries no long-term debt; its cash and short-term investments equal to over 57% of its market cap. And recent news of holiday sales suggest 3DS worries were overdone.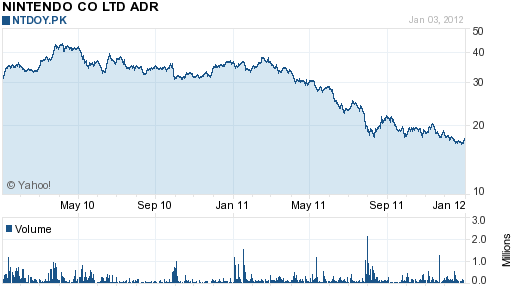 Click to enlarge
(Click to enlarge)
Nintendo closed at Y10,990 (+3.7%) ($17.84 ADR equivalent at Y77/$1) Wednesday in Japan in the market's first day of trading in 2012, following a solid first day of trading for its ADRs on heavier than normal volume. Wednesday trading in the U.S., however, saw a more than halving of volume, although its ADRs closed up 2.1% to $17.88. Most value investors should care less about volume and day-to-day pricing. I'm mentioning this for the sake that after such a horrendous year (or string of years) there may be prior Nintendo investors coming back to the stock. In my June article I commented on the likelihood of belated, albeit obligatory, analyst downgrades. There indeed were some then and there have been a couple more as recent as last month.
December ratings:

Daiwa cut Nintendo a notch to a '3' rating meaning it expects a +/- 5% return vs. the TOPIX over the next six months and it lowered its price target to Y11,000 from Y15,000.

Merrill maintained a 'neutral' rating and lowered its price target to Y12,000 from Y14,000.
More important than any new downgrades, I am aware of there being just one upgrade in the past year-plus (Macquarie in early November to "outperform" from "neutral," PT to Y14,200 from Y11,400), thus, on one hand, yes it may still be a bit early to buy, but on the other, it is ever more reason to be bullish. Note that Mizuho and SMBC both maintained their existing "buy" (or equivalent) ratings on Nintendo in late October and both have price targets of Y18,000, among the highest, and over 60% recent price levels.
The biggest problem with Nintendo is the (relatively) strong yen against the weak dollar and a euro which just broke the Y100 level. Foreign exchange weighs far heavier than any concerns ahead of the Wii U launch, previously over slow post-launch 3DS sales and the price cut to the 3DS, or a lack of games. The average Y/US$ exchange rate in Nintendo's fiscal year ended March 2011, was 85.72; it was as high as 92 in Q1. Compare that to a recent 77, which matches its full year forecast (which was 80 prior to revision when it announced FQ2 results), meaning should sales (the holidays in particular) be better than expected, Nintendo may beat expectations in the U.S. Reports thus far have been overwhelmingly positive.
The yen/euro's average in Nintendo's last fiscal year was 113.12 and was as high as 117 in Q1; compare that to the recent breaking of the 100 level. This may prove problematic since Nintendo's forecast is for a rate of 106 for its full fiscal year (adjusted from 115 previously). Interestingly, given all the reported troubles in Europe, Nintendo's sales in the EU in the first two quarters this fiscal were not far behind their prior fiscal year level. However, in the U.S. sales were running at half the prior fiscal. Nevertheless, Black Friday and winter holiday sales reports suggest respectable sales were achieved in the U.S. (and Japan for that matter). Recent headlines mention the 3DS hitting the 4 million unit sales mark in both the US. and Japan in 2011; Wii unit sales in 2011 in the U.S. totaling more than 4.5 million; a couple of million unit game software sales for the 3DS; and conveniently, a struggling Sony Vita (NYSE:SNE) (JP: 6758) post-launch week. Nintendo's Wii and DS family installed base now exceeds 90 million.
For the record, along with its fiscal Q2 earnings reported in October, Nintendo downward revised its full year earnings outlook to -Y20 billion from Y20 billion previously (Y156.40/share) and compared to Y76 billion (Y607/share) in its prior fiscal year. With the dollar right at where Nintendo expected and the euro (only?) 6% stronger than forecast, could we be in for a surprise when it announces fiscal third quarter earnings on January 26 (scheduled release date)? Should we even bother with surprises at this stage, ahead of a critical console launch next year? I suppose some positive press and momentum wouldn't hurt! The big picture, however, is Q4 earnings next spring in which we will get our first look at Nintendo's outlook factoring in expected sales of the Wii U.
Finally, know that shareholders of record as of March 31 will receive Nintendo's annual dividend, which was unfortunately previously cut to Y100; it was Y310 in the prior fiscal year. I don't think we will see an upward revised dividend this fiscal almost no matter how strong sales and any recovery in profits there may be. Nintendo is typically on the conservative side and though it has made appropriate upward revisions the past, I think the economic uncertainty at home and in the U.S. and EU will make Nintendo play it safe forecast-wise. Regarding Nintendo's dividend I will say that it obviously was not fun having it cut to zero for its current fiscal year interim payout and for its fiscal year-end payout to be cut to Y100. Yes, it makes sense in terms of its consecutive years of $1 billion-plus forex impairments, but there is a disconnect with its massive cash hoard. As I said in my June article, I am not exactly ready to begin any activism until things are more settled (i.e. forex, domestic/global economy, domestic/geo-politics, natural disasters ...). Meantime, I intend to increase my position in Nintendo.
For additional analysis/background on Nintendo, see my June article, "Nintendo Dirt Cheap Ahead of Next Growth Cycle."
Disclosure: I am long OTCPK:NTDOY.