With Elpida teetering on the verge of bankruptcy, we might be seeing a classic cyclical turn on the DRAM. Remember, you buy into these cyclical sectors when they are looking the worst and suppliers are shutting down or not investing at all.
Why do I say we might be seeing some kind of turn? Well, because as I've said in my article "The Smart Way To Trade Memory, Metals", you can pretty much follow the DRAM end market by keeping an eye on DRAMExchange.com. And what do you see if you do so?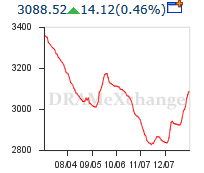 You see that DRAM prices are going up nicely right now, after plunging during 2011. It might thus make sense to pay some attention to the quoted suppliers, of which Micron (MU) is the most obvious one.
A brief look into Micron
Micron Technology Inc. has a market capitalization of $6.9 billion, and is trading at a forward P/E of 18.89 next year. MU has a low Price/Book of 0.83. There are studies that indicate that low Price/Book stocks outperform over time, although some times the low Price/Book is also an indication of risk or permanently bad profitability.
The stock has been having a strong performance lately, being up 11.84% in just the last week and also up 11.13% year-to-date. Micron is clearly outperforming the market in these last few days, and it is probably no coincidence, so the DRAM price climb is not going unnoticed. The stock is also not incredibly cheap, still cyclical stocks hardly ever seem cheap when the cycle is bottoming out.
DRAM is probably the most cyclical of the semiconductor end markets, and semi stocks in general are very cheap. Beyond thinking of taking positions in Micron due to the DRAM price climb, one might also need to be aware that other semiconductor segments might also find their bottoms around here.
Among the many semiconductor and semiconductor equipment stocks that seem cheap, a large capitalization stands out, Intel (INTC):
Intel Corporation (INTC)
Intel Corporation has a market capitalization of $127.9 billion, and is trading at a TTM P/E of 10.87 with expected earnings growth of 0.42% taking it to a forward P/E of 10.59 next year. The TTM P/E means INTC trades at a discount to the S&P500 TTM P/E of 13.0. The PEG (Price/Earnings Growth) stands at 1.02. The Price/Book is 2.79.
INTC's dividend yield is generous at 3.35%, this equates to a dividend payout of 30.30%. The dividend exceeds the S&P500 dividend yield, presently at 2.1%. The dividend is higher than the yield on the 10 year bond, presently at 1.99%.
The ROE is quite high at 27.21%, which is usually a sign of a good business (though sometimes cyclicality can be the reason).
INTC is up by 3.55% year-to-date.
Intel does seem like a long-term investment opportunity, even though it suffered a few downward revisions to estimates due to the Thailand floods.
Conclusion
The DRAM market is showing an upwards price swing, which might be an indication of a favorable turn in its cycle. More generally, this might also be a positive indication for semiconductors and semiconductor equipment in general. Given the number of stocks trading at very attractive valuations in these sectors, it might pay to be aware of it and study it further. I expect some near term weakness in the market in the context of a medium term uptrend. If this weakness comes to pass, it might be a good time to buy into these sectors.
Disclosure: I am long INTC.