Many years ago while reading the Berkshire Hathaway (NYSE:BRK.A) 1986 Letter to Shareholders, I discovered Mr. Buffett's ratio, which he calls "Owner Earnings." To my amazement, in that little footnote, Buffett actually explained how to use it. It basically states that it is one of the key ratios that he and Charlie Munger use in analyzing stocks.
The following is my analysis of the DJIA 30 Index (NYSEARCA:DIA), using:
CapFlow
FROIC
Price to Owner Earnings
Those new to this analysis can find an an introduction here. The following is an analysis of the Non-Financial stocks in the DJIA. Since you can't accurately get Owner Earnings numbers for financials, we will leave out JPMorgan Chase (NYSE:JPM), Bank of America (NYSE:BAC), American Express (NYSE:AXP) and The Travelers Companies (NYSE:TRV) from this analysis. For those who want to analyze them just replace cash flow with earnings per share, use zero for capital spending and use ROIC instead of FROIC and PE instead of P/OE.
Here is the data for the DJIA using 2012 forward estimates: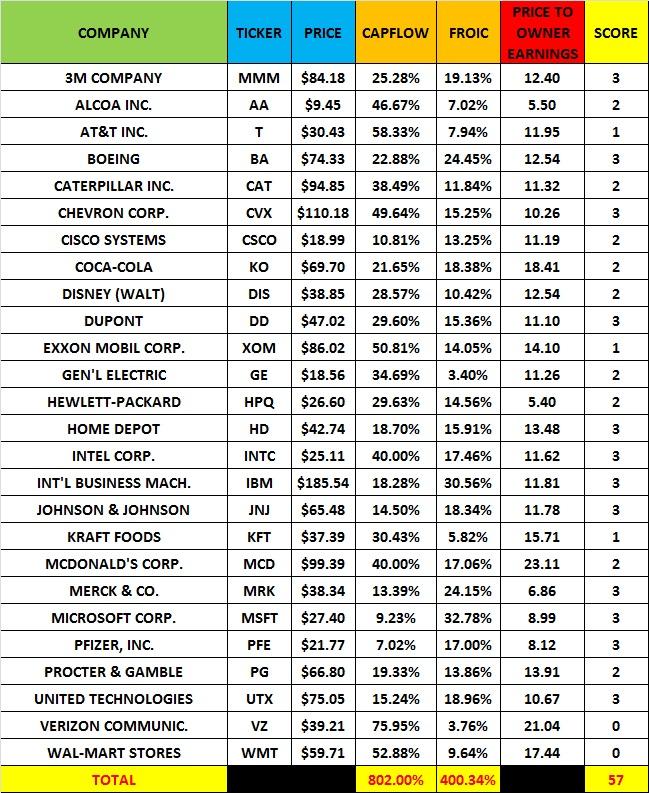 Click to enlarge
I also went back to March 2009 and ran the same stocks at what is now recognized as the market bottom. Here is that table: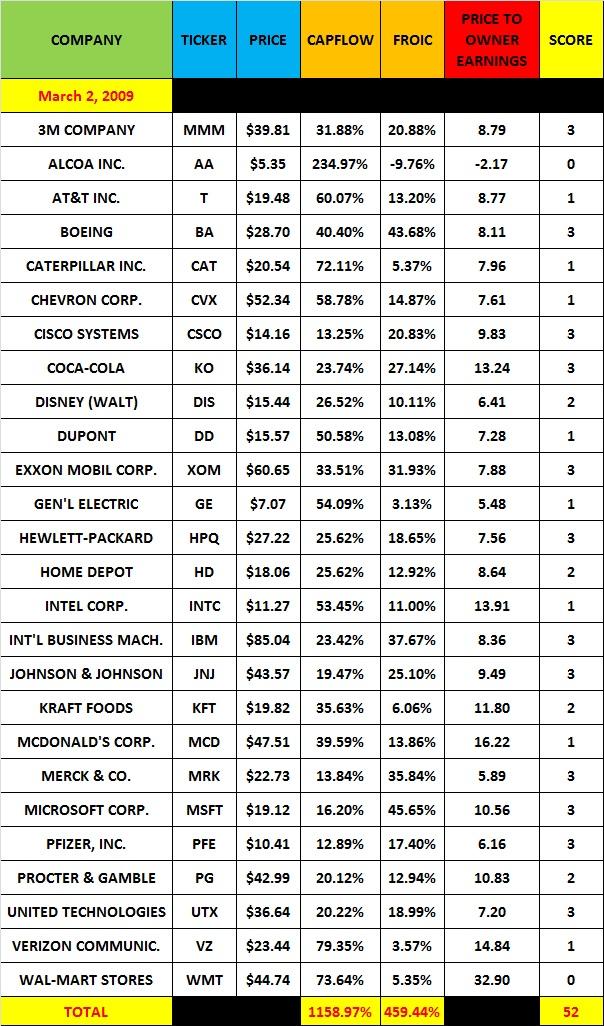 Click to enlarge
And since we went to all that trouble to analyze the 2009 bottom, why not go one more step further and analyze the DJIA for the year 2000, which we now know as the market top. Kraft (KFT) was not trading yet, as it was still part of Altria (NYSE:MO) at the time, so I did not include it. Here is the same table for the year 2000 :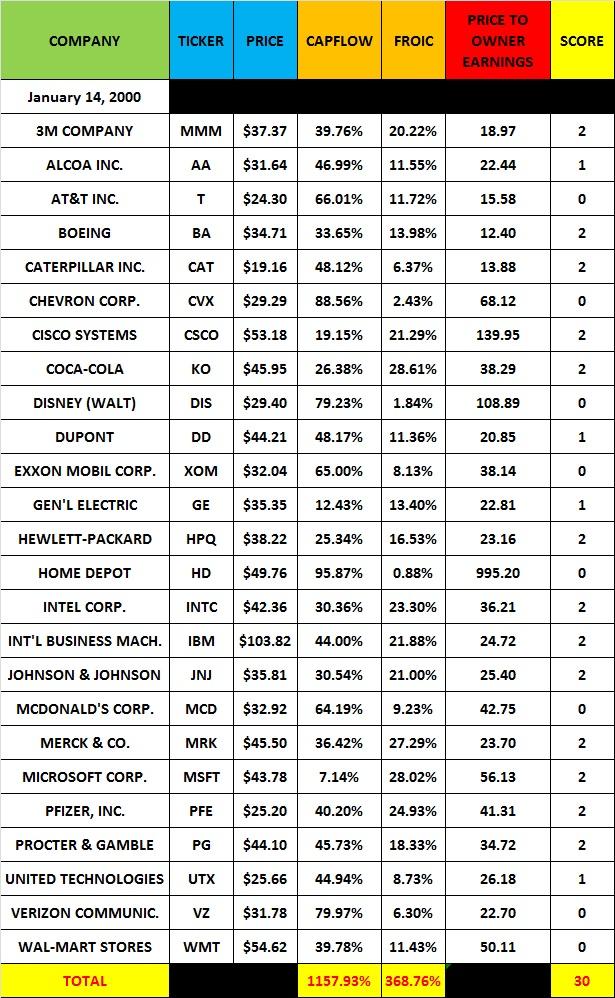 Click to enlarge
It's interesting to notice that in 2000 and 2009 that the sum totals of the CapFlows were almost identical, while the one for 2012 has the total drop dramatically by more than 30%. The reason for this is because companies in the DJIA have the power of Economies of Scale -- as you increase your sales, you therefore increase your purchase power and your costs per unit go down because you can buy from your suppliers in bulk. They have used that power to minimize their costs and maximize their profits.
Therefore the companies that make up most of the DJIA are extremely lean and mean right now. Wal-Mart, (NYSE:WMT) along with Coca-Cola (NYSE:KO) are masters at EOS as they buy in such massive quantities that they become the biggest customer for most suppliers that they deal with, by a large margin. They also undercut the competition because they can afford to. Warren Buffett said once that if you gave him $100 billion and asked him to build a competitor to compete with Coca-Cola, he would give you the money back and say that it can't be done. Now you know why he bought the company. (By the way, Buffett bought Coca-Cola when the company's CapFlow was 28%, Price to Owner Earnings was 15, and FROIC was 15%.)
So I came up with my parameters in building my system from back testing, but also from using Mr. Buffett's purchase of KO in 1987-1988 as my key entry point. Mr. Buffett through Berkshire Hathaway now has 200 million shares of KO and though he paid about $4.50 a share for the stock (split-adjusted) he is going to get a dividend on those shares equal to $408 million just in 2012. Therefore, just from the dividend, he makes 40%+ on his original investment every year. That's why we call him the Oracle of Omaha.
Price to owner earnings is where you can really see if a stock is overbought or oversold. Right now stocks in the DJIA are inexpensive because their price to owner earnings are so low, as low as they were at the market bottom in 2009. Though CapFlow and FROIC were identical in 2009 and 2000 their price to free cash flow results were at extremes in each direction. Companies on Main Street continue to perform consistently through most years, but investor's opinion of them change dramatically over time, as the herd operates on pure emotion when they buy and sell.
Home Depot (NYSE:HD) had terrible FROIC and CapFlow numbers in 2000, but the herd of investors could not buy the stock fast enough, but in 2009 the stock was selling for 1/3 of what it was in 2000 even though its Main Street numbers were great. For the stock to drop to $18 a share means that herd couldn't run fast enough away from the stock. So when Warren Buffett says he gets greedy when others get scared and gets scared when others get greedy, Home Depot is a perfect example of what he meant. Had you bought HD in 2009, when the blood was in the streets, you would have made 137% in just a couple of years.
Now here are two companies which we can compare to see how the tables can help one see the difference between a great company and one that Is bloated and that overspends.
Verizon (NYSE:VZ) has been perpetually over valued throughout all three periods, because its capital spending is out of whack, and even though it announced recently that it had sold a ton of Apple (NASDAQ:AAPL) iPhones, it also announced that margins were decreasing.
IBM (NYSE:IBM), on the other hand, has been a real killer stock as the company was transformed from a computer mainframe company to a service company with massive margins and capital spending that is non-existent. Services in tech are extremely high-margin businesses, and that is why the stock has consistently risen through the last 12 years. You can see why Mr. Buffett bought IBM and Intel (NASDAQ:INTC), but you can also see why he made IBM the bigger order, as IBM's numbers are twice as good as Intel's are.
Cisco Systems (NASDAQ:CSCO) is an example of what can happen to you when you overpay and don't pay any attention to the fundamentals when investing. It has been a tale of two extremes. Extremely overbought in 2000 to extremely over sold in 2009. Now it sits around doing nothing and still trades at a deep discount.
Disclosure: I am long KO, MCD, PFE, MRK, JNJ.
Disclaimer: Always remember that these are the results of our research based on the methodology that I have outlined above and in other articles previously published. This research is provided as an educational tool and should not be considered investment advice, but just the results of our research. There are many ways to analyze a stock and you should never blindly follow anyone's work without doing your own due diligence or by seeking the help of an investment advisor, if you so need one. As Registered Investment Advisors, we see it as our responsibility to advise the following: We take our research seriously, we do our best to get it right, and we "eat our own cooking," but we could be wrong. Please note, investments involve risk and unless otherwise stated, are not guaranteed. Past performance cannot be used as an indicator to determine future results. Strategies mentioned may not be suitable for everyone. We do not know your personal financial situation, so the information contained in this communiqué represents the opinions of Peter "Mycroft" Psaras, and should not be construed as personalized investment advice. Information expressed does not take into account your specific situation or objectives, and is not intended as recommendations appropriate for you. Before acting on any information mentioned, it is recommended to seek advice from a qualified tax or investment adviser to determine whether it is suitable for your specific situation.