Corning (NYSE:GLW) is well known for its position in the FPD (flat panel display) business, but the market has largely ignored the growth in sales and profitability in the company's other five segments. I wrote the company up favorably in June last year, looking for $2 EPS and a P/E of 17. Half right: TTM earnings are $2.11, but at a recent price of $13.17, the P/E is 6.21. This article focuses on segment growth and profitability, then goes on to look at valuation on a sum of the parts basis. A higher multiple is in order.
Segment Growth and Profitability
The following table was put together from the company's 10-K and 10-Qs. I added a sub total for O/T (other than) display segments:
Click to enlarge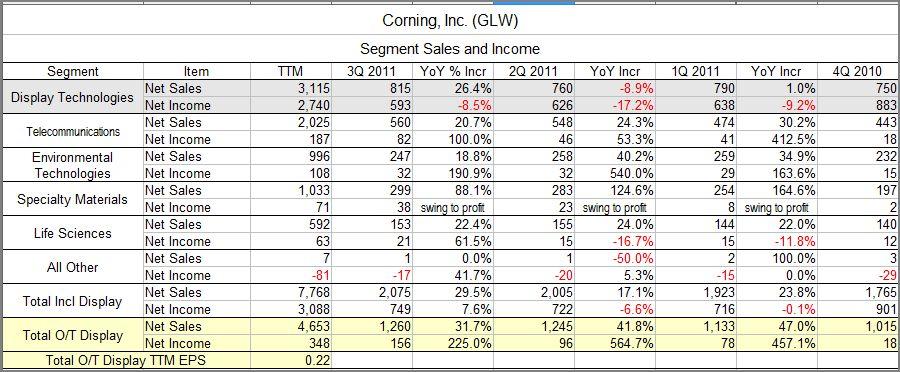 While the display business has drawn the bulk of analytical attention, the other segments have grown TTM sales at 31.7%, and net income at 225%. The specialty materials segment, which includes Gorilla Glass, has done well, but the other segments have also contributed. It should be noted that the "All Other" segment, which shows ongoing losses, contains mostly R&D expense.
Setting display aside, the other segments have a TTM EPS of $0.22. At the time of my previous article, these businesses were operating at a loss.
Excess Current Assets
Corning has a very strong balance sheet, with long-term debt equal to 10.5% of shareholder equity. The current ratio stands at 4.6:1. Treating anything over 2:1 as excess, Corning has $3.34 per share above and beyond what is required to operate the business on a prudent basis. These excess funds are included in cash and short-term investments which total $4.08 per share.
Thinking About Valuation
With the forgoing as background information, it's helpful to think of Corning's value in three parts: Display, O/T display, and excess current assets. Here's a snip from my workbook: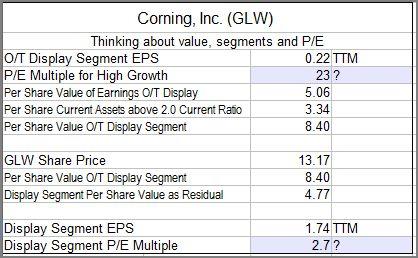 The O/T display segment's TTM earnings of $0.22 could be valued at a P/E of 23, because of the explosive 31.7% year over year growth and the R&D and patents behind the business. The excess current assets can be valued at face, leaving the question, what is the display business worth? At current share prices, the segment takes a P/E of 2.7? The game is to try combinations of P/Es until a satisfactory solution is reached.
For example, if the O/T display segments take a P/E of 17, then the display segment would have a P/E of 3.5.
I personally find it easier to solve this puzzle by assuming a higher share price.
Investment Implications
I've had experience with analogous situations in the past. Electronics distributor Tessco (NASDAQ:TESS) lost a key customer - T-Mobile at the time. In the flurry of concern over this loss of business, the market ignored the ongoing growth of other segments. As this played out over a period of more than a year, it was possible to track the growing segments and project an extremely positive outcome. Meanwhile, tracking segments quarterly and buying on the dips, it was possible to accumulate a low cost position while receiving ongoing confirmations of the value as it developed. Results were gratifying.
Corning has the incumbent advantage in the display business and it's not going to go away anytime soon.
For investors who buy into the idea that growth of the other segments is not properly recognized in current share prices, an accumulate and monitor strategy may be in order.
Disclosure: I am long GLW.