On December 22nd, I first recommended to Short Barnes & Noble (NYSE:BKS). We entered the trade at $15 a share.
On January 4th, as the share price of Barnes & Noble gradually began to decline, I reiterated my short recommendation. The share price was then $13.5 and I insisted that there was still plenty of 'meat' left in this trade.
The main reasons for my short have remained intact: Management consumes too large a portion of the company's profits, cashflow is much weaker than it appears, and there may be some liquidity issues in the horizon.
Yesterday, Barnes & Noble finally decided to deal with the reality. In a press conference, the company finally admitted that it would endure a larger-than- expected full year loss, and that it was exploring new ways to separate its Nook business from its core book business.
Following the company's press release, the share price plummeted by 20%, on exceptionally high volume, closing at $11.24.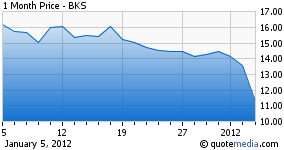 As of now, one of 2 scenarios is highly likely to play out:
A. The company spins off or sells its Nook business. In this scenario, the company becomes once again the old fashioned bricks and mortar business than it used to be. In a couple of years, it will follow in the footsteps of Borders.
B. The company decides to stick with the costly Nook, and therefore must raise cash fast. It will do so by issuing new shares, a move that will dilute current shareholders.
Although I believe this trade is far from over, in light of the fast and furious decline I recommend to take some profits off the table.
My recommendation is to Buy To Cover Half of your position, and bank a 33% profit in 15 days. I feel comfortable with leaving 50% of the initial position in the trade,
In time, and as this trade keeps playing out, I will issue a final Closeout recommendation to the 50% remaining position.
Disclosure: I am short BKS.