Though gold has come down from its summer high, gold has dramatically outperformed the large miners in the recent past. Since the market crashed in 2008 and into 2009, gold has appreciated to a far greater degree than have the gold miners. This outperformance was largely based upon a broad expectation that the price of gold could not sustain its momentum and price range.
Nonetheless, gold miners usually suffer a levered descent with gold on its way down. Most miners fell more than gold when it began to correct. Recently, though, the miners have begun to perform well. So far in 2012, gold has appreciated, but the miners have appreciated more.
Below are seven large-cap gold miners that are traded in the United States: Barrick Gold (NYSE:ABX), Goldcrop. (NYSE:GG), Newmont (NYSE:NEM), Kinross (NYSE:KGC), AngloGold Ashanti (NYSE:AU), Yamana Gold (NYSE:AUY) and Agnico-Eagle Mines (NYSE:AEM). I have provided their present yields, as well as their one-month, six-month and 2011-to-date performance rates. I have also provided the performance rates for gold.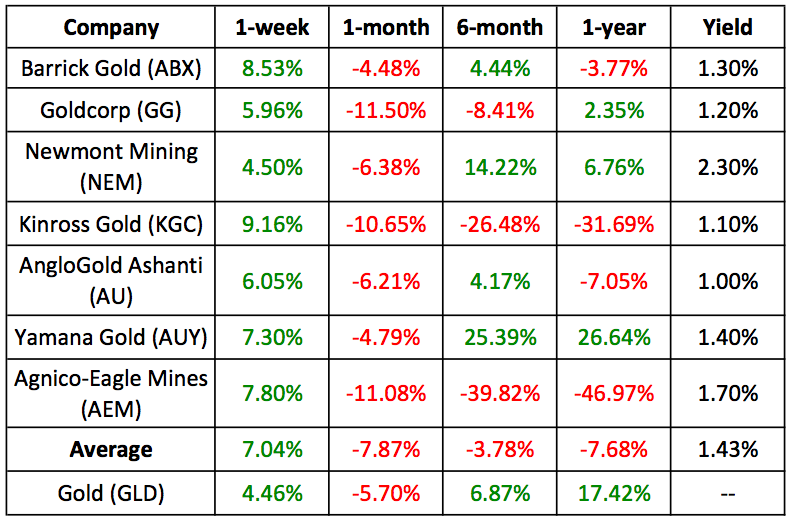 Click to enlarge
These companies suffer risks that a pure commodity will not, such as political risks, mine productivity, distribution costs, management negligence and fraud. Recent miner performance has varied dramatically from company to company, with gold consistently beating the majority, though not this week. Over the last year, KGS and AEM significantly underperformed their peers, while AUY actually outperformed gold during all four time frames.
These large miners do provide a dividend, while gold does not and often requires a storage cost. If rising gold prices continue, then the miners should eventually follow that rise and undergo an upside correction. Given the significant disconnect between current gold prices and gold miner valuations, it is possible that these miners could eventually start to increase in share price even if gold merely stabilizes. If gold continues to move downward, the miners may depreciate accordingly and possibly even to a leveraged extent.
Disclaimer: This article is intended to be informative and should not be construed as personalized advice as it does not take into account your specific situation or objectives.

Disclosure: I have no positions in any stocks mentioned, and no plans to initiate any positions within the next 72 hours.