As income and dividend investors search for returns in the current low interest rate environment, utilities become an obvious place to turn. With current 10-yr Treasuries yielding 1.97% and 30-yr Treasuries yielding 3.02%, it does not take a brain surgeon to realize that utilities as a whole have been on a nice run as investors chase yield. Many utility share prices are bumping up against 52-week highs and should be considered fully valued based on current yield and dividend growth.
What are bond and income investors usually looking for? The answer is pretty simple: Long-term stability of income and preservation of capital, with the expectation of generating a real rate of return after inflation. However, today's bond market offers little of these when reviewed with an eye towards real rates of return. While bond buyers will receive the comfort of income stability, current cash returns are quite skimpy. As rates turn north over the next 18 months, not waiting for principal repayment at maturity could become costly to invested capital. Inflation expectations going out a few years will probably exceed the current yields of both the 10- and 30-yr Treasuries, creating a negative real rate of return – even with full repayment of invested capital at maturity. With no maturity date, current bond fund buyers may fair even worse.
Using Finviz.com as a stock screener to find "bond-like" characteristics of utility companies, an investor could use the following criteria:
Domestic utilities;

Current yield greater than 4.0% to exceed Treasuries by at least 100 to 200 basis points, based on maturity;

Beta less than 1.0 for price/invested capital stability compared to the overall equity market risk;

Anticipated EPS growth rates of greater than 5.0% to support dividends;

"Buy" or better current timeliness consensus.
Four utilities matched this screen: ALLETE (NYSE:ALE) market cap $1.5 billion, Northwestern Corp (NYSE:NWE) market cap $1.3 bil, PPL Corp (NYSE:PPL) market cap $16.6 bil, Westar Energy (NYSE:WR) market cap $3.2 bil.
Business descriptions of each from Yahoo Finance:
ALLETE, Inc., together with its subsidiaries, primarily engages in the generation, transmission, and distribution of coal-fired, hydro, wind, and biomass co-fired power in the United States. The company operates in two segments, Regulated Operations, and Investments and Other. The Regulated Operations segment engages in the retail and wholesale of regulated electric, natural gas, and water services. This segment serves approximately 144,000 retail customers and 16 non-affiliated municipalities in northeastern Minnesota; and 15,000 electric customers, 12,000 natural gas customers, and 10,000 water customers in northwestern Wisconsin. The Investments and Other segment engages in the coal mining operations in North Dakota; and real estate investment in Florida. This segment also involves in the non-rate base generation; and holds 7,000 acres of land in Minnesota. Its developmental projects primarily include Town Center and Palm Coast Park located in the city of Palm Coast, as well as Ormond Crossings, which is in the planning stage located in the city of Ormond Beach. The company primarily serves taconite, paper, pulp and wood products, pipeline, and iron nugget plant industries. ALLETE, Inc. was founded in 1906 and is headquartered in Duluth, Minnesota.

Northwestern Corporation, doing business as NorthWestern Energy, provides electricity and natural gas in Montana, South Dakota, and Nebraska, the United States. It engages in the generation, transmission and distribution of electricity, as well as involves in the purchase, transmission, distribution, and storage of natural gas. It serves approximately 665,000 residential, commercial, and industrial customers. The company was founded in 1923 and is based in Sioux Falls, South Dakota.

PPL Corporation, an energy and utility holding company, generates and sells electricity; and delivers natural gas to approximately 5.3 million utility customers primarily in the northeastern and northwestern U.S. The company operates in four segments: Kentucky Regulated, International Regulated, Pennsylvania Regulated, and Supply. The Kentucky Regulated segment engages in the generation, transmission, distribution, and sale of electricity; and the distribution and sale of natural gas to approximately 1.3 million customers in Kentucky, Virginia, and Tennessee. The International Regulated segment owns and operates electricity distribution businesses in the United Kingdom that deliver electricity to 7.7 million customers. The Pennsylvania Regulated segment delivers electricity to approximately 1.4 million customers in eastern and central Pennsylvania. The Supply segment owns and operates power plants to generate electricity using coal, uranium, natural gas, oil, and water resources; markets and trades electricity and other purchased power to wholesale and retail markets; and acquires and develops domestic generation projects. It controls or owns a portfolio of generation assets of approximately 11,000 megawatts in Montana and Pennsylvania. As of December 31, 2010, the company's distribution system included 649 substations with a capacity of 25 million kVA, 28,838 circuit miles of overhead lines, and 24,131 cable miles of underground conductors in the United Kingdom. It also operated 377 substations with a capacity of 31 million kVA, 33,122 circuit miles of overhead lines, and 7,368 cable miles of underground conductors in Pennsylvania. The company was founded in 1920 and is headquartered in Allentown, Pennsylvania.

Westar Energy, Inc., an electric utility company, engages in the generation, transmission, and distribution of electricity. It produces electricity through various sources, including coal, wind, nuclear, natural gas, oil, and diesel. As of October 26, 2011, it served approximately 687,000 residential, commercial, and industrial customers in Kansas; and had approximately 7,100 megawatts of generating capacity, as well as operated and coordinated approximately 34,000 miles of electric distribution and transmission lines. Westar Energy, Inc. also engages in energy marketing, and in the purchase and sale of electricity. It serves public streets, highways, electric cooperatives, municipalities, and other electric utilities in central and northeastern Kansas, including the cities of Topeka, Lawrence, Manhattan, Salina, and Hutchinson. The company was founded in 1924 and is headquartered in Topeka, Kansas."
ALE is commercial customer focused with a nice array of non-utility assets. NWE stands to profit from the oil and gas exploration expansion in the Upper Midwest, along with growth of its regulated natural gas market. PPL is a diverse utility with merchant power exposure, regulated electric and natural gas businesses, and UK transmission assets. WR is well positioned for an expansion of transmission assets as alternative energy generation grows in the Midwest.
The table below outlines the screen criteria results along with three other important considerations: Return on Invested Capital (RIOC), payout ratio, and 5-yr dividend growth:
Company

Beta

EPS Growth

Yield

RIOC

Payout

Ratio

Div Growth

ALE

0.68

6.5%

4.3%

4.8%

73.1%

7.7%

NEW

0.68

6.3%

4.0%

4.3%

63.5%

6.3%

PPL

0.42

5.3%

4.8%

5.2%

54.5%

7.8%

WR

0.59

5.0%

4.5%

3.8%

68.3%

6.1%
While I am a bit enamored by ALLETE's stock symbol, PPL is the largest of the four, has the lowest beta, highest yield, and lowest payout ratio. The current dividend is well supported by its low payout ratio and anticipated earnings growth along with its industry average RIOC.

1-yr Chart ALE:

: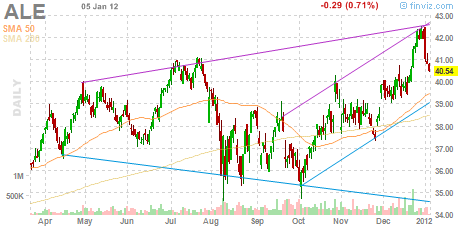 1-yr Chart NWE: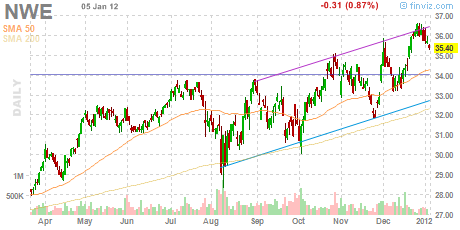 1-yr Chart PPL: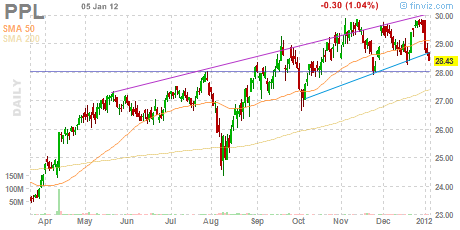 1-yr Chart WR: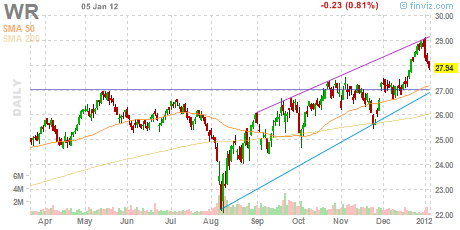 Utility and income investors who do not mind investing in mid-cap stocks and who are seeking more bond-like income characteristics should review PPL.
As always, investors should conduct their own due diligence, should develop their own understanding of these potential opportunities, and should determine how it may fit their current financial situation. This commentary does not constitute individual investment advice and is not a personalized recommendation to buy, sell or hold securities. Past performance is no guarantee of future returns.


Disclosure: I have no positions in any stocks mentioned, and no plans to initiate any positions within the next 72 hours.