Following the collapse of the T-Mobile acquisition, AT&T (NYSE:T) was allowed to purchase spectrum from Qualcomm (NASDAQ:QCOM) in order to satisfy its bandwidth hungry customers. The $1.9 billion purchase provides capacity for 300 million persons in the 700 MHz spectrum. My guess on the behind scenes action, is the FCC basically threw a bone to AT&T by telling them that if they would drop their plans to acquire T-Mobile, the FCC would approve the purchase of the spectrum from Qualcomm. AT&T apparently was overly aggressive in thinking they could acquire T-Mobile and also purchase Qualcomm's spectrum.
Verizon (NYSE:VZ) is AT&T's most serious competitor with Verizon far ahead of AT&T with respect to rolling out next generation 4G LTE network. Other competing mobile phone providers include Sprint (NYSE:S) and T-Mobile, a Deutsche Telecom (OTCQX:DTEGY) subsidiary which AT&T recently tried to acquire.
The Q3 conference call of October 20 reveals growth year over year. The company did well, including on the Wireline side. ARPU, average revenue per user, was almost $64 for smartphone users, and smartphone users grew to 52.6 percent of wireless customers. The company was offering free iPhone 3GS with a two year subscription, but customers were paying for newer devices.
At the time of the call, AT&T optimistically anticipated the merger with T-Mobile. However, the company also spoke of added customers, increased use of unsubsidized devices, and great customer loyalty. "New customers are choosing AT&T and existing ones continue to stay with us," said Ralph de la Vega, President and CEO of Mobility and Consumer Markets.
The company said "Earnings per share for the quarter was $0.61, a 13% increase over last year's earnings per share, excluding onetime gains and up 3.5% year-to-date." Storms affected results, along with costs associated with the T-Mobile merger, then still in process. This could boost next year's comparisons.
According to Brooks McCorkle, Senior Vice President, Investor Relations, "Cash flow was superb. Cash from operating activities for the quarter totaled $10.4 billion and free cash flow was $5.1 billion, which brings us to $12.4 billion through the year." All was apparently going well before the merger fell apart.
AT&T's stock price is up about 20% over the last two years as shown below:
click to enlarge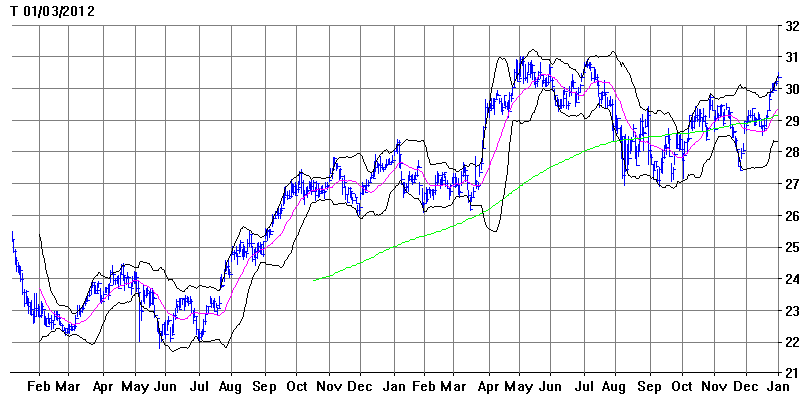 Click to enlarge
AT&T's trailing Price-to-Earnings (P/E) ratio is currently around 15 and its estimated forward looking P/E is around 12. The dividend was just increased 2.3 percent to 44 cents per quarter, for an annual yield of over six percent. The dividend record date for AT&T's next dividend payment is January, 10, 2012 which puts the ex-divided date on January 6, 2012.
With the upcoming dividend payment, an investor might consider a collar to take advantage of the dividend payment while being protected from a large drop in price. A collar can be entered by selling a call option against a purchased or existing stock with the proceeds from selling the call option used to purchase protective put option. The put option acts as insurance in case the price of the stock drops significantly.
Using PowerOptions search tools, a collar was found for AT&T with a potential return of 1.7% and a maximum potential loss of 6.3%. The time frame for realizing the potential return is 46 days. The potential percent return and maximum potential loss includes consideration for the upcoming $0.44 dividend. Even if the price of AT&T stock drops to zero, the maximum potential loss for the collar is 6.3%. The specific call option to sell is the 2012 Feb 31 at $0.25 and the put option to purchase is the 2012 Feb 28 at $0.18. As a bonus, if the price of AT&T's stock is greater then or equal to the $31 call option strike price at expiration in February, the position will return 3.8%. The call option was selected out-of-the-money to alleviate issues with the stock being assigned. A profit/loss graph for the collar is shown below: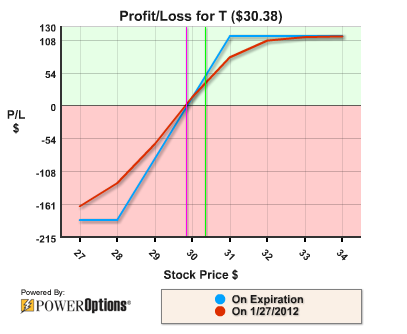 A collar investor for AT&T can take advantage of the upcoming dividend, yet remain protected from a large drop in the price of the stock.
Disclosure: I have no positions in any stocks mentioned, and no plans to initiate any positions within the next 72 hours.