By Paul Quintaro
The head of the world's largest bond fund—PIMCO—released his investment letter on Wednesday. In it, Bill Gross was notably bearish on the global economy.
Gross states, "financial markets and global economies are at great risk."
Noting that the global financial market has depended upon the growth of credit in recent decades, Gross sees little hope for the global economy. Near zero interest rates in the majority of developed economies around the world will, in his opinion, prevent further credit-fueled growth.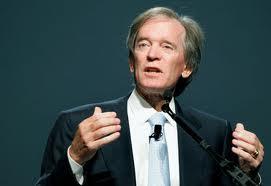 Gross believes that the U.S. dollar could shift dramatically in either direction—either strengthening once again in a massively deflationary scenario, or weakening as inflation rears its head.
Does Gross see any attractive sectors? His investment recommendations reflect his focus on bonds.
In terms of sovereign bond holdings, Gross believes investors should stick with the U.S. He notes that, while 7% yield on Italian paper may appear attractive, investors could find themselves broke should a credit event take place. Gross calls the paper of weaker eurozone members "Venus fly traps."
Gross urges those holding longer-date securities to hold them in TIPS form, as it should provide some protection in the event of spiraling inflation.
He seems most positive on municipal debt, but notes that risks remain in the form of municipalities exposed to pension problems.
PIMCO has been in the news lately for other reasons. It was reported that its Total Return Fund experienced net outflows for the first time in its history in 2011. In December, investors pulled $1.4 billion from the Total Return Fund.
Investors may have become peeved by the recent performance of the fund, which has lagged its peers. Early in 2011, Gross made a widely discussed short bet on U.S. treasurys. That proved to be particularly foolish, as treasuries rallied on the back of eurozone concerns.
Of course, the redemptions from PIMCO may simply have been part of a larger trend. Investors pulled record amounts of capital from mutual funds in 2011.
It will be interesting to see redemption totals from other funds. While Gross' performance lagged rivals, some hedge funds have had a bad year too in 2011.
Paulson & Co, for example, has had a horrendous year. The hedge fund made several ill-timed bets on companies like Sino Forest (OTC: SNOFF.PK), Hewlett-Packard (NYSE: HPQ), and Bank of America (NYSE: BAC). The fund's winning bet on gold even sold off at the end of the year.
If Gross's prediction proves accurate, funds could follow up a poor showing in 2011 with an even weaker one in 2012.