Harley-Davidson (NYSE:HOG) is up 10% in the past year, vs. a basically flat S&P 500, bike volumes have started to show meaningful growth and the restructuring plan is in full swing. So is there more upside in the stock? The answer appears to be yes, bike volumes are still relatively depressed relative to historical standards, Harley's restructuring plan still has scope to deliver EPS growth in 2012 and 2013. As a result, Harley-Davidson could rise 25% this year, with the results and guidance coming later this month being a potential catalyst for the stock. In addition, Harley-Davidson is a classic "moat" stock by virtue of its formidable brand strength.
Bike units up, but still low by historical standards
Despite some reasonable unit growth this year, Harley-Davidson's bike units are still substantially below the average level of the past 10 years. The trough in unit sales appears to have come as recently as 2010. Management guided for 228,000-235,000 units for last year (2011), and results will be disclosed later this month (Jan 24th). A positive outlook for next year should cause the stock to rally driven by unit growth and restructuring costs rolling off and the benefits coming through.
Harley-Davidson Annual Units: 2000-2011
Restructuring costs will drive EPS growth
In addition to increasing unit volumes, Harley-Davidson also benefits from restructuring costs falling by $80M this year relative to last and continuing to decline in 2012 and 2013, at which point some benefits should be realized. The impact of restructuring costs and benefit changes in 2012 and 2013 is adding +$0.25 to earnings in 2012 and another +$0.25 in 2013. This roughly equates to 10% earnings growth each year before any change in sales.
Pricing and product mix unlikely to offer much upside, it's all about volume
Pricing for 2012 has been announced with the cheaper models flat, and mid- to- upper-tier models increasing prices 2-4%. The approximate price increase across the portfolio is 1.3%, this is likely to be absorbed by corresponding cost increases.
Despite the recent volume declines, over the past decade the more expensive models have sold relatively better. This means that a rebound is unlikely to be accompanied by significant positive mix shift. The only caveat is that in mid-2011 Harley hit production issues with more expensive bikes, which hurt its gross margin and may reverse in 2012.
Harley Davidson's sales mix by volume 2000-2010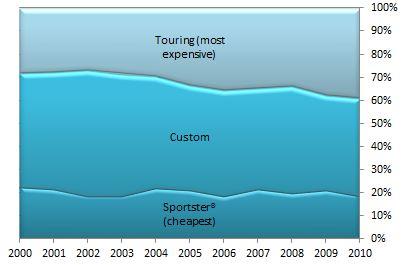 Sensitivity Analysis - Harley Davidson Stock Price based on $650M normalized earnings (2011 consensus) at current sales level, $5,000 pre-tax per bike gross margin impact from incremental unit sales
Current Price=$39
| | | | |
| --- | --- | --- | --- |
| Annual Bike Sales | 14x P/E | 16x P/E | 18x P/E |
| 250,000 | $40 | $46 | $51 |
| 300,000 | $43 | $50 | $56 |
| 350,000 | $47 | $54 | $60 |
Recommendation
Harley Davidson still has upside as restructuring costs roll-off offering approximately 10% EPS growth for the next two calendar years, and in addition unit growth returns to pre-recession levels of at least 300,000. As a result, 25% upside to $50 is realistic as the brand returns to normalized sales volumes and the benefits of restructuring come through.
In addition, with a $9.2B market cap and such a strong brand and good cash generation, an acquisition could also be a source of upside for the stock.
Results later this month could provide a catalyst for the stock as estimates for 2012 and 2013 are revised.
Disclosure: I am long HOG.