By David Russell
Home Depot (NYSE:HD) is back to long-term resistance, and investors are getting nervous.

optionMONSTER's Depth Charge tracking program detected the purchase of about 7,000 February 42 puts for $0.96 to $1.04. Volume was more than 4 times open interest in the strike.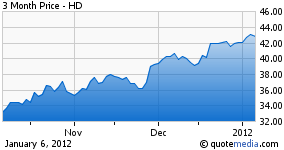 HD rose 0.82 percent to $43.09 and is up more than 30 percent in the last three months. While most stocks tied to housing have been strong recently, the home-improvement retailer has also been gaining ground on rival Lowe's (NYSE:LOW). Its last two quarterly reports beat estimates, and its quarterly dividend was raised in November.

The shares, however, are now back near the same levels where they peaked between late 2004 and mid-2006. That could make some chart watchers expect a pullback, and explain Thursday's downside trades.

Fourth-quarter results will be released on Feb. 21, two trading sessions after February expiration.

Overall options volume in HD was almost twice the average amount yesterday, according to Depth Charge.. Puts outnumbered calls by almost 2 to 1.