There are few industries as competitive as retail, and once a company begins a downward slide, it is very difficult to reverse that downward momentum. Best Buy (NYSE:BBY) is currently a company that is experiencing just such a downturn, and it is clearly proven by its stock price. In this article, we will highlight Best Buy's structural issues and why the only reason to buy the stock should be if you think a takeover will happen.
(Click charts to expand)





It would be easy to blame the weak economy as the reason Best Buy shares have lost over half their value over the past 5 years, but a look at the S&P Retail ETF (NYSEARCA:XRT), which is trading near record highs, suggests that Best Buy's problems are company specific. We highlight them below.
No competitive differentiation: While Best Buy may be a good place to buy electronics, what truly unique products does it sell? Retail is a fiercely competitive business, and if a retailer cannot compete on product [think Tiffany's (NYSE:TIF)], then it has to compete on price [think Costco (NASDAQ:COST)]. Best Buy needs to compete on price to retain sales, but unlike Costco, it does not have room to cut prices as much as it should. And Amazon (NASDAQ:AMZN) presents an entirely new set of issues.
Becoming Amazon's showroom: A laptop, a digital camera, or a tablet are the same no matter where you buy. And everyone knows that the retailer most likely to sell them for the lowest price is Amazon. While Best Buy is certainly not the only retailer in danger of becoming Amazon's showroom, its specialization in electronics puts it at greater risk than most. Amazon competes primarily on price, and Best Buy simply cannot win a price war. There are too many costs built into the physical retail model to do so. This is compounded by Best Buy's lack of a differentiator. E-commerce will not destroy all physical retail, as Amazon and e-commerce bulls would like to believe. Many retailers can co-exist with Amazon. But that is because they offer something that Amazon cannot: an experience. The clothes Nordstrom (NYSE:JWN) sells may be cheaper online, but only Nordstrom can give you the legendary service that sets it apart from every other department store. And Tiffany's has a cachet to it that Blue Nile (NASDAQ:NILE) can never match, no matter how hard it tries. Paying more for a Tiffany's diamond is well worth the ability to say it was bough at Tiffany's. What does Best Buy offer its customers that can set it apart? People can easily go into Best Buy, look at a product to see it in real life, and then buy it online, often right inside Best Buy, from Amazon. Best Buy needs to offer customers an experience, not just products for sale.
Lack of new/hit products: Other than selling Apple's (NASDAQ:AAPL) newest iDevice, what hit products has Best Buy had in recent years? The TV upgrade craze has passed, and the only reason to buy Apple's new products anywhere besides an Apple store is if they are sold out at an Apple store, or if there is no Apple store nearby. Apple is one of the ultimate expressions of the way physical retail can withstand the advent of e-commerce, because Apple offers a truly unique experience in its stores. Furthermore, this problem is tied into the second problem. Even if Best Buy carries a new, hit product, it needs to compete with Amazon, Walmart (NYSE:WMT), and all the other stores that carry electronics, essentially negating the advantage of carrying that new, hit product.

Best Buy bulls have spent years saying that these threats are overblown, that Best Buy can withstand them. Even as Amazon soared and Best Buy fell, the optimism continued.





The problem, however, is that the issues outlined above have begun to show up in Best Buy's financial results. That is why the stock has dropped so much in 2011. Best Buy is seeing the effects of its weak position in the industry, and we do not see many ways out for the company. Below we give an overview of Best Buy's financial and operational metrics. As a reminder, Best Buy's fiscal year does not align with the calendar.
| | | | | | |
| --- | --- | --- | --- | --- | --- |
| | Q3 2012 | Q2 2012 | Q1 2012 | Q4 2011 | Q3 2011 |
| EPS | $0.42 | $0.47 | $0.35 | $1.62 | $0.54 |
| Operating Margin | 1.5% | 2.5% | 2.6% | 6.2% | 3.2% |
| Domestic Revenue | $8.885 Billion | $8.311 Billion | $7.859 Billion | $12.117 Billion | $8.710 Billion |
| International Revenue | $3.214 Billion | $3.036 Billion | $3.081 Billion | $4.139 Billion | $3.180 Billion |
| Domestic Comparable Sales Growth | 0.9% | -2.7% | -2.4% | -5.5% | -5% |
| International Comparable Sales Growth | -1.7% | -3.2% | 0.4% | -1.3% | 2.3% |
| Total Same Store Sales Growth | 0.3% | -2.8% | -1.7% | -4.6% | -3.3% |
| Domestic Gross Profit | $2.109 Billion | $2.101 Billion | $1.97 Billion | $2.957 Billion | $2.178 Billion |
| International Gross Profit | $822 Million | $771 Million | $798 Million | $989.221 Million | $801.360 Million |

Best Buy may be growing revenue, but it is doing so at the expense of its margins, which are steadily declining. Best Buy is in a bind here. Soon, it will be unable to cut margins to drive revenue, and something will have to give.

With the weakness in Best Buy, why even write about it? Because Best Buy may be a leveraged buyout target, or a private equity takeover. A recent Bloomberg report highlighted the possibility of such a move. Best Buy, despite all its troubles, still has billions in free cash flow.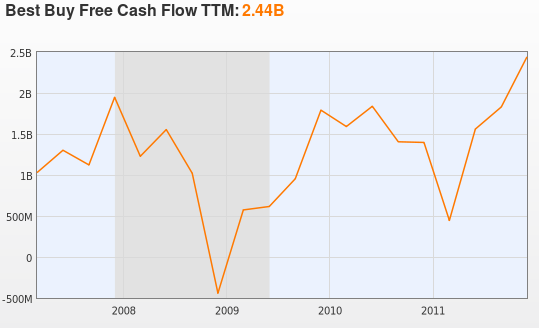 Best Buy trades at around 3.6x its free cash flow, earning it the distinction of being the cheapest retailer larger than $1 billion. In addition, at a P/E of just over 8, Best Buy is approaching record-low valuation levels.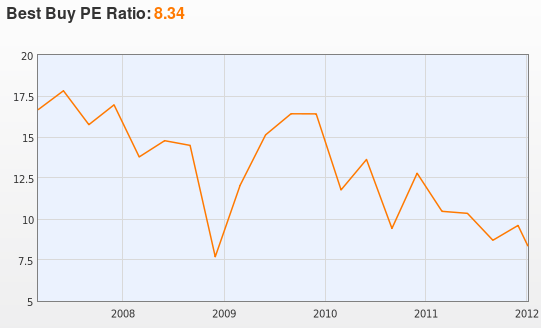 Best Buy could be a prime target for a buyout, and new management (which the company sorely needs) could do much more to revitalize the company. Currently, earnings per share have been supported by large stock buybacks. New management can both halt the buybacks and have much more room to cut costs, thus driving increases in cash flow. Best Buy's balance sheet is still robust, with over $700 million in net cash, and it trades at a modest 1.44x book value.

Opposition to an buyout may come from Best Buy's founder and chairman, Richard Schulze, who holds a fifth of the company. But we think the other 80% of Best Buy investors would support a takeout. While the private equity funds that would takeover Best Buy are focused on shorter-term financial gains, it is difficult to see what Best Buy can do to improve itself as an independent company.

The Reuters consensus earnings estimate for the 2013 fiscal year is $3.78. A multiple of 10, which is very reasonable, gives Best Buy a value of $37.80 per share, a 61% premium from current levels. The company trades for around 8 times trailing earnings, compared with a 5-year average of 13 times. By any metric, Best Buy shares are undervalued. But that is not a reason for the average investor to buy in. Best Buy shares are cheap for many reasons, including the three we outlined at the beginning of this article. But to private equity firms, that cheapness, combined with an ability to make meaningful changes to the company's cost structure and competitive positioning, could be too compelling to pass up. We think that Best Buy shares are a buy, but only for investors who believe that private equity firms will think Best Buy is a terrific buy.


Disclosure: I am long AAPL, AMZN, TIF, COST.