If you blinked on Thursday, you probably missed the squeeze that Sirius XM (NASDAQ:SIRI) placed on a number of its naysayers – or more specifically, those holding short positions on the stock. Short sellers and Sirius have always had an elongated relationship even before the company flirted with bankruptcy in 2009. In fact, I once concluded that shorts and Sirius go together like a horse and carriage because it became evident to me that short sellers had become married to the stock. In 2012, however, I sense that Sirius XM's CEO Mel Karmazin may soon give many doubters reason to file for divorce. And on Thursday ... well, let's just say that many have become legally separated.
Before I continue, let me make it clear that I am not opposed to selling any stock short. In the interest of full disclosure, I have also held a short position in the stock when I felt it had exceeded my own intrinsic value. So, far be it for me to be critical of anyone else who wishes to bet against any stock. But early indicators are showing this to now be not only a dangerous bet, but one that the shorts are likely to lose.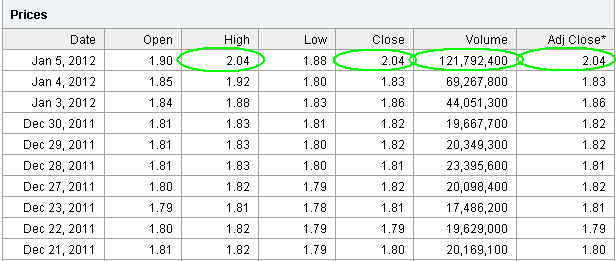 Sirius bullish signals
On Thursday, Sirius XM announced its presence with authority. The stock surged a remarkable 11% to a price of $2.04 on 121 million shares. So what does all this mean? Aside from the obvious, it is a signal that all of the pent up demand that was being built in the $1.80 area as a platform has created a springboard effect to the extent that we have just witnessed. Not only did the stock burst through its 50-day average of $1.80, but it knocked down a significant area of resistance at $1.92 – its 200-day moving average. So currently at $2.04, the stock now rests comfortably 14% and 8% above the daily averages, respectively.
Now, the obvious questions are, where is it going next and what's an investor to do?
Just to put things in perspective, the stock is now just 16% away from its 52-week high of $2.44 and we know that several analysts have set recent price targets of $2.20. After Wednesday's announcement by the company that it had exceeded its subscriber numbers, we now know why these upgrades were preemptively issued when the stock was below $1.80 – it would appear that these same analyst had little doubt that the company would hit the target.
So with the stock at $2.04 and only 8% away from some recent price targets of $2.20, it gets very interesting because a couple of things have to enter our thinking. If and when it reaches $2.20, a number that I am inclined to believe is the intrinsic value of several prominent analysts, will more upgrades be issued at that point or will the stock then become considered overvalued? I feel I need to bring this up because it is material to any type of strategy investors wish to adopt. While there are several buy-and-hold participants in the stock, we have also concluded that it is a trader's dream. So what is it going to be? Because it can't be both.
The case for holding the stock
Holding the stock throughout seems to make sense because Thursday showed investors can what happen when a stock has momentum – especially one with 300 million shares sold short. The fact that the stock closed at the day's high of $2.04 with such conviction should inspire much confidence that not only will it reach $2.10 with relative ease, but it should also head toward the $2.20 target in only a matter of time.
The last time Sirius closed at $2.04 was on June 28, the very next day it closed at $2.10 and the day after that it registered a close of $2.19. Will this be a similar situation? Perhaps and perhaps not. The difference this time around is that Sirius is now leading into earnings – which will likely take place early February. An event that often leads to a significant increase in its share price.
The case for trading the stock
With the volatile nature of the stock there will be many opportunities to trade in and out and profit off of its wild swings. What investors have to remember is that just as easily the stock shot up 11% on Thursday, it has shown a remarkable ability to relinquish those gains in a matter of minutes. As noted previously, when the stock reached the $2.20 level or even the $2.30 level last spring on its way toward its 52-week high of $2.44, it was caused by a influx of new buyers. These same buyers have been holding the stock with the hope of (one day) breaking even.
While there were many defections in the stock when it plummeted to $1.27 late last year, there are many whom are now waiting on pins and needles to get out. On that note, we should expect a rash of selling at anything above $2.10 to $2.15. The reason being that $2.20 continues to be the consensus target for those who cover the stock on a regular basis. When coupled with the fact that Sirius typically demonstrates a "sell the news" type of effect, there are many who will immediately sell the stock just before it announces that which is already known.
How Sirius can manage the stock
Buy the rumor and sell the news has been a long standing mantra on the market. I think it is fair to say that Sirius has not managed the stock as well as it has managed the company – for this reason I called the company its own worst enemy. But I think all of this can change and I suspect that it will. As noted, the stock often drops when rumor becomes news – which is often the case for several other equities when it becomes lacking of (so called) catalysts.
Sirius can maintain the level of excitement by not low-balling guidance as has been its M.O. of late. Sirius ended the year with 22 million subscribers after having added 540K in Q4 alone – a number which propelled it to net subscriber additions of 1.7 million – remarkably, in a recession year. So with new optimism in 2012 and an expected resurgence in auto sales, will Sirius do the unthinkable and increase its subscriber guidance total for all of 2012? I am beginning to think that it can easily approach 2.2 million for the year – a number that will ensure a $3.00 target will be reached at some point.
Having said that, I believe Mel will continue to play it conservative and as frustrating as that is sometimes, it is hard to disagree with his methods considering how the company has performed. He also may opt to discuss his plans to reduce the float via a share buyback and further his commitment toward returning shareholder value. I have to now believe that this is something that investors are likely to see sometime in 2012 and also an event that I recently talked about that can propel the stock toward $4.00. That was not a typo.
This was supported by Lazard Capital analyst Barton Crockett during a recent upgrade when he said the following:
The satellite radio company offers "an unusually resilient growth story," with "robust EBITDA growth" even in difficult economic scenarios. We also see a call option on long-term share repurchase that could double equity value beyond our price target.
During which Crockett writes that in his base model, assuming a muted economy, the company's adjusted EBITDA can jump to $1.5 billion in 2014, from $751 million in 2011. Of the increase, $300 million of that reflects a 12% rate hike that just became effective on January 1. Another $200 million is from cost cuts related to a General Motors (NYSE:GM) contract reset that starts in Q4 2013. And $250 million is from growth in new subs.
He concedes that subscriber growth could stall if a recession hits and said that the company will still see nearly $600 million in EBITDA growth from the rate hike, GM reset and reduced subscriber acquisition additions. He also mentioned that if the company can maintain leverage in the 2x-3x range, share count could shrink by over 25% by 2015, and by over half by 2020.
In the bullet above he said:
"If Sirius repurchases to its capacity, we estimate that the present value of the equity could more than double above our price target."
Let's let that marinate for a moment.
Summary
So with the stock now at $2.04 the sky is now officially the limit of where it might be heading next. It seems that everything is now starting to come together for Sirius XM and clearly it is starting to garner some respect. While analysts are starting to mention $4.00 targets as being a distinct possibility, investors and traders alike should start planning what approach they are going to take to capitalize on the cash flow generating machine that the company has become.
Disclosure: I am long SIRI.