Agency mortgage REIT investors should be aware of increases in conditional prepayment rates. Mortgage REITs including Annaly Capital Management (NYSE:NLY) and American Capital Agency (NASDAQ:AGNC) invest in agency mortgage backed securities issued by Fannie Mae (OTCQB:FNMA), Freddie Mac (OTCQB:FMCC), and Ginne Mae. Securities from these agencies carry an implicit guarantee backed by the U.S. Government. Due to the lack of inherent credit risk, agency mortgage REIT investors need to focus on interest rate risk and prepayment risk.
Interest Rate Risk
Due a weak economic outlook and stubbornly high unemployment rates, interest rates will likely remain low for quite some time. Any future increases in interest rates will likely be well telegraphed by the Federal Reserve.
Prepayment Risks
While higher interest rates are unlikely to pose a real risk in the next few years, investors should beware of prepayment speeds. Mortgage REIT investors should focus on conditional prepayment rates (CPR) to monitor the health and dividend potential for mortgage REITs. The CPR reflects the percentage of principal that is prepaid over a period of time on an annualized basis. As CPRs increase, the company will have to invest in securities with lower coupons which will hurt earnings. Mortgage REITs are highly levered investment vehicles which employ significant leverage to generate yields.
According to eMBS prepayment rates have been rising over the last three months. The chart below outlines the increase in prepayment rates for agency mortgage back securities. Investors have been pointing to rising prepayments for rationale as to why certain agency REITs have cut their dividends in the most recent quarter.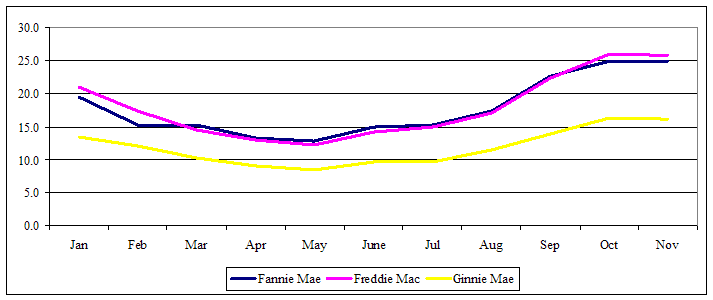 Click to enlarge
(Click to enlarge)

Click to enlarge
(Click to enlarge)
Disclosure: I have no positions in any stocks mentioned, and no plans to initiate any positions within the next 72 hours.