A lot of pundits suggest that Apple (NASDAQ:AAPL) cannot survive without Steve Jobs. A little progress check on Apple's numbers show they still have a spot on the A list and no one is asking them to give up the spot. Recent price action as evidenced by this graph provided by Barchart shows the market is still positive about the company's future: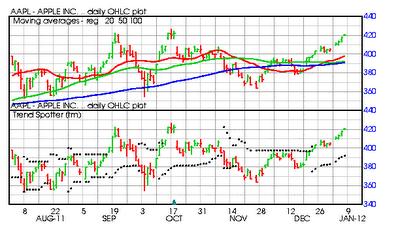 Apple Inc., together with subsidiaries, designs, manufactures and markets mobile communication and media devices, personal computers and portable digital music players; and sells related software, services, peripherals, networking solutions, and third-party digital content and applications worldwide. Its products and services include iPhone, iPad, Mac, iPod, Apple TV, the iOS and Mac OS X operating systems, iCloud, and various accessory and support offerings, as well as a range of consumer and professional software applications.
The company sells its products and services to consumers, small and mid-sized business, education, enterprise, and government customers through its retail stores, online stores, and direct sales force, as well as through third-party cellular network carriers, wholesalers, retailers, and value-added resellers. In addition, it offers various third-party iPhone, iPad, Mac, and iPod compatible products, including application software, printers, storage devices, speakers, headphones, and other accessories and peripherals, through its online and retail stores; and digital content and applications through the iTunes Store, App Store, iBookstore, and Mac App Store. As of September 24, 2011, the company had 357 retail stores, including 245 stores in the United States and 112 stores internationally. Apple was founded in 1976 and is headquartered in Cupertino, California. (Yahoo Finance profile)
Factors to consider:
Barchart technical indicators:
96% Barchart technical buy signal
Trend Spotter buy signal
Above its 20, 50 and 100 day moving average
11 new highs and up 7.66% in the last month
Relative Strength Index 71.73%
Barchart computes a technical support level at 418.02
Recently traded at 420.80 with a 50 day moving average of 392.23
Fundamental factors:
47 Wall Street brokerage houses have assigned 55 analysts to monitor the company's numbers
Analysts predict revenue will increase by 28.90% this year and another 15.10% next year
Earnings estimates are for an increase of 25.30% this year, an additional increase of 12.10% next year and continue for a least five-years at an annual rate of 18.62%
The consensus numbers resulted in 25 strong buy, 25 buy, 3 hold, 1 under perform and a single sell recommendation for clients to consider
The consensus number for price growth over the next five-years in in the neighborhood of between 20% and 23% per year
Double digit projections of an increase in sales and earnings and it still sells at a 14.94 P/E ratio in a market that has a 14.40% P/E ratio - hardly any premium at all
The analysts seem positive about Tim Cook as CEO
Products like iPad, iPod, iTunes and iPhone are still sought after by both the mature and youth market
General investor interest:
I still look to the contributors of Motley Fool to gauge what individual investors think and with 27,198 readers having the stock on their watch lists I'd say individual investor interest is extremely high
Of those expressing an opinion 92% voted the stock to beat the market
The more savvy All Stars vote 96% for the same result
Fool noted that 98% of the articles about Apple have been positive
Among those positive were Bob Olstein, Bill Nygren, Jim Jubak and Charles Payne
I think it's always important to compare a stock's price action over the past year to its main competitors and while Apple is up 27%, Google (NASDAQ:GOOG) is up 8%, Hewlett Packard (NYSE:HPQ) down 39% and Research In Motion (RIMM) down 74%: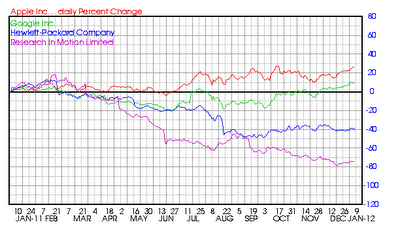 Summary: When everyone is positive on a stock I usually get scared. Here we have a stock that the market, the professional investor and the individual investor is high on. My gut says to be careful but my head says if I can get double digit growth in both earnings and sales at very little premium to the market I should have some comfort. I still think there is price growth potential even at this price. But with this many people in a stock, be prepared to be the first to run for the narrow door out because there is not enough room for you all to get out at once. Put stop losses in at either the 100 day moving average or the 14 day lower turtle channel and move them religiously.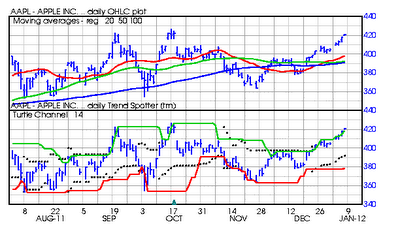 Disclosure: I have no positions in any stocks mentioned, but may initiate a long position in AAPL over the next 72 hours.