"Its hard to go with a trend. As soon as it's out, everyone picks it up. It's important to stay true to yourself." - Estella Warren
Now that a full week of market movement is under our belt for 2012, the market's message is becoming louder and louder in terms of which way inflation expectations are likely to go (hint: it's up). I have been writing about the idea that we are headed for a "Winter Resolution" whereby a trend takes place and the volatile sideways action of last year comes to an end. I also noted at the end of 2011 that market internals looked negative enough to suggest that lower prices were ahead.
However, much like a ketchup bottle that suddenly coats the plate after repeated failed attempts, markets appear to be sensing a very real inflation pulse is coming. I have noted that this week saw Utilities (XLU) relative to the S&P 500 (IVV) significantly underperform, as Treasury Inflation Protected Securities (TIP) have surged relative to nominal Treasuries (IEF). Financials (XLF) are also performing very well. Also note that the U.S. market is rallying DESPITE a strong dollar (UUP)/weak euro (FXE). I noted before that markets likely will treat a weak euro as bullish going forward.
Very suddenly, everything is behaving like we are in the early stages of a bull market.
How does this get squared away with Europe's austerity and recession? First, the markets may very well be wrong here, ignoring the European situation on some kind of a sigh of relief over the Fed and ECB's actions filtering through the global financial system. Second, the longer-term direction of the market could still be down, and inflation expectations may not translate into actual inflation. However, because markets are priced entirely on expectations, what actually happens matters less to price than what people at a moment in time think will happen in the near term. As I have said to clients before, what you and I think does not matter. The person we're selling to is the one who sets the price.
I suspect that the "Winter Resolution" seems to favor an up move given how severely the deflation trade sold off this week, and the potential now for an upside surprise in Europe. Take a look below at the price ratio of the Vanguard Europe Pacific ETF (VEA) relative to the S&P 500. As a reminder, a rising price ratio means the numerator/VEA is outperforming (up more/down less) than the denominator/IVV.
(Click chart to expand)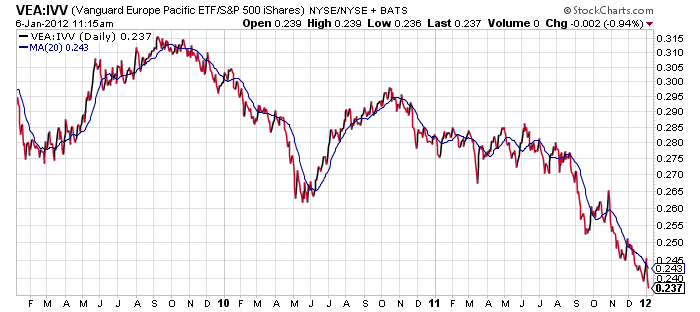 There is no doubt that Europe continues to underperform the U.S., and justifiably so. However, I believe the downtrend above may be nearing its end given 1) the length of time the trend has been headed straight down, and 2) the severity of the underperformance since the middle of 2009. A period of outperformance in Europe would be quite bullish potentially because it suggests some kind of recovery in risk-taking in equities is occurring overseas. If a weak euro causes inflation expectations to rise there, then say hello to our old friend the uptrend.
Disclaimer: This writing is for informational purposes only and does not constitute an offer to sell, a solicitation to buy, or a recommendation regarding any securities transaction, or as an offer to provide advisory or other services by Pension Partners, LLC in any jurisdiction in which such offer, solicitation, purchase or sale would be unlawful under the securities laws of such jurisdiction. The information contained in this writing should not be construed as financial or investment advice on any subject matter.